Videos are effective communication media. They effectively illustrate ideas and easily convey emotion. This is content that is also shared between Internet users on social networks.
> Evaluate your website for free and find out how to improve it with Website Grader." align="middle"/>
So when the time or technique is lacking to create them, the quickest solution is to find royalty free videos.
Top 12 royalty-free video banks
Videezy: a large selection of HD and 4K videos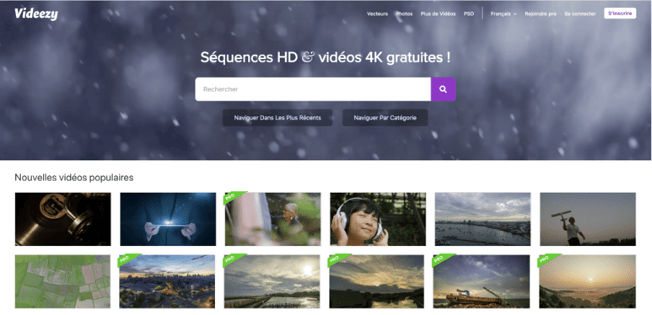 One of the most popular, the Videezy video bank is among the first in the ranking. The collection of free videos available is growing every month in many categories. Non-paid clips are those that do not have the green "Pro" label.
The quality is also at the rendezvous with the HD and 4K formats. To find the ideal video, you can do a search:
By keywords.
By categories.
By novelties.
For the integration of Videezy clips on a website, it suffices to include this reference code in the web page: B Roll provided by Videezy.com .
For a publication on YouTube, on social networks or on any other distribution channel, it is sufficient to include "Videezy.com" in the credits.
Coverr: lots of quality content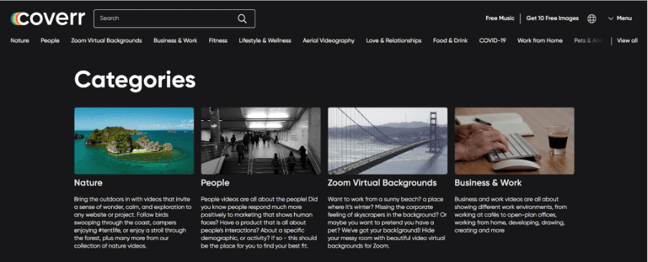 Completely free, Coverr is a video bank specializing in content intended for marketing and corporate branding. This site is very popular with content creators around the world, which is not surprising since it has the following advantages:
Many categories are available (nature, work, people, aerial videos or even animals).
The clips do not contain a watermark and it is not necessary to cite the author.
The videos display high quality.
Once the clip is selected, downloading the video to MP4 is done with one click.
Pixabay video: a large collection of free videos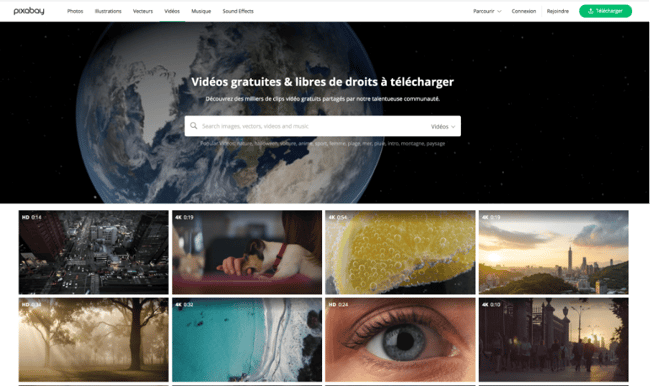 No need to present Pixabay as this site is known to the general public. Its collection of videos is therefore logically impressive. Using its search engine, it is easy to find a clip on the desired theme. The other advantage of Pixabay is the choice of video resolution. Usually 4 different resolutions are offered in MP4 video format. The royalty-free video catalog also contains clips in HD and 4K as well as animated graphics.
The clips are intended for both personal and professional use and it is not necessary to mention the names of the authors for their distribution. Indeed, all the videos offered have a Creative Commons Zero (CC0) license. This means that they belong to the public domain.
Dareful: many 4K clips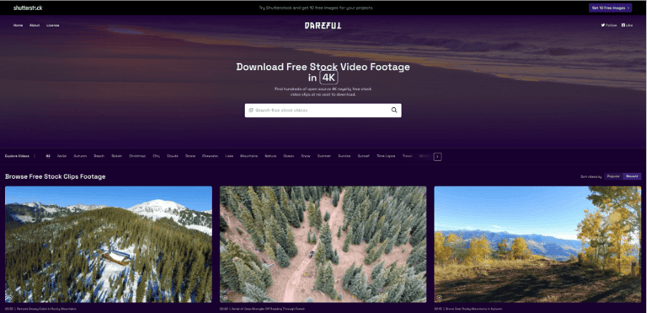 Once registered on the Dareful platform, all videos are royalty-free and free. Most of the footage is less than a minute long and can be downloaded in MP4 format. Many clips are available in 4K quality. This bank of royalty-free videos is a resource of choice for both business and personal projects.
Pexels: short, high-quality videos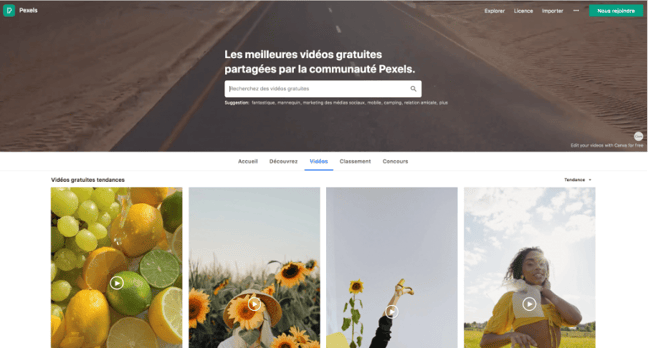 Among the videos available in the Pexels catalog, a wide selection is available free of charge in MP4 format. As with Pixabay, these clips are licensed under the CC0 license, so there is no need to mention the authors. However, this remains a common practice, which allows content creators to be thanked for their work.
In addition to music videos, the platform provides:
Clips shot with GoPro.
Clips in time lapse made frame by frame to give an accelerated hypnotic effect.
Green screen video mockups in which it will be possible to integrate personalized images.
The Pexels search engine allows you to quickly find content on a specific topic. Also, subscription is not required to be able to download clips.
Videvo: videos in various formats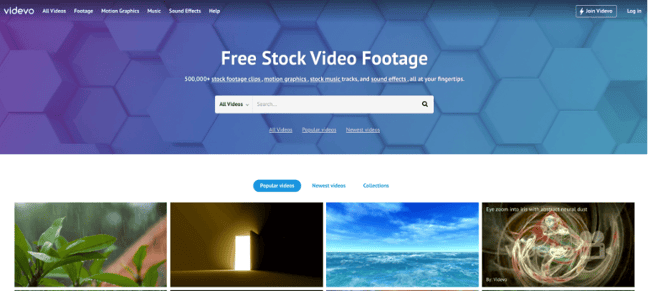 The Videvo platform offers many video clips and motion graphics. However, care should be taken before using a video for broadcasting. Some restrictions may apply, even on free content. The best thing to do is check copyright every time.
The platform invites its users to talk about it on social networks. This action remains at the discretion of each person.
Life of Vids: videos, picture loops and clips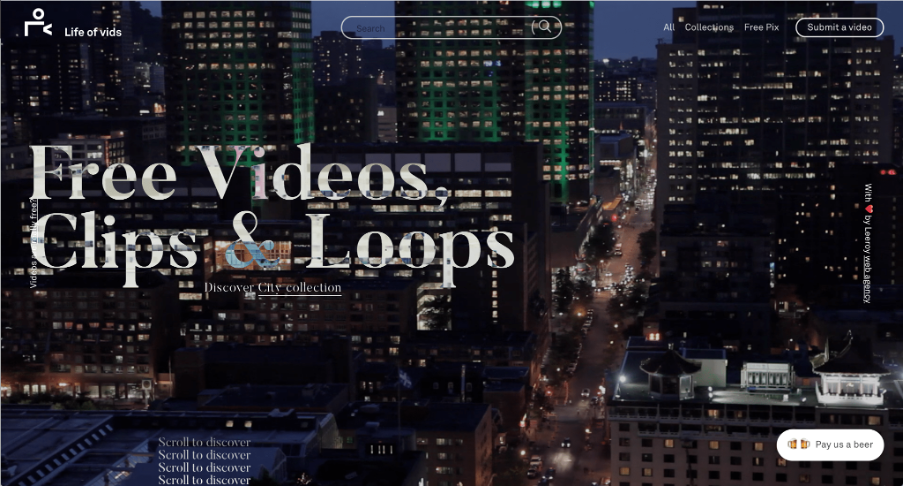 The Life of Vids site was created by the Canadian marketing agency Leeroy, which explains the originality of its home page. This site provides free videos and image loops. The content available is limited, but still of excellent quality. The sequences are downloadable in SD or HD and in different resolutions.
It is important to know that the distribution on other platforms is limited to 10 visual contents only.
Vidsplay: new content every week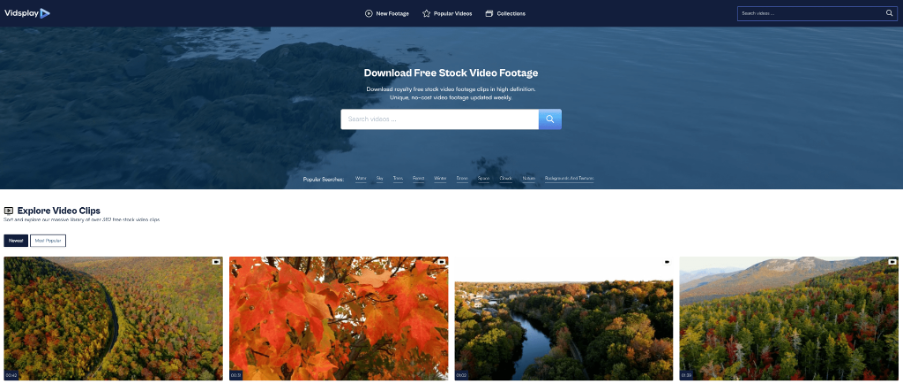 Vidsplay allows you to download videos without having to pay copyright or create an account. However, it is necessary to mention the URL of the platform ("vidsplay.com") when broadcasting. Finding clips is quick by visiting the different categories that exist or by searching by keywords.
Wave.video: a wide variety of video stocks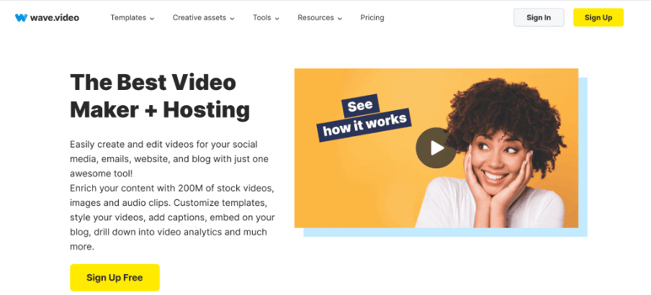 By registering for free on Wave.video, it is possible to create your own videos. Visual content creators then have access to the site's library. It contains several thousand clips entirely free of rights. In addition, the collection is regularly supplied with new content.
Clipstill: ideal for cinematography

Clipstill is not a video bank like any other, because it specializes in cinematography. Its high-quality library is therefore made up of cinemagraphs. These looping animations capture the attention of visitors. They are very popular on social networks and on website home pages.
As the selection of free clips changes every month, it's worth keeping the site in the favorites bar.
WeDistill.io: 10 free videos to download

WeDistill.io offers 10 free videos to download. The clips are always of excellent quality, royalty-free and creative. For those who use video media frequently, the site also sends its mailing list 10 free videos every 10 days.
CuteStockFootage: an easy-to-use video bank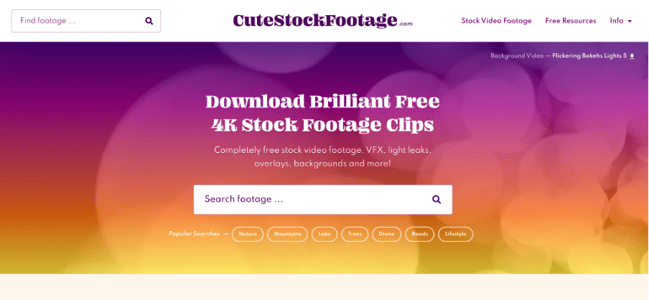 The strong point of CuteStockFootage is its keyword search function. With just one click, it is possible to find the ideal sequence to complete a video project. In the "Video Footage" section of the site, the clips are all free and royalty-free. They are also downloadable in MP4 format.
Even more free and royalty-free video banks
Here is a non-exhaustive list of other video banks that offer content without copyright. Even if, at first glance, these platforms are less popular, they sometimes offer more targeted content (like Nature Stock Videos and Free Nature Stock) and always original:
Mixkit.
Splitshire.
Mazwai.
Ignite Motion.
OpenFootage.
Nature Stock Videos.
Free Nature Stock.
Thanks to the banks of royalty-free videos, content creators have a large amount of quality resources. This visual medium is ideal for illustrating a website, creating promotional clips or building a video marketing strategy.
To go further, use this free tool to evaluate your website in seconds and improve it.