On the internet, it is the visuals that are popular. Indeed, information passes better through a graphic medium than a written medium. Infographic is one of the formats currently in vogue. It not only allows a brand to disseminate its message visually, but also to demonstrate its expertise and establish its credibility.
> Download: The guide to optimizing your pages for lead generation" align="middle"/>
The other advantage of infographics? Like any visual, it has a strong viral power. So what are the best software for making an infographic? Here are 12 examples of tools to use right away.
12 software to create an infographic
Can go.
PikToChart.
Easel.ly.
Infogram.
Genially.
Venngage.
Visme.
Tiki-Toki.
Biteable.
Adioma.
ChartBlocks.
BeFunky.
Why make infographics for your business?
Computer graphics are a visual with high added value which makes it possible to simplify complex information and to communicate differently. The infographic attracts attention and highlights quantified data in a clear and effective way.
Easy to consult, relay and share, the infographic is a visual with high viral potential which, when done well, allows a company to stand out from the competition.
The best software for making an infographic
There are many tools to create an infographic. Here is a selection of the most practical software for making a computer graphics yourself without calling on a graphic designer.
Can go
Canva is the go-to for creating visuals and infographics online. This software is not only dedicated to computer graphics since it also allows you to create many visuals in all types of formats. Among its main advantages, we can mention:
Its many inspiring, totally customizable infographic templates.
Its libraries of very rich images, fonts, graphics, icons and illustrations.
When it comes to Canva's downsides, some users regret that it is impossible to create interactive infographics and integrate real-time data.
Canva offers a free version as well as a professional version starting at € 11.99 per month.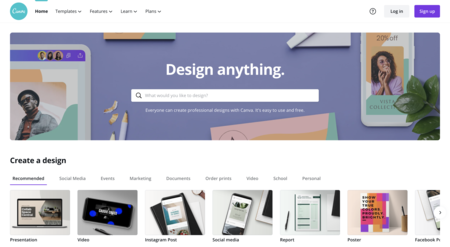 PikToChart
PikToChart is an ergonomic and easy-to-use online tool. It provides its users with tools to modify their layout and personalize their work. In addition to its ease of use, there is the possibility of downloading its infographics in high resolution.
On the other hand, to benefit from the advanced customization tools, it is mandatory to go through the paid version, which can be a barrier.
PikToChart comes in a free version and its paid plans are available at $ 29 per month or $ 99 per month.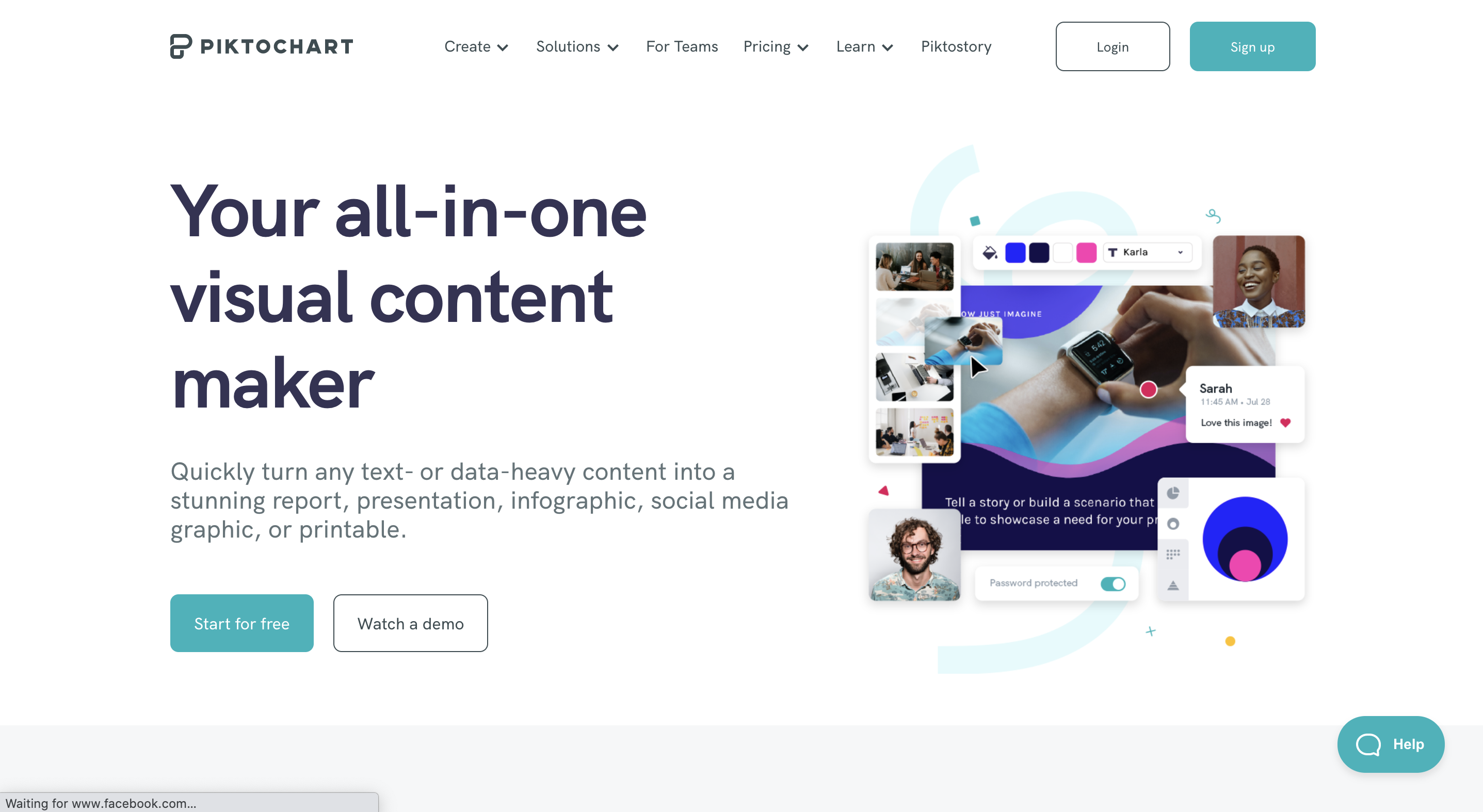 Easel.ly
Easel.ly is a very intuitive tool that allows you to create an infographic from a selected template. Statistics, text and images can then be added by simple drag and drop, making creating infographics quick and easy. It is therefore the ideal tool for learning to design visuals.
Slight downside though, the free version only offers a very limited image library.
There is a free version of Easel.ly as well as a $ 3 per month offer.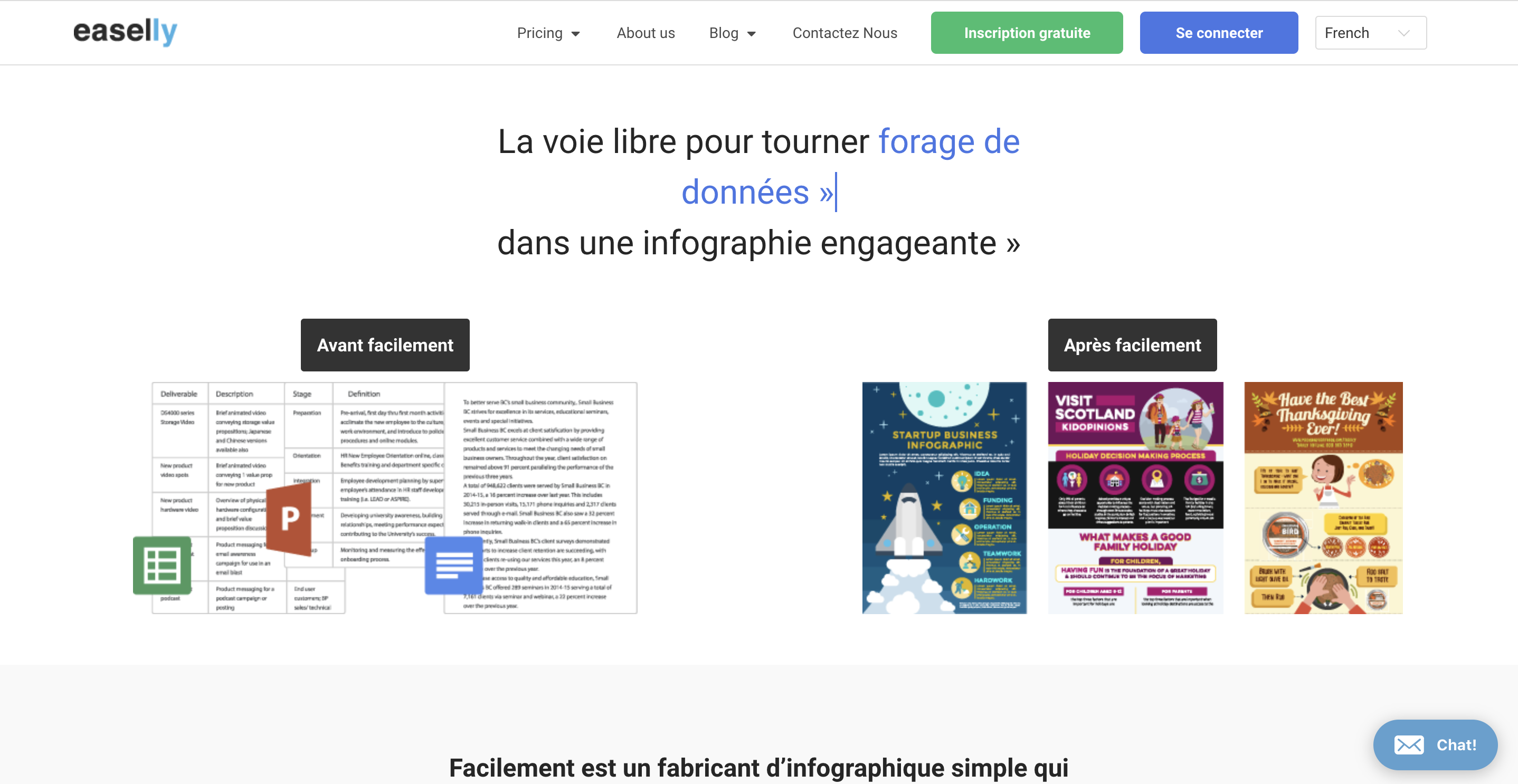 Infogram
Infogram is the ideal authoring tool for those who want to integrate complex data into their infographics. It also offers the possibility of connecting its charts to a Google Sheets file or to Dropbox, as well as a wide choice of maps and charts to present its data.
The biggest disadvantages of Infogram come from its free version:
The presence of the software logo on the infographics produced.
The inability to change the font or size of the text.
There is a free version of Infogram as well as two paid offers at $ 19 per month and $ 67 per month.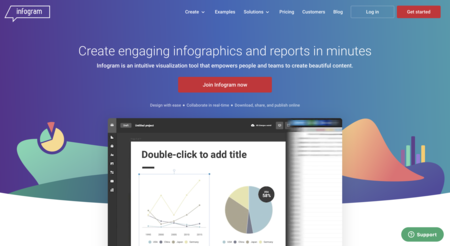 Genially
Genially is a tool that does not require prior knowledge of graphics. Easy and quick to learn, this software allows unlimited creation of animated infographics, even in its free version. Another advantage is that these infographics can be shared on social networks.
On the other hand, the Genially logo which is displayed in the free version and in the first paid plan can be a disadvantage to the use of this software. In addition, the range of available templates is not very extensive.
Genially is offered as a free plan and in three paid plans ranging from € 7.49 per month to € 79.15 per month, billed annually.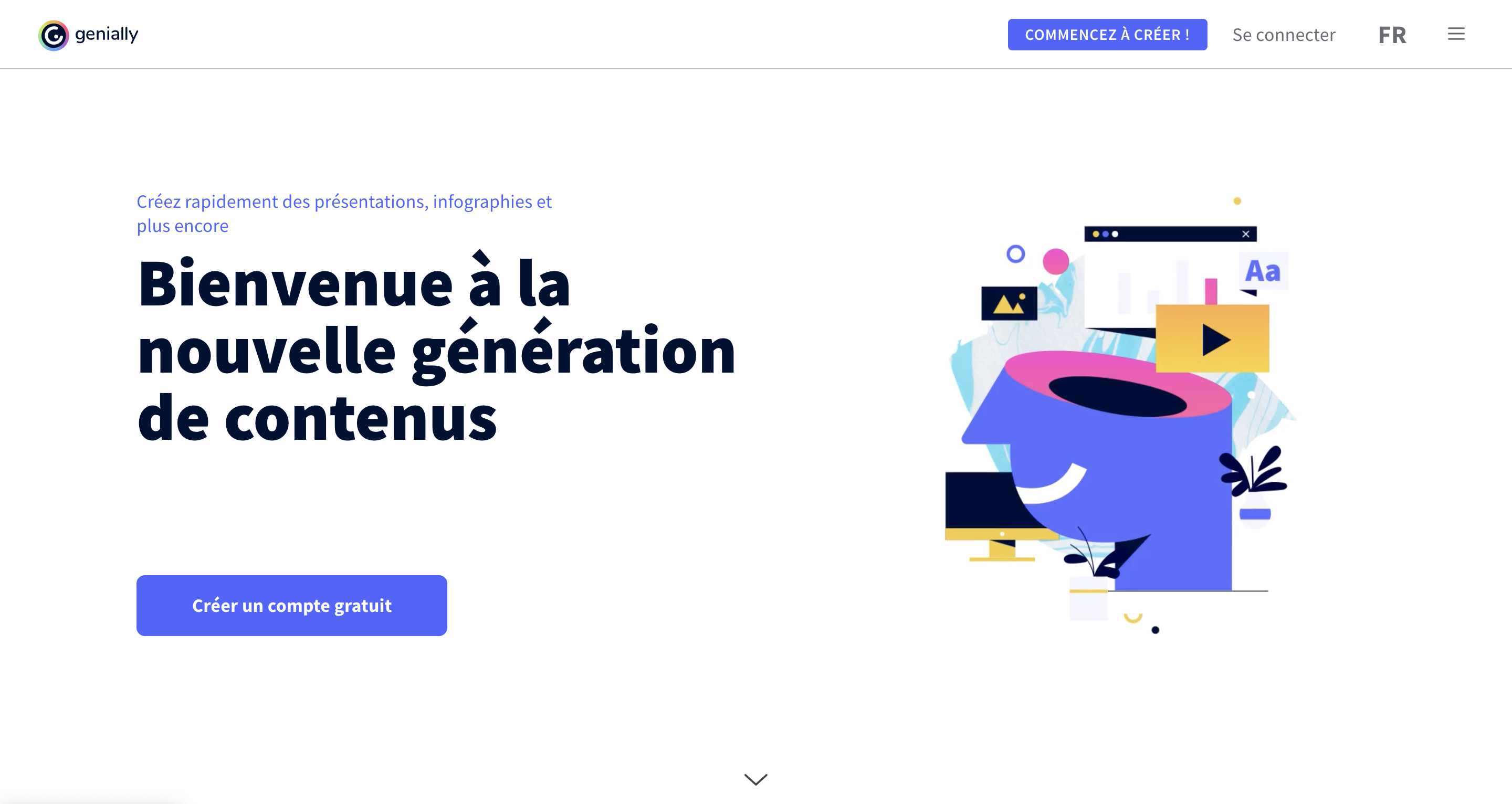 Venngage
Venngage is a tool dedicated solely to creating infographics. This online solution has hundreds of professionally designed infographic templates divided into 8 distinct categories. Another advantage: the ability to create infographics with interactive data and integrate them on a website or blog.
However, you should also know that unlimited image downloads and PDF exports are chargeable.
There is a free version of Venngage, as well as a $ 19 per month or $ 49 per month offer.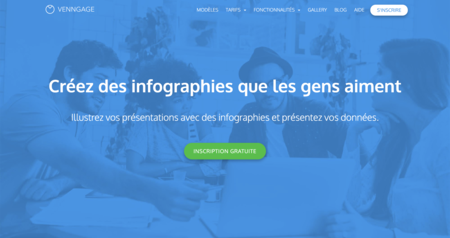 Vism
Visme is an online tool that allows you to create creative and interactive infographics from many customizable templates. This software has features with which it is possible to animate infographics and to integrate video and audio files. It also offers free images and over 100 fonts to choose from.
On the other hand, in its free version, it is only possible to download 5 infographics, available in JPEG format, and all of which will bear the Visme logo.
Visme offers a free version as well as offers at $ 15 per month and $ 29 per month.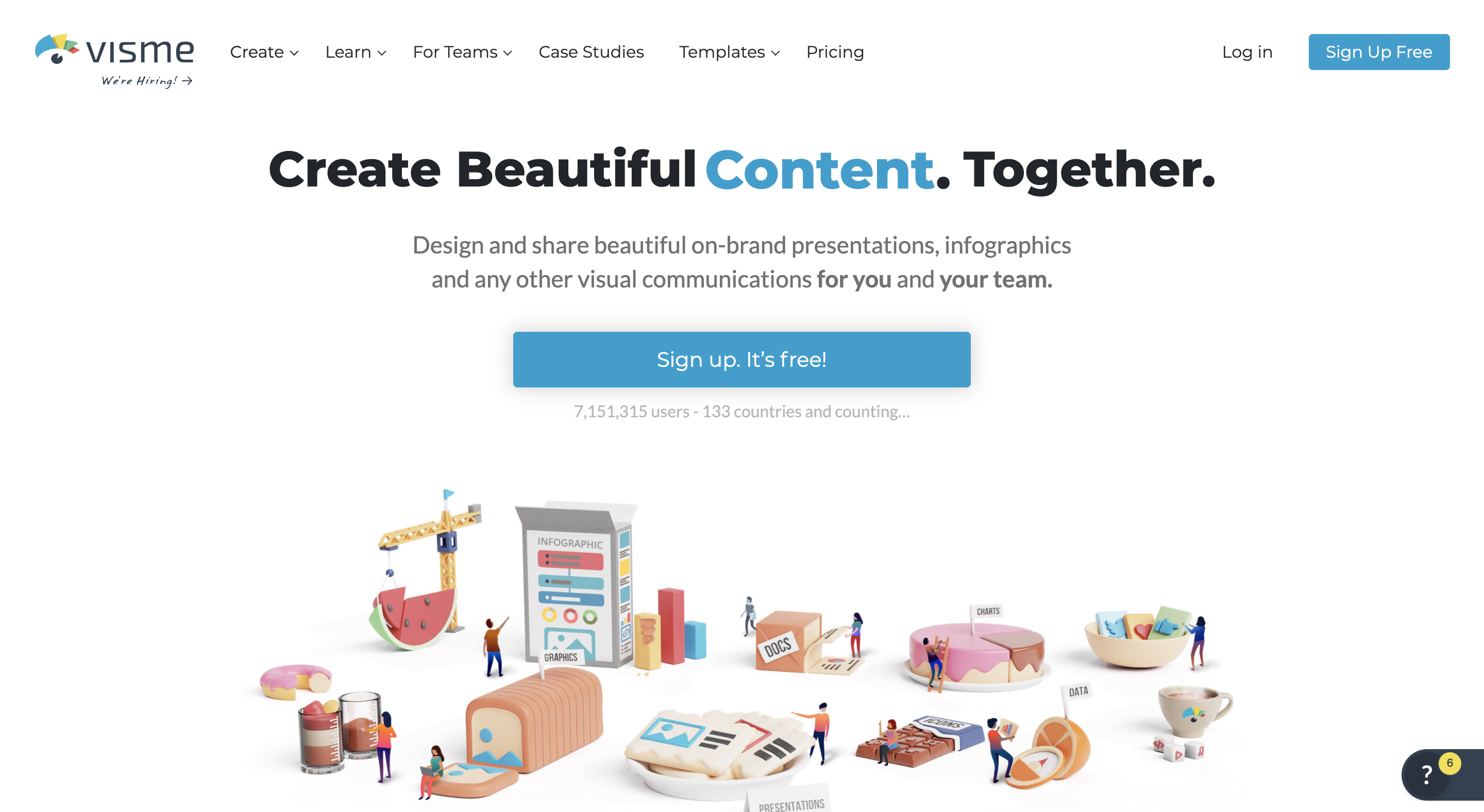 Tiki-Toki
Tiki-Toki allows you to create animated infographics in the form of a timeline or a timeline. These infographics are 100% configurable and available in 3D. It is then possible to integrate them into a website.
Its main drawback is that it is only possible to create one infographic in its free version.
There is a free version of Tiki-Toki as well as plans for $ 7.50 per month and $ 25 per month.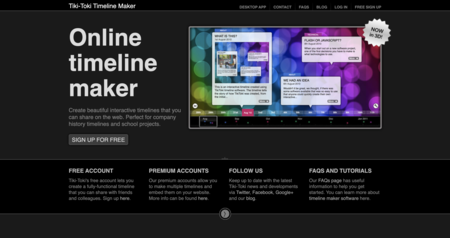 Biteable
Biteable allows its users to create infographics in video format, which can then be shared on social networks. This software produces high quality videos and animations.
However, it has some drawbacks:
Cannot change animations or font.
Presence of a watermark in the free version.
Few models available.
There is a free version of Biteable as well as $ 19 per month and $ 49 per month subscriptions.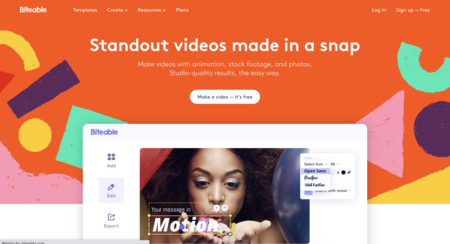 Adioma
Ideal for quickly creating infographics, Adioma provides its users with many fully customizable templates and structures. Another advantage is that the size of the infographic adapts to the added content. Likewise, it is possible to test its content by switching from one model to another easily.
As for the disadvantages of this software, we can mention the fact that its icon bank is so complete that it is difficult to sort it. There is also no free plan.
Adioma's pricing starts at $ 39 per month, with a free first week trial.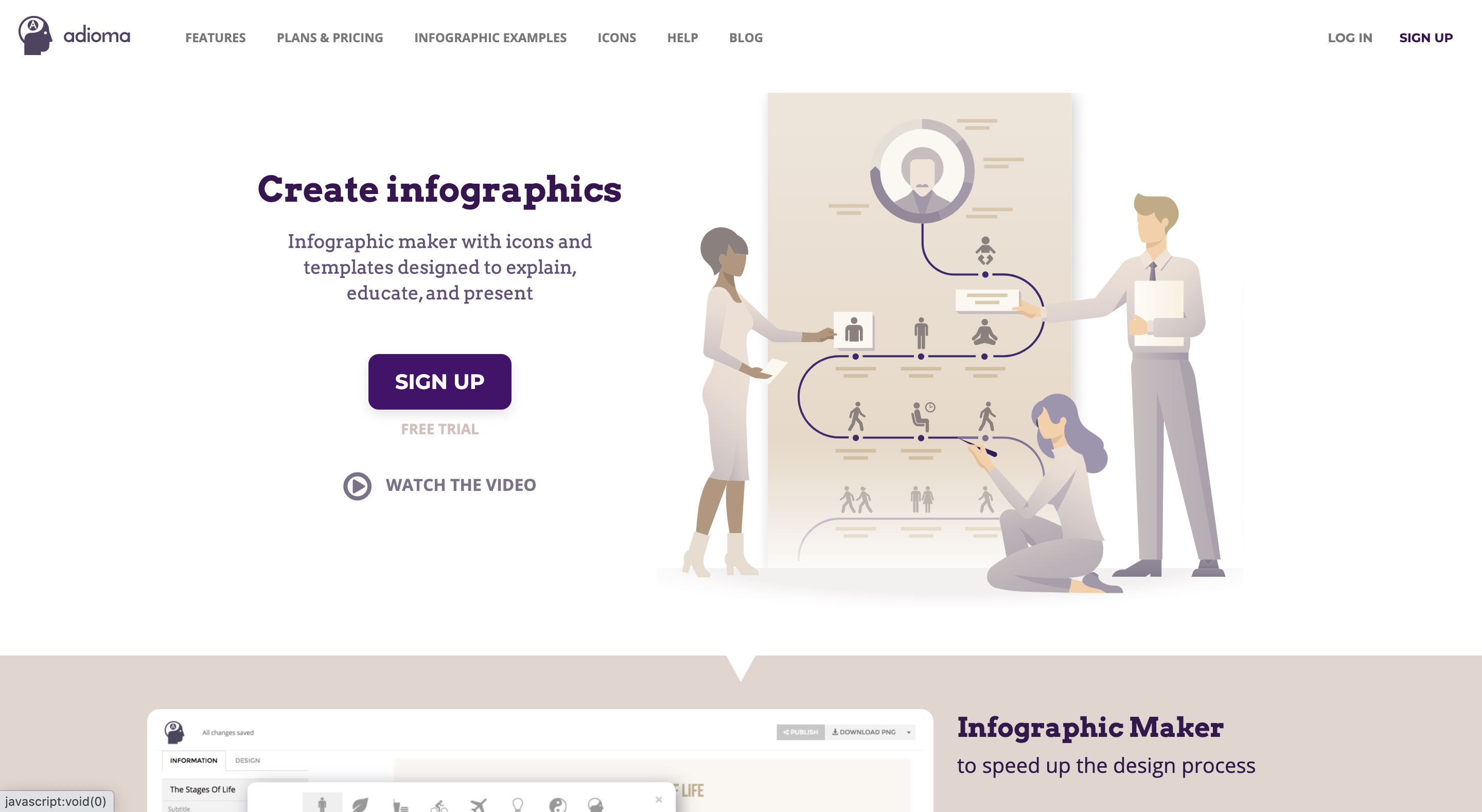 ChartBlocks
ChartBlocks is an online charting tool that allows you to design visuals in minutes and integrate them into infographic easily. It offers full control of the graph. Its integration on social networks or on a website is also very fast.
Its main disadvantages are that few themes are available and the display is limited in the free version.
ChartBlocks offers a free version and two paid offers at € 16.50 per month and € 55 per month.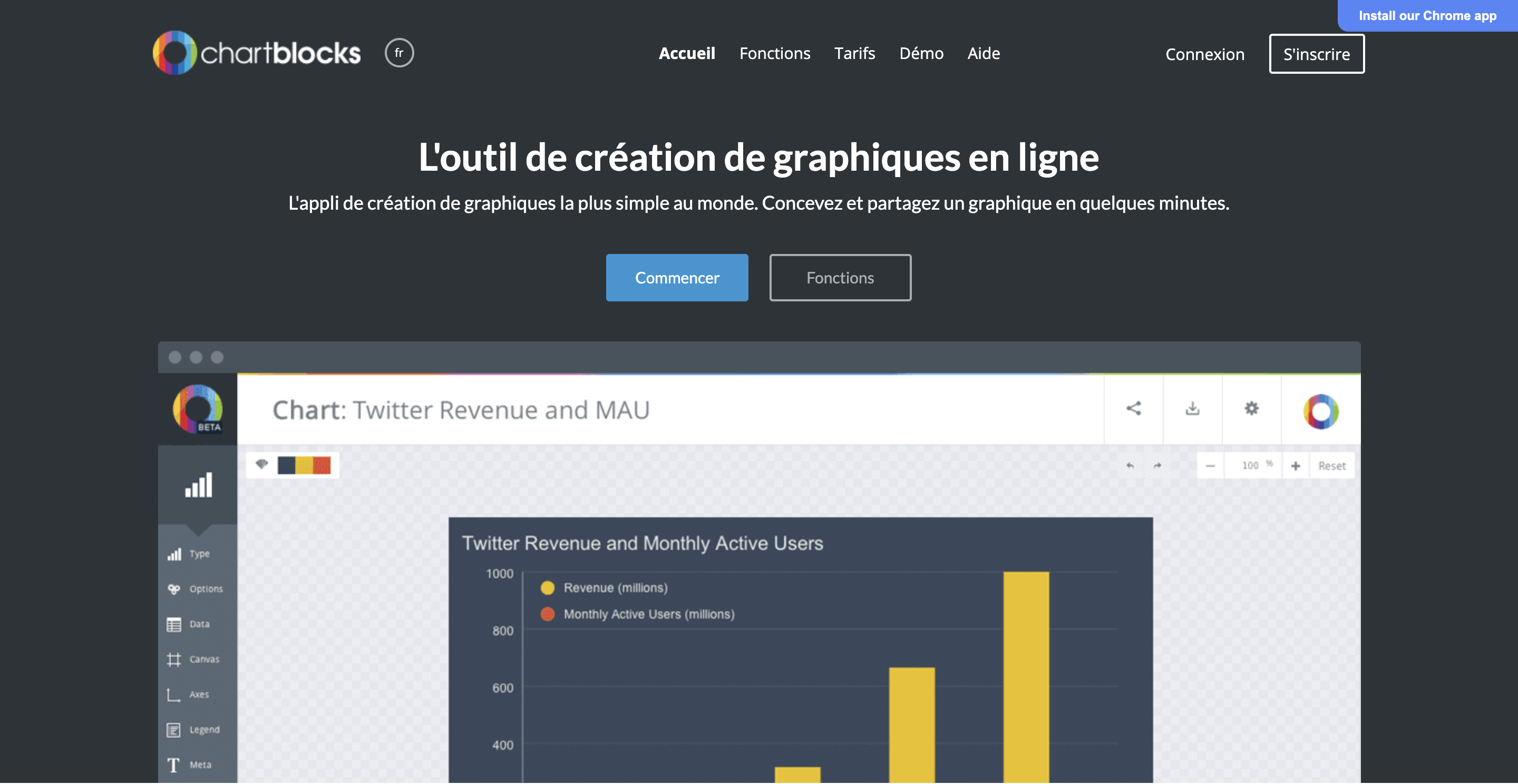 BeFunky
BeFunky is a tool dedicated to editing photos and designing infographics and graphics. The range of functionalities available is very wide. This software also offers users the ability to customize all of their infographics. It's one of the few tools that doesn't have any notable drawbacks.
BeFunky offers a free plan and paid plans at € 4.99 and € 6.99.
There are many computer graphics creation software. To choose between one or the other, the ideal is to take them in hand and test them to find the one that will be the most suitable.
To go further, download this free guide and improve the conversion rate of your site.