Key facts:
This is the same rollup previously incorporated by platforms such as Uniswap and Binance.

Daily transactions on Arbitrum are on the rise, albeit far from their all-time high.
The Ethereum ecosystem has two new exchanges that in the last week decided to incorporate Arbitrum, a scalability solution. These are ByBit and MexC Global.
These two cryptocurrency exchange platforms now They allow the sending and receiving of both ether (ETH) and ERC-20 tokens —including some stablecoins— through the aforementioned roll-up.
On Bybit's part, the company's communications team He said be pleased to announce that the exchange is now Arbitrum compatible. The company describes this implementation as "the second layer scalability solution aimed at solving the latency and difficulties associated with the Ethereum network."
Advertising

MexC Global stated, through a Tweetbe excited about the addition of the roll-up. «Join us to make Ethereum scale», they invite.
The two exchanges mentioned here join other platforms, both centralized and decentralized, that have also decided to incorporate Arbitrum as a scalability solution.
On the side of the decentralized exchanges (or DEX), the best known is Uniswap, flagship platform of the Ethereum network. In May of last year, the community of holders of governance token UNI voted positively for this to be the exchange's scalability solution. As to centralized exchanges compatible with Arbitrum, the best known and used is Binance. From November 2021 deposits can be made through this roll-up.
What is Arbitrum and why is it important for Ethereum?
As it has been said paragraphs before, Arbitrum is a roll-up. This is one scalability solution that "wraps" multiple Ethereum transactions and executes them outside of the main blockchain. That way you don't have to pay high network fees. Those transactions can be either ETH or token shipments, or smart contract signings.
Second layer solutions become essential on Ethereum, a network that, due to its high adoption rate, easily becomes congested, resulting in a slow and expensive user experience.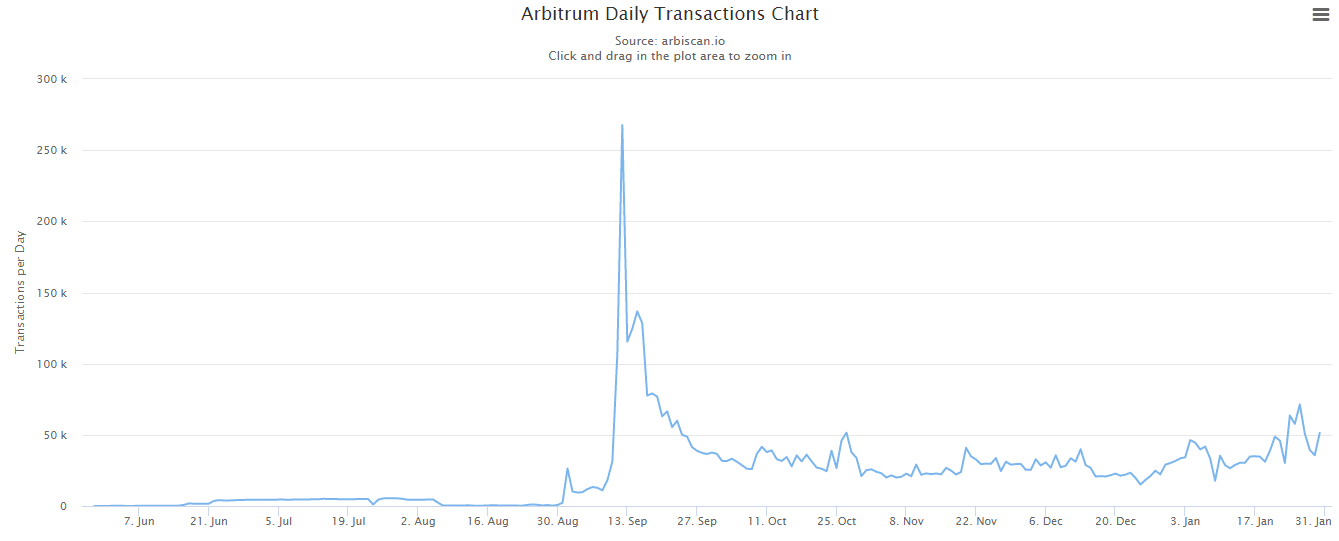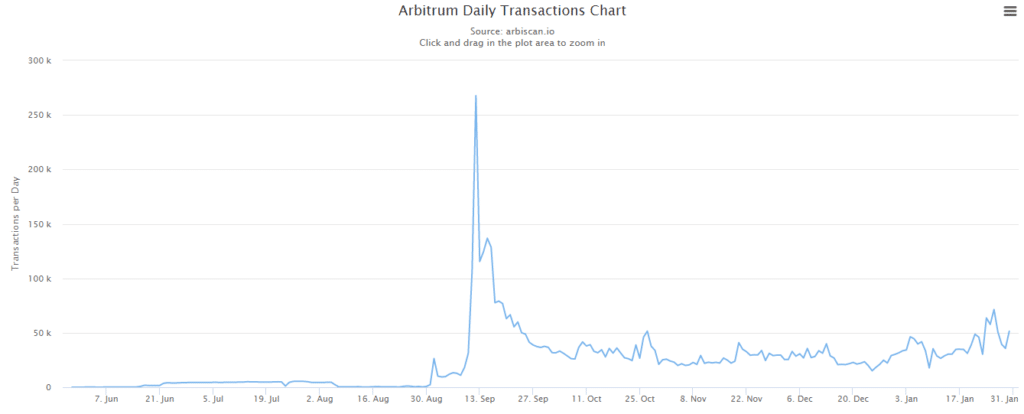 The analytical website arbiscan shows that the number of daily transactions in Arbitrum has been on an upward trend for several months. Although, currently, it is far from the historical maximum reached in September of last year.
Arbitrum has jurisdiction
Arbitrum is a roll-up of the optimistic type. This means —very briefly and basically— that it considers all transactions valid and then provides a time (one week) during which the necessary evidence can be presented to show that a transaction violates any rule.
In contrast to this, there is also rollups type ZK (abbreviations in English of "zero knowledge"). These are the rollups that we could qualify as skeptical or distrustful. This type of rollups They seek to guarantee, from the beginning, that each transaction that is approved is really valid.
To learn more about the differences between these types of rollupsCriptoNoticias has prepared a summary of their differences in the article «The battle of the rollups in Ethereum Optimistic or ZK?