Writing your Instagram bio is an essential step when creating an account. Visible to users of the social network, this text may be enough to convert them into subscribers. Brand, influencer or even online store: some accounts pass the writing exercise brilliantly. Zoom on examples in French from which to draw inspiration for a successful Instagram bio.
> Download: The 2021 Instagram Trends Report"/>
What is Instagram biography?
The Instagram bio is a text box that appears below the username, to describe the account. Beyond the text, it is possible to insert emoticons, hashtags and URLs. Two objectives when writing an Instagram bio: inform, and convince of the interest of the content.
It is important to write your Instagram bio well:
To gain subscribers. When an Instagram user hears of a name or brand that may be of interest to them, the reflex to search for the account on the social network is widespread. When viewing the account, the bio appears first. The text informs the user about the content, and convinces him to subscribe to it.
To gain customers. Instagram is used as a search engine, and the account's bio delivers relevant information. Example: when looking for a restaurant, the user enters "restaurant + city name" in the search bar; the results appear; the user clicks on the account and views the restaurant's opening hours and address on the bio.
How to make an Instagram bio in 3 easy steps?
# 1 Edit profile
On the user profile, click on "Modify profile".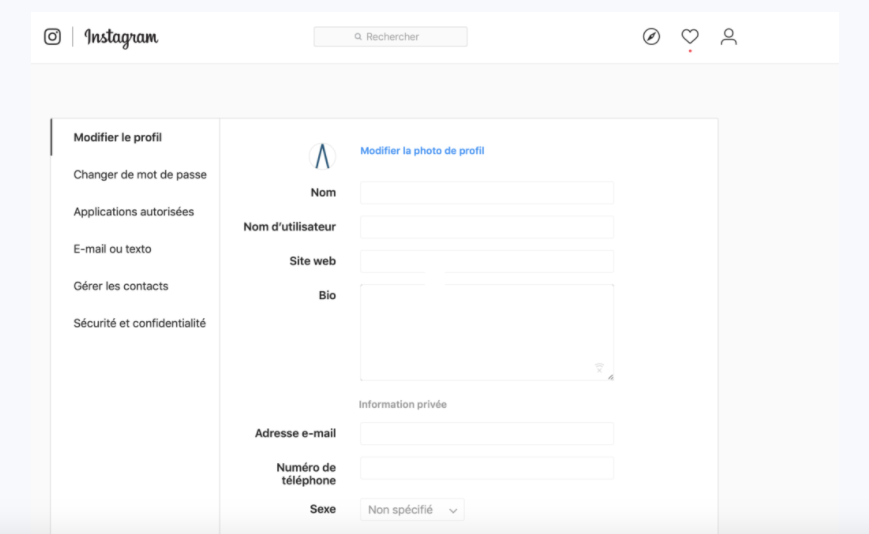 # 2 Fill in the fields
At this point, several fields to customize appear.
First of all the "Name": different from the user name, the "Name" is used to be found during a request. For this purpose, it must be simple, and representative, within the limit of 30 characters. To choose an effective name, it's a good idea to think about search queries from Instagram users. Example: the name "Chef X, home cook" is easy to find.
Then, the "Website": the field allows you to insert a redirect link to a page of the site. This can be the home page or any other web page to promote: a product page to convert, for example.
Instagram bio: for a successful Instagram bio, that is to say both informative and convincing, it is recommended to mention these different elements.
The subject of the account. Brand, influencer or even entrepreneur: mention the "job" to provide information on what the account offers.
The interest of the account. This is to answer the question: why subscribe to this particular account? It is important to differentiate from the competition to convince of the attractions of the content. You have to prove the added value and present, briefly, the best arguments to gain subscribers.
Practical information. If necessary, it is very useful to insert timetables, an address or even current news such as promotion or event. On this occasion, it is possible to include a call-to-action.
Once the Instagram bio content is ready, the formatting step begins.
Summarize the text so as to reach a maximum of 150 characters. To gain characters, it is customary to minimize punctuation, and to prefer for example the vertical separation bars to maintain good readability.
Capture attention on Instagram bio and organize the text. Emoticons are very effective for this purpose. These playful little symbols make it possible to attract the eye and to structure the ideas to be conveyed in organic farming.
# 3 Finish
When the Instagram bio is ready, click "Finish" on iPhone, or "Send" from a computer.
20 successful Instagram bio examples
There are 3 types of accounts on Instagram: the personal account, the professional account for brands and companies, the creator account for influencers and content producers. Instagram bio is all the more important for professional and designer categories, for obvious marketing purposes: gaining followers and converting customers.
Instagram bio examples for a blog
The blogger necessarily seeks to gain visibility, he writes blog articles intended to be read by the greatest number. Example of a successful Instagram bio on a travel blogger's account:
Around the world in 80 days
Nothing to sell, emotion and inspiration to offer
Join us in pictures
And here for more info
The blogger inserts flags of the countries visited, in the form of emoticons. His bio includes a redirect link to his last article.
Examples of Instagram bio for influencer or youtubeur
Sportsmen, comedians or reality TV candidates, they are influencers or YouTubers and benefit from being followed on Instagram by a significant number of subscribers. 2 examples of successful Instagram bio on the account of 2 influencers in France:


Examples of Instagram bio for an association
The association informs in its Instagram bio the object of its activity, and calls for donations. Examples of successful Instagram bio on behalf of 2 French non-profit associations:

Examples of artist Instagram bio
Singer or actor, known or in the making, the artist is gaining notoriety at the same time as he is gaining subscribers. The bio of his Instagram account reveals his artistic universe, and his current projects. Examples:


Instagram bio examples for a restaurant or hotel
The hotel or restaurant, beyond gaining subscribers, needs to be found by its potential customers. His Instagram bio therefore specifies all the useful practical information, and includes a link to Google Maps to indicate the route. Example :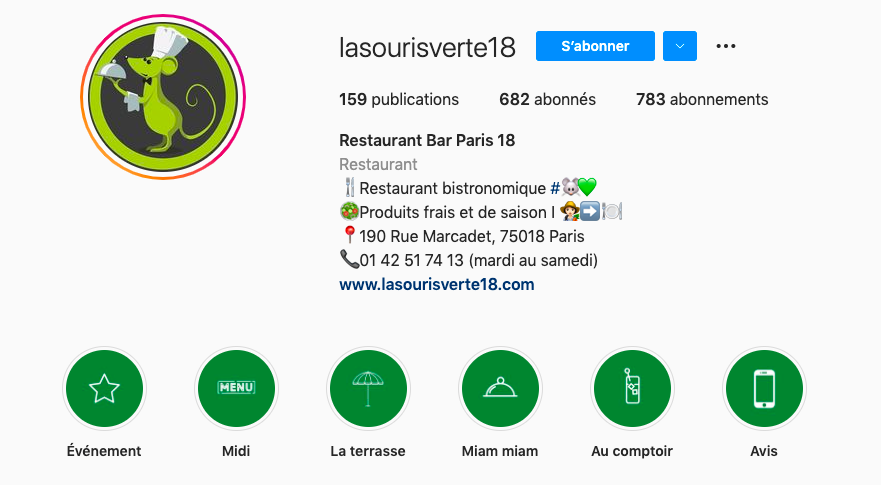 Examples of Instagram bio for an event
Sports competition, festival or cultural event: the event's Instagram account specifies practical information and includes a link to redirect to registrations. Here are some examples of successful Instagram bio: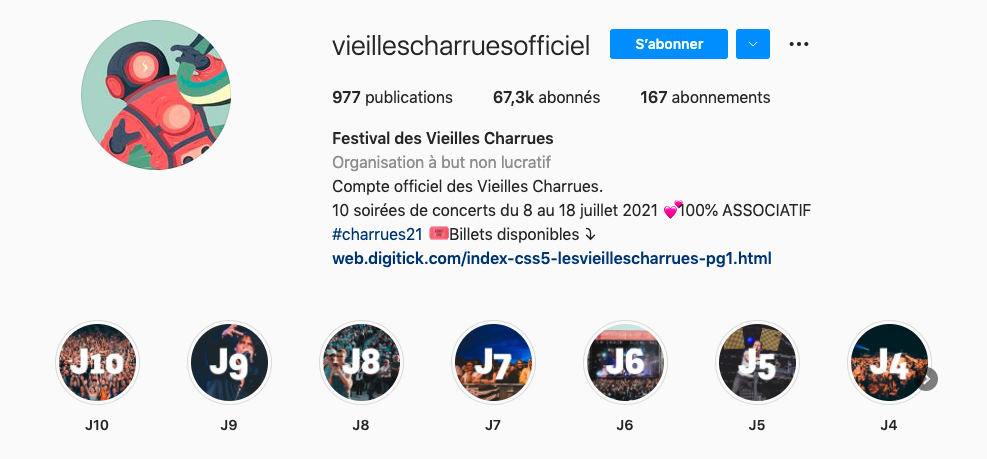 Coach Instagram Bio Examples
Sports coach, life coach or professional coach: the Instagram account holder wishes to sell his services. The bio informs about the service, and convinces of skills. Example of a successful Instagram bio on the account of a personal trainer:
Experienced sports coach
– 2 kg in 20 days
For less than 20 € / month
Visit my website
The coach draws the eye to his bio with adapted emoticons, and inserts a redirect link to his website.
Instagram bio examples for an entrepreneur or a startup
2 telling examples: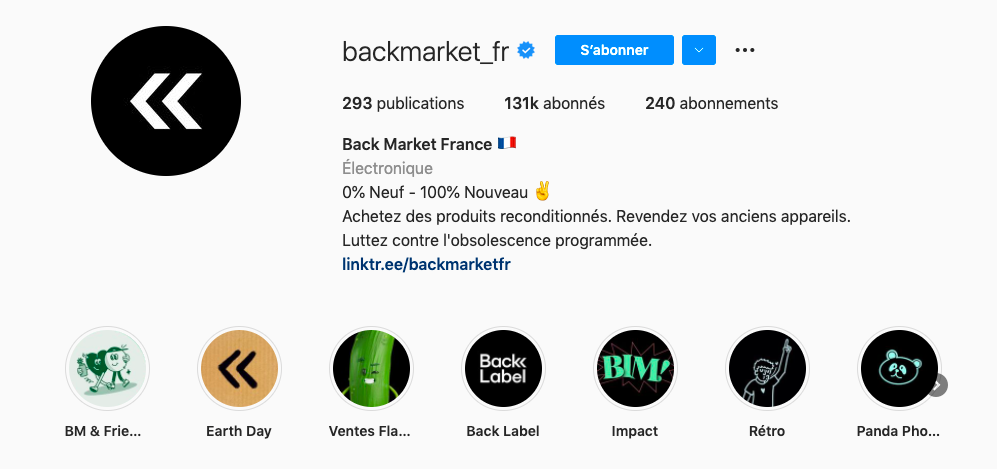 Examples of communication agency Instagram bio
The communication agency works in B2B, and its Instagram bio reflects its target. His Instagram account is particularly neat, proof of his competence in digital communication.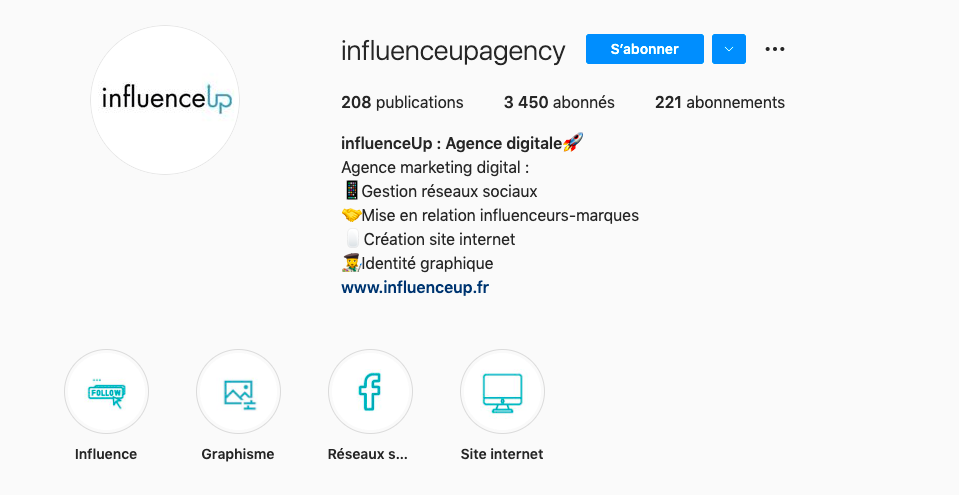 Instagram bio examples for an architect
The architect exercises a profession that touches the visual, his Instagram account is an important showcase. Beyond the photos, its organic presentation is neat. It is indeed a question of positioning oneself as a trusted partner. Example of a successful Instagram bio on an architect account:

Instagram business bio examples
Clothing, jewelry or sporting goods: whatever their sector of activity, brands have understood it well, Instagram is a powerful marketing tool. To inform about their offer, but also to satisfy their customers, businesses rely on a neat account, and it starts with organic. In pictures, 5 examples of Instagram bio from famous businesses:





To go further, download this free report and define your strategy on Instagram in 2021.