Key facts:
In June, miners sold 4x more BTC than they earned.

Foraying into the Bitcoin futures market is one of the options miners have.
Bitcoin miners have had to resort to various strategies and practices in order to sustain themselves amid the downtrend that the cryptocurrency market is going through. Added to this is the world energy crisis and other specific blows that this niche receives, such as extremist regulations by some governments. However, miners who manage to get around these hurdles stand to benefit greatly when this storm calms down.
While there are a variety of tactics in the hands of Bitcoin miners, there are four of them that are among the most common that are executed by these network workers and they are named below:
The sale of reserves of Bitcoin miners
The first strategy is to liquidate mined bitcoins. Although this tactic sounds simple, it is not. Due to the ups and downs of the market and the financial commitments of a miner, especially if they mine at an industrial level, it is important to have a significant reserve of the mined BTC. So that selling part of these reserves is not something a miner should do lightly.
According to the data analysis firm Arcane Research, the sale of bitcoins by miners increased in the first half of 2022. Between January and April of this year, miners sold between 20% and 40% of mined BTC . In May, the figure barely exceeded the amount of bitcoin they mined, meaning they started dipping into their reserves. In June, the liquidation of bitcoins by miners was almost four times what they produced.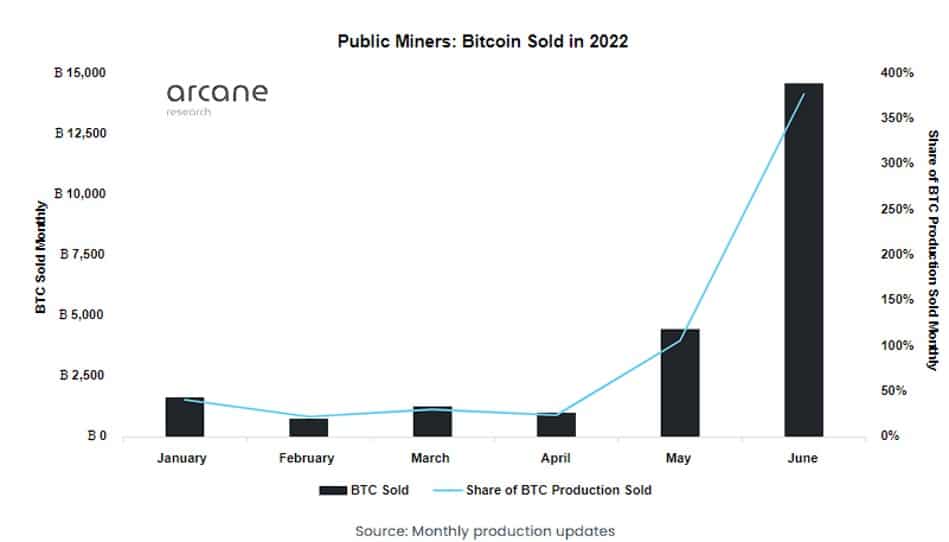 Bitcoin miners in the futures market
The strategy of selling part of the stock of mined bitcoins is not just about selling them, but also how to sell them. Although liquidating BTC at the current market price is one option, another alternative is to use the futures market.
Chris Bae, CEO of Enhanced Digital Group, commented to the Decrypt portal that his firm has been working with different sectors of the cryptocurrency ecosystem, including mining. Bae's Strategy It consists of agreeing on a date for the sale of mined assets with the companies with which it operates. The amount of bitcoins to be sold is also part of the agreement, which is expected to get a better price than the current one.
One of the reasons that may force Bitcoin miners to sell more and more of their reserves is the global energy crisis. Electricity prices come going up in many countries. This gives way to talk about another of the strategies that miners are using to survive this down season: the search for economic energy.
The reduction of expenses in electrical energy
Many Bitcoin miners, amid the rise in the price of electricity, have opted for the use of renewable energy, be it hydroelectric, solar or wind. In the United States, to mention an example of this, interest in solar energy to support Bitcoin mining is booming. Companies like Blockstream, Tesla and Block are getting into this type of technology.
In Latin America there is another example of green energy generation. A Bitcoin mining farm in Córdoba, Argentina uses biogas to generate the energy it needs to operate. Biogas is obtained through the degradation of organic matter such as animal excrement and other waste that can be toxic to the environment.
Mining company Riot Blockchain, meanwhile, has power block plans that it has agreed with its electricity provider. The advantage of this is that, in times when Bitcoin mining is not profitable, they can sell the surplus energy that they previously paid for.
Another way to save energy or use it more efficiently is to purchase new mining hardware. Mining devices become more powerful and efficient with each new generation. Although this requires a significant investment, the savings in electricity and the opportunity generated by the drop in ASIC miner prices, which CriptoNoticias has been following up on, can make this option attractive.
Third Party Bitcoin Miner Hosting
The last of the strategies that this article will mention could be compared to a kind of Bitcoin miners hotel. Is It consists of making the space and surplus energy of a farm available to other miners. In fact, not only other miners could take advantage of these opportunities, but also servers that operate in an industrialized way.
Along with hosting and power, providers of this service also manage and maintain the hardware. This allows mining farms that are growing to finance their expenses; especially at times like the present, where the profitability of Bitcoin mining is very low.
An example of this type of strategy is shown in practice by the company JA Miners, which operates in Argentina. At its headquarters, the start up has a bunker where they offer their clients the possibility of putting their equipment to mine.