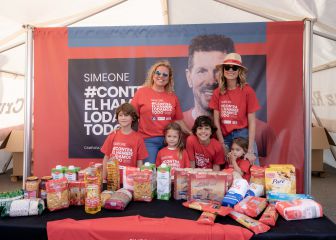 Carla Pereyra confessed it in an interview with AS just before Atlético-Sevilla of last May 15: "This is the Champions of life". The one that took place in a tent next to the Wanda Metropolitano before the match, the penultimate of the season, the last in the rojiblanco field. A Champions League with a challenge that is not to be among the top four in LaLiga year after year, it goes further: It is counted in tons. And those of the VII campaign of 'Against hunger we give everything' are seven more than in 2021: in 2022 it has reached 43 food for the most needy families. These will be distributed in the next few days.
The solidarity of the athletic fans, as well as that of all the people who have collaborated in this initiative, establishes a new record figure of food collected at a time of maximum difficulty. The campaign was launched in 2015, with 10 tons collected, and since then, each edition has been surpassed, gathering 16, 18, 20, 30, respectively, in successive years. In 2020, due to the pandemic, the campaign was reoriented towards raising funds to purchase medical supplies. And last year 36 tons of food were reached.
The International Union of Peñas also participated in the campaign for the second consecutive year, facilitating 161 collection points in four autonomous communities: Madrid, Castilla-La Mancha, Castilla y León and Extremadura.
[