For merchants and companies engaged in retail business, today it is highly recommended to have cash register software. The latter makes it possible to calmly manage a point of sale. It is not mandatory, but essential for any entrepreneur starting an activity or already owning a business.
What is cash register software?
A cash register software is a computer system with specific functionalities such as customer collection, stock management, recording of purchases and other accounting operations. The cash register software is the essential element of a point of sale allowing the development of its performance.
What criteria should be taken into account when choosing cash register software?
Accessibility
In order to choose the best cash register software, it is important to rely on intuitive software. Not only is it a collection tool, but it fulfills various functions that are very advantageous for merchants, but also for their collaborators. Indeed, each stakeholder must be able to easily use the software, whether it is the manager himself or his sales staff on the shelves or at the checkout. Everyone must know how to manage inventory through the cash register software, search for items or consult a customer's purchase history. In the world of phygital, the ease of use of tools is an essential factor in your productivity. It is therefore necessary that you can opt for an easy-to-use cash register software.
Point of sale activity
It is also essential to choose your cash register software according to the activity of your business. Indeed, a restaurateur will not have the same usefulness of the software as a clothing store manager. Everyone must be able to find functionalities adapted to the products they sell. Depending on the activity, the cash register software must allow appointments to be made, barcode reading, access to a product catalog, etc.
Swiss army knife software
It is certainly important to choose cash register software in line with your point of sale, but it must also meet certain additional features. The choice of tool is made at a specific time and it is good to keep in mind that a business evolves and that the needs of today are not necessarily the needs of tomorrow. An all-in-one cash register software is therefore to be preferred. The software must allow you to manage purchases, but also subscriptions, sales and the development of customer loyalty. In addition, physical points of sale may one day develop an online activity. It is therefore essential to choose software that is adaptable to the different e-commerce platforms.
Hardware compatibility
Another element to take into account when choosing cash register software is its compatibility with existing or future cash register equipment. Check that the chosen software can be adapted to any other cash register hardware, as some may not be compatible. In addition to PCs, tablets and payment terminals, your point of sale will certainly need at some point to be equipped with a cash scale, a barcode display or a coin mechanism depending on your type of activity. . The cash register software will therefore have to adapt without constraints to the various hardware chosen.
Regulations
One of the determining criteria that should guide your choice of cash register software is compliance with the regulations in force. Indeed, any cash register software must comply with the legislation, i.e. the law against VAT fraud, mandatory information on invoices, etc. Before your acquisition, you must ensure the compliance of the cash register software. Also, make sure the software vendor provides regular updates to ensure you're always compliant with laws.
6 cash register software for your business
Tiller
Tactile
SumUp
hello cash
RoverCash
Shopcaisse
Tiller
Tiller is a rather comprehensive cash register software as well as an analysis tool. It is specially designed for traders and restaurateurs. Tiller consists of a pack including an iPad Air 2, an iPad stand, a printer and a cash drawer. This software has basic functionalities such as cashing, order management and inventory. It also offers various functionalities such as the comparison of turnover over certain periods, the establishment of sales reports or the identification of the items which sell best. Comprehensive tool with over 200 features. Available from 79 euros per month with the Business formula. A Premium formula on estimate.
Tactile
This French cash register software has been attracting a good number of merchants for quite a few years. Touch software specially designed for iPad. It is intended to be very intuitive with its easy-to-use interface. It offers users inventory management, product catalog presentation and allows you to manage promotions and sales. Tactill also stands out from its competitors thanks to a secure and remotely controllable system as well as the various payment methods it offers. The software consists of an iPad pack, a printer and a cash drawer. Various subscriptions exist: Discovery subscription at 29 euros per month, Professional subscription at 49 euros per month and Enterprise subscription at 69 euros per month.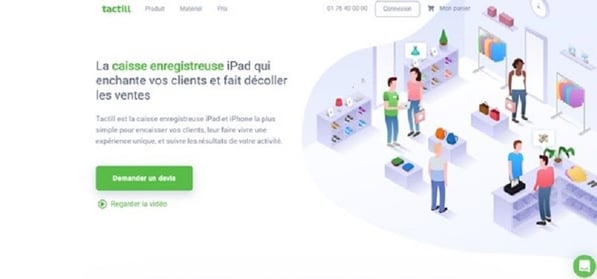 SumUp
Well-known and increasingly used cash register software. It is specially designed for merchants starting their activity and those who have a collection volume of less than 5,000 euros monthly. SumUp is composed of a payment terminal, a card reader, a printer, a cash drawer and a free application. Particularity of the software: it is free since no subscription is offered, nor fixed costs. On the other hand, the merchant will have to pay a commission of 1.75% for each transaction. SumUp is very easy to use and allows verification of sales data and also offers the possibility of importing data into another application.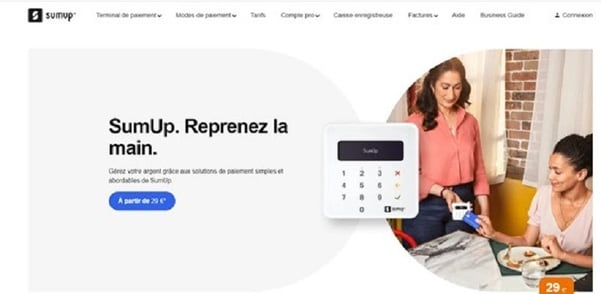 HelloCash
HelloCash is a cash register software compatible with computers, tablets and smartphones. It is free and without any commitment. Software designed as much for merchants, hair salons, beauty salons and businesses. Its particularity is that it is essentially a cash register software. The merchant must acquire cash equipment to be able to use HelloCash. Even in its free version, the software offers many possibilities such as customer and staff management as well as invoicing. Users are also offered a Medium version at 4.90 euros per month and a Premium version at 9.90 euros per month.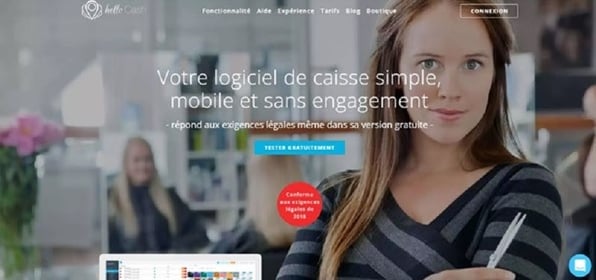 RoverCash
Cash register software specially designed for retail businesses. Food businesses cannot use this software because it does not have the functionalities required for this area of ​​activity. RoverCash is compatible with iOS and Android. It offers a pack with a touch cash register as well as a license. This cash register software is more than complete: it has an intuitive interface, allows you to collect cash quickly and above all, its editor makes it ultra-efficient with a wide range of functionalities. Three subscription plans offered: Free Starter, Standard at 39 euros per month and Plus at 79 euros per month.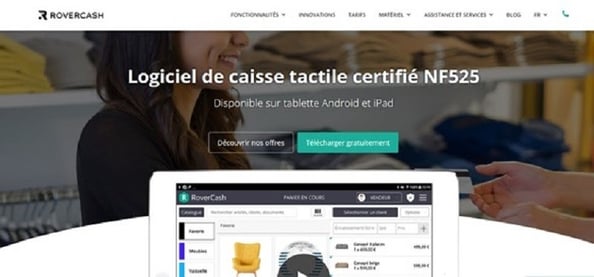 Shopcaisse
Shopcaisse is one of the most used cash register software. Intended for all types of trade. It is used on iPad. Very complete, Shopcaisse offers its users multiple functionalities such as customer management, inventory management, but it also provides an overview of the missions carried out by the employees who use the tool. Possibility for a merchant to synchronize this tool with the products of his shop. Shopcaisse also offers simultaneous orders to save considerable time and increase productivity. There is a free version, a monthly subscription for 19 euros for the first 6 months, then the subscription increases to 39 euros.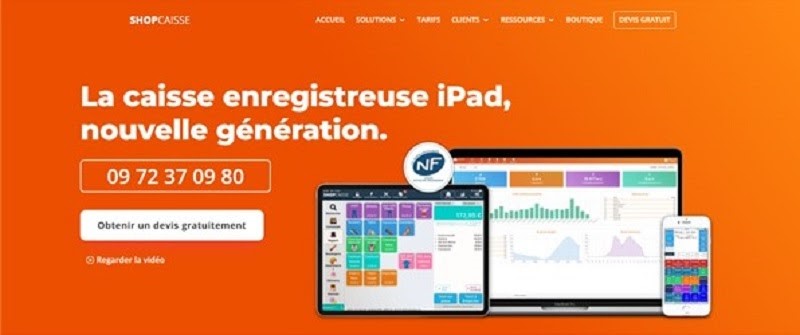 The cash register software therefore allows you, as a business manager or merchant, to equip yourself with a powerful tool that facilitates the daily life of your point of sale. It is essential to choose the right software according to your sector of activity.
To go further, download this free guide and dLearn how to set up SMS communication with your customers.