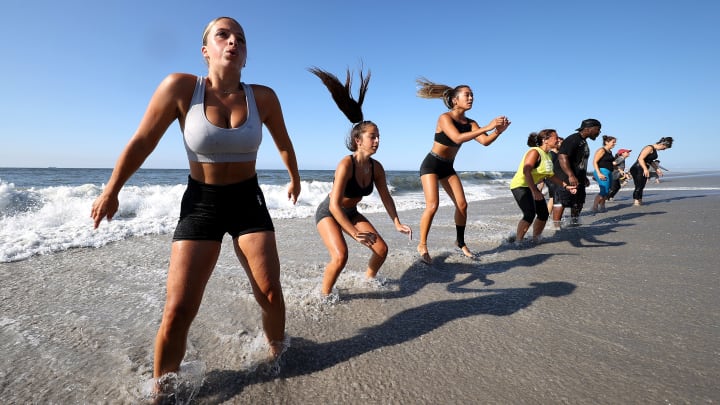 Are you lucky to live near the sea? Well then you cannot miss the beach to exercise while enjoying the outdoors. In addition to improving your mental health and your mood, the fact that you can exercise on the beach helps to tone your muscles faster, since working on sand or in the water requires more effort.
Here is a list of seven activities you can do on the beach that will make you feel great:
It is a giant pool in which you can go to exercise for free. Ideal for those who are in the process of rehabilitation for an injury. It also improves metabolism and weight and is good for the skin.
You can also implement a brisk walk. The work is more intense because the sand is not a firm ground, this will allow you to burn more calories and strengthen the muscles of the legs. Another benefit, without a doubt, is being able to relax on the beach and exercise while looking at the sea.
There are different types of activities, from rowing to paddle boarding. All include exercise of the muscles, especially the arms. It includes muscles and aerobic. Nothing better than doing it at sunrise when the sun rises, the renewing energy will keep you in a good mood for the rest of the day.
You just need will. You can do it lying on your back, after a muscle warm-up. You can also use the irons. The number of series depends on the physical state of each one.
Squats are great for toning your legs and tail. They are easy to do, however if it is the first time you are going to do it, the ideal is to have a coach or trainer to teach you the posture to avoid injury.
Acroyoga is a physical practice that combines yoga and acrobatics. It helps to develop the flexibility of the body and to gain more strength. It also increases body awareness, motor coordination and agility. It also helps to strengthen balance and stability.
Ideal exercise to increase the muscles of the arms. Ideally, choose the surface that is as regular as possible. The number of push-ups depends on how exercised the body is.