the storytelling of a brand refers to the art of telling a story to communicate around it or the company itself. Rather than touting the strengths of a product or service, an environment, a real or fictitious context is created and linked to the brand. In marketing, specialists rely on a story that supports commercial arguments, the goal being to capture the attention and arouse emotion among the target.
> Download: Storytelling models" align="middle"/>
At a time when consumers are becoming less and less receptive to advertising messages, storytelling closely follows the evolution of marketing tools. It becomes an effective lever for the e-reputation of brands. Here are 8 examples of successful brand storytelling.
8 brands mastering storytelling
Apple, a past master in the art of "user centric".
Airbnb, specialist in focusing on members of its community.
Huggies, gain added value by playing on pathos.
Innocent, having fun and making people smile to reassure and unite.
Lego, when the product itself is a vector of stories.
Netflix, transmedia storytelling and the art of the punchline.
Nike, pioneer of committed storytelling
Monoprix, from puns to concrete operations.
Apple, a past master in the art of "user centric"
Since its inception, Apple has relied on storytelling for all of its communications. Online, on television or in the Apple Store, the brand's history is highlighted much more than its products. When it comes to narrative communication, Apple handles emotion better than anyone.
In one of its American TV commercials, the brand features different people capturing moments of everyday life, against a background of nostalgic music, leaving the impression that the brand is a witness to all these shared moments. Here, the customer experience is valued more than the product itself.
In general, Apple communicates much more widely on its brand than on its products. A benchmark in storytelling, it has for years been strengthening the loyalty of its consumers, feeling that they are considered for their daily needs, to which, of course, the products of the Apple brand meet.
Airbnb, a specialist in focusing on members of its community
In 2016, Airbnb launched its Host Stories, a series of short videos promoting community hosts in order to humanize discussions, while highlighting members. These are, in fact, short videos between a few seconds and two minutes highlighting the homes and their owners.
For Airbnb, this is a very good way to retain its users by keeping them longer on the platform, but also to use storytelling by telling everyone's stories, while highlighting the inherent heritage of possible destinations in the whole world. This project is beneficial for all:
The brand reinforces the benevolence linked to its image.
Host members benefit from very good visibility.
Traveling members find inspiration for their destination and feel reassured.
Huggies, gain added value by playing on pathos
Arousing emotion is one of the main goals of storytelling, and it dates back to long before the existence of advertising. So, when a brand solicits an emotion as lively and intimate as that experienced at the birth of a child, its objective is clearly to play on pathos.
This is the choice Huggies made for one of its TV commercials. By creating its "hug program", the brand skillfully promotes its range of diapers. These are said to be designed from the cuddles of mothers to their newborns. A way of competing with its many competitors by playing on emotion rather than advancing arguments relating to the product.
Innocent, having fun and making people smile to reassure and unite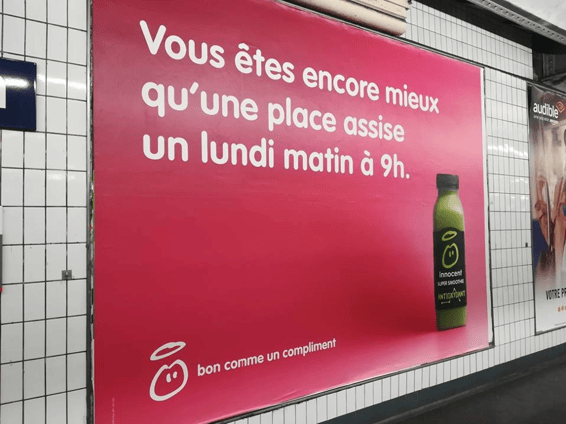 Innocent, the famous brand of fruit juices and smoothies, is known for its heartwarming little texts and original descriptions on the back of its bottles. Its goal: to make its consumers smile, but that's not all.
In Innocent's case, storytelling is meant to be heartwarming. He takes on the role of stories that are told to children before going to sleep. All of this, of course, with a marketing objective in the background: to reassure consumers about the healthy and natural composition of the products, and to unite around the well-defined identity of the company.
In all storytelling, there is one main message in mind. At Innocent, it comes down to saying "We are there in all your little moments of life" to its consumers, and proving it! The product offer fits perfectly with the discourse: Innocent products are easily transportable, give balm to the heart and respect nature.
Lego, when the product itself is a vector of stories
If brand storytelling generally relies on its values ​​and on the imagination rather than on the product itself, Lego can claim to be the creator of a mythical product, bearer of stories for generations. Above all, Lego benefits from the experience of time: it is a long-standing brand, which, since its inception, has focused its offer and its advertising on traditional values.
To reach all generations, Lego highlights the fact that we can all create stories, of course, from its famous bricks. But now, the brand is extending these possibilities to all media, including movies and video games. The perfect example is this launch trailer for the PlayStation 4 version of The LEGO Movie 2, itself inspired by the eponymous LEGO movie.
All of Lego's storytelling is based on deep values ​​like family, passion and determination to spread a strong message: encourage to dream, imagine and create, whether you are a girl or a boy, a child or an adult.
Netflix, transmedia storytelling and the art of the punchline
Among the examples cited, Netflix is ​​probably the last born, but for all that an excellent storyteller. He is the "good friend" who gently laughs at members of his community on social networks, or by joking with them, especially on Twitter, where the brand is extremely active. In fact, Netflix is ​​fully surfing the newsjacking.
This method consists of playing the humor card by diverting a current event, or by turning it to one's advantage. In addition, there are hard-hitting punchlines and references that speak to the target, the perfect recipe for uniting a community and ensuring engagement.
Here, the brand always reinforces the impact represented by its flagship sound with a sound transcribed in writing in French by "Tou Doum". To illustrate all this, she decided to banner the work of a member voluntarily neither aesthetic nor professional. In other words, Netflix does not put forward its name, but its community and what it represents in the eyes of this one.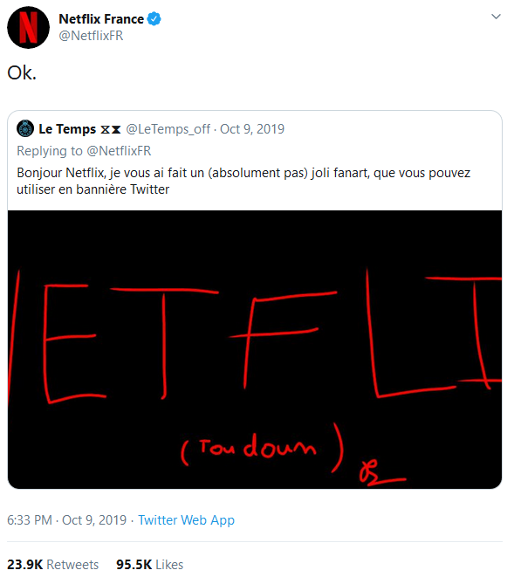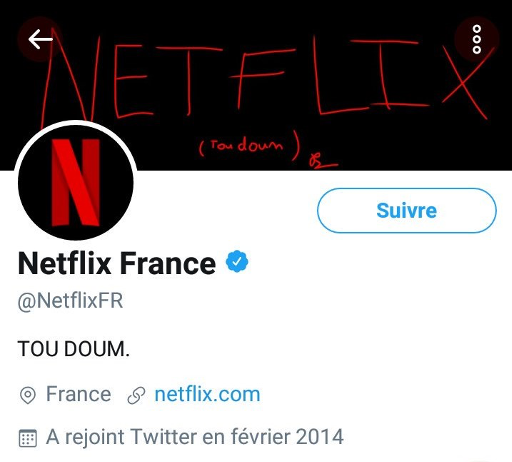 Nike, pioneer of committed storytelling
A globally recognized sporting goods brand, Nike still enjoys an impactful brand image. This influence, she owes in large part to her storytelling efforts, an area in which she has excelled for several decades. Shaken in the 90s by scandals linked to its ethics, the brand has rebounded and its storytelling efforts have certainly helped to enhance its image.
From the 70s, when Nike only markets sports shoes, the brand's advertising campaigns began to relegate products to the background to leave more room for the cause it defends. Initially, the company fights against the exclusion of women in sport and emphasizes the emancipation of the latter, at a time when the communication of several of its competitors consists more in pushing the fairer sex to the consumption.
This recipe for success is now adapted to current issues, and in particular to support for minorities. In its 2020 "You Can't Stop Us" campaign, Nike shines the spotlight on superstars as well as average athletes from all walks of life, and shares values ​​of solidarity, unity and inclusiveness. By affirming this positioning, the comma brand arouses emotion among the public who subscribe to the cause and will more naturally consider buying the equipment manufacturer's products.
The French retail chain is not the best established in the region, nor the one that can claim the best value for money. However, it displays frank popularity by focusing on an element that sets it apart from the giants of the sector: its effective storytelling, which allows it to forge a real bond with its customers.
In 2010, Monoprix made a risky bet: completely overhaul its packaging to incorporate simple and powerful puns, to the detriment of the visuals of the products themselves. In a context where consumers are rejecting traditional advertisements en masse, Monoprix's touches of humor have found and won the loyalty of their audience. The drudgery of shopping leaves room for a more pleasant daily shopping experience.

It was during the marketing operations surrounding his 85th anniversary that Monoprix transforms the test. For the occasion, the brand is offering, among other promotional offers, a contest allowing to win prizes related to word games (for example, a ring for packaging "this is an engagement bagel"). She also invites her clients to be creative and to post their own inventive slogans on social networks. Customers' attachment to the brand turns them into a major player in their communication.
To go further, immediately download these free storytelling templates to create impactful messaging around your company, its brands, products or services and their functionalities with ease.