In order for a video to attract attention, generate interest and be commercially effective, it must combine music and image. The soundtrack holds a crucial place in video editing since it infuses an atmosphere, suggests emotions and makes the video production authentic. And this, whether it is a presentation, a clip, a YouTube video, a TV spot or even a corporate video. The music enriches the message to be broadcast and supports the images. It is therefore essential to opt for a suitable background sound. On the other hand, certain musical works are subject to copyright. Exploiting them illegally can then represent a certain cost.
> Download this introductory video marketing e-book"/>
To avoid this inconvenience, there are royalty-free music sites, some of which are free and others are paid. Here is a selection of 10 sites to find royalty-free music to enrich video editing.
9 royalty-free music sites for your videos
Royalty-free music represents the use of songs for any purpose (commercial or not) and as many times as desired, without owing a royalty to the original artist. Music becomes royalty-free when it falls into the public domain, when it acquires a free or paid license and when its author has released it from intellectual property rights.
FilmMusic (Incompetech)
The site is proposed by Kevin McLeod, a composer whose works are multiple on the platform.
FilmMusic is the new version of Incompetech, a popular royalty-free music platform. It offers a rich and diversified musical library and is distinguished by its filtering by genres, by moods, by tempos or by the length of the piece. An effective solution to quickly find the ideal soundtrack for a video, in MP3 version.
To use the music for free, it is necessary to credit the author, namely to show his name and the title of the composition in the video produced. But it is also possible to buy a license so as not to have to credit the artist and have the WAV format.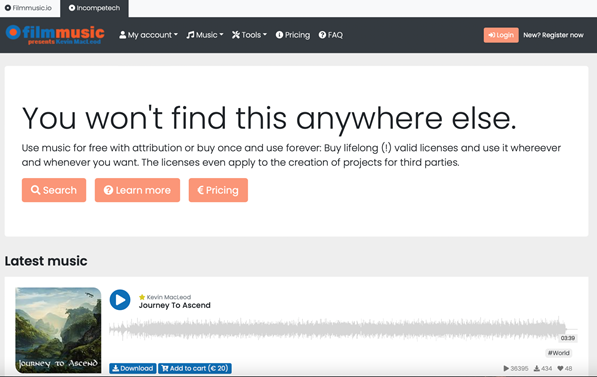 YouTube audio library
The YouTube video platform has its own audio library to limit the illegal use of copyrighted music in its videos.
It is a very interesting alternative for video creators, since they have access to a wide choice of free works to download.
Titles can be filtered by mood, genre, duration, instrument or license.
The Youtube library also offers sound effects and multiple sounds, in MP3 format.
It should be noted, however, that some tracks are free and unrestricted for both professional and personal use, while others require the user to mention the credit in the description.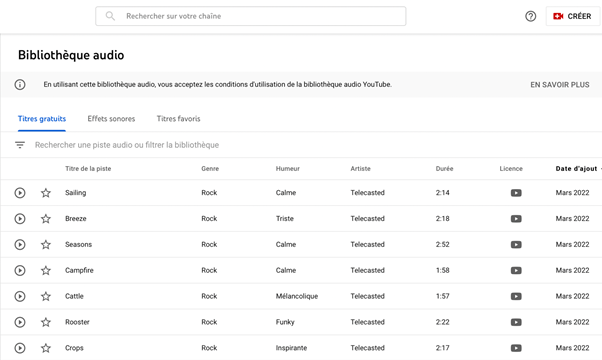 Bensound
This is a royalty-free music site that caters particularly to YouTube or Vimeo videos.
Its advantage is that it offers titles, classified according to category and genre to simplify the user's search.
Bensound has two types of licenses: free ones for online video projects (YouTube, website, animations) with mention of the credit and paid licenses (from 34 €), for the use of music in spots TV, DVD, cinema, or even video games.
Under free license, it is not possible to remix, modify the pieces.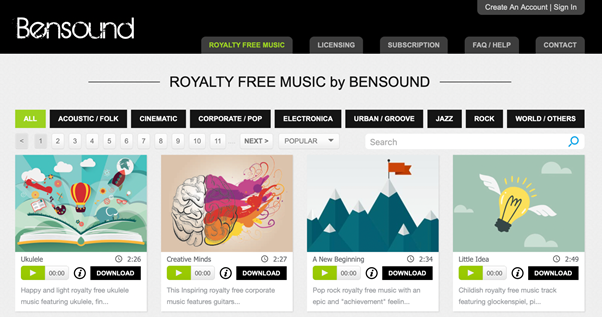 Free Music Archive
Free Music Archive is a comprehensive directory of royalty-free compositions. It brings together all musical genres, from country, to electro, to pop, to be included in commercial or personal videos.
It is possible to sort them by genre to quickly find the sounds to integrate into the video editing software.
The licenses are different according to the audio tracks. Some are sometimes restricted to non-commercial use, while others are licensed creative commons, in which case they can be edited or remixed to better match the desired mood of the video. It is then only necessary to credit the author.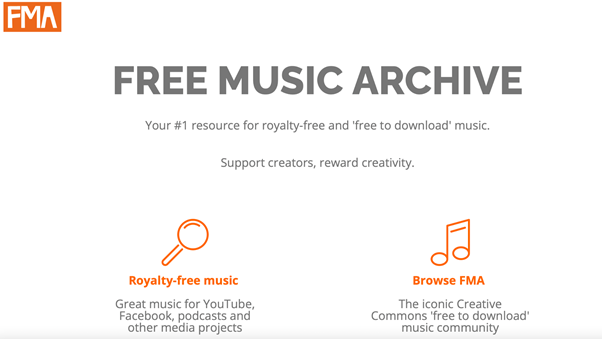 PublicDomain4u
It's a free site that brings together music that has fallen into the public domain. It offers old songs and different musical styles: jazz, piano, Charleston, blues, Christmas music, gospel and much more.
PublicDomain4u is great for giving videos a retro vibe.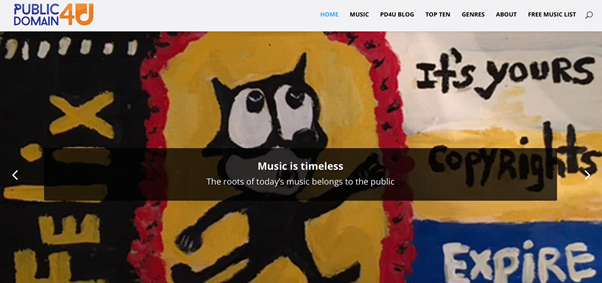 FreePD
FreePD is a second platform that compiles multiple titles from the public domain.
The site offers many genres in MP3 version that can be used for commercial advertisements, online videos, and even movies.
By paying the equivalent of $10, FreePD offers the possibility of downloading more than 800 MP3 songs at once and includes the license creative commons. For $25, the user can download more than 100 titles from the main catalog in WAV format, in addition to 800 MP3 songs and the CC0 license.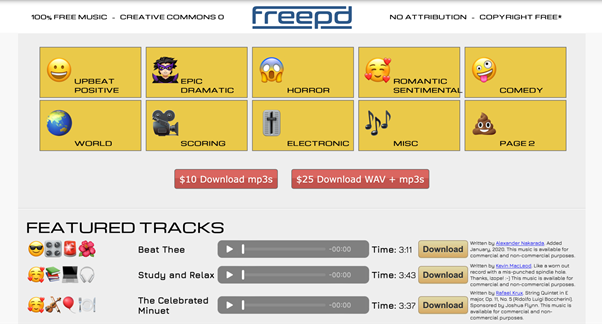 Fugue
Fugue offers multiple free songs for download, in exchange for a link. Whether for commercial or personal use, all you have to do is show a link to the royalty-free music site from the video to be free not to credit the artist.
It is also possible to buy a license by monthly subscription which opens the download to 15 songs per month, starting at $49.
The site offers a clean design and simple navigation to find the perfect music in minutes. Musical works can be filtered by themes, genres or other criteria.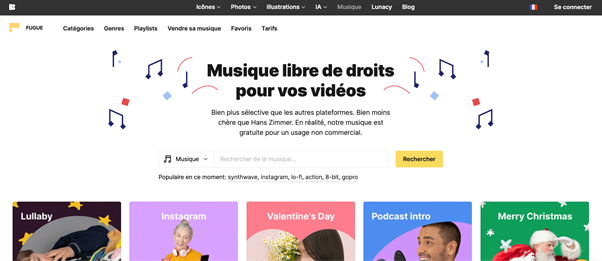 AudioJungle
The site offers millions of music, classified by genre, but also sound effects for all types of videos.
On AudioJungle, artists sell their royalty-free music. To exploit the audio file in a video, it is necessary to pay a license. The price varies according to the pieces and the use granted.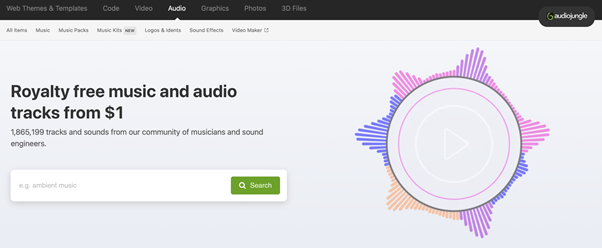 Jamendo
It is a popular online music site. Jamendo offers 250,000 varied songs to enrich video soundtracks.
You only need to purchase a music license once, priced at €9.90 for personal projects and from €49 up to €299 for commercial videos and cinematic uses. This provides access to an unlimited number of downloads for use online, in business, at events, on national television or in cinema.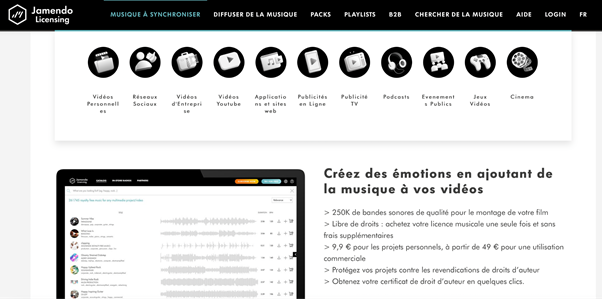 To go further, download this free e-book and discover how to implement a successful video marketing strategy.