This week we welcome Florence, from The Diamond Embroidery Workshop. She has always been passionate about manual activities whatever they are but for 2 years an activity stands out and attracts her more than others. She wanted to share it with us here: diamond embroidery (diamond painting in English).
With a few friends she formed a small group of passionate people, then after a while they got the idea of ​​opening their own embroidery sales site to offer a wide choice of quality diamond painting to all fans of this embroidery. activity.
What is "diamond embroidery"?
Diamond embroidery is simply a mix between classic embroidery (in cross stitch) merged with magic coloring (yes, the famous coloring that we did when we were in elementary school). You are probably wondering who had this original idea of ​​mixing these two totally opposite arts, but in reality it is a genius idea.
Indeed, cross stitch embroidery is renowned for its therapeutic effects related to relaxation.
However, its practice is quite complicated for beginners, so the fusion with magic coloring is superb. Its use is therefore greatly simplified, because you only have to glue the small diamond-shaped rhinestones by referring to the master color code printed on the board. The material used is also simplified, this allows you to practice a unique and relaxing activity without worries … The most interesting is the end result: you will get a real artwork shining brightly. A treat to decorate your interior, or to offer to someone who is dear to you.
We'll explain how it all works right after, so you can see it more clearly!
How to make a diamond embroidery?
As we have explained previously: the making of such a work is child's play!
However, you will need to arm yourself with some essential tools:
– a special pen (to catch diamonds)
– a piece of glue (to be placed on the end of the pen to catch the diamonds)
– a sorting container (to be able to more easily catch your small diamonds)
All of these tools are provided when ordering a diamond embroidery. This proves once again that this activity is very easy to access …
Now you are probably asking yourself: how it works ?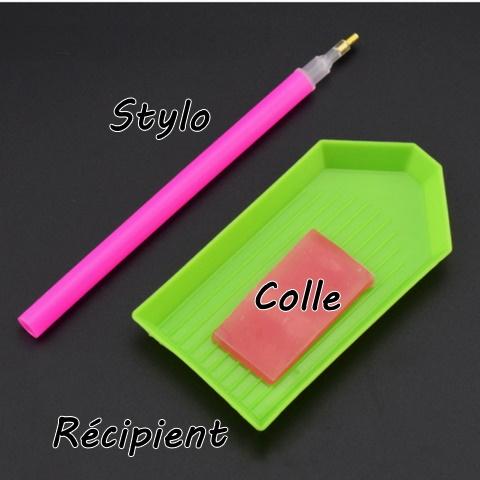 So first of all you should know that your canvas is adhesive (to stick the diamonds). So you just need to remove the protective film as you fill in the areas of your embroidery, and to do this you need the pen and a point of glue at its end. The pen, once you have stuck a little bit of glue there, will be used to catch the diamonds. Then as soon as you have a diamond at the end of the pen, you will understand it: it must be placed on its location on the canvas.
We can therefore summarize in 3 very simple steps:
– put your diamonds in the small sorting container
– place a bit of glue on the end of the pen
– prick your diamonds one by one and place them on the embroidery
The advantage of this activity lies in its ease of use which opens the door to all age categories! However, the quality to have (and which you will develop enormously) is patience … A diamond embroidery is not done in 1 hour, it takes a certain time (depending on the size of the canvas) in order to reach the end and to have completely covered the surface … So take your time and relax are the key words related to the method of making.
The benefits of diamond embroidery
Diamond embroidery is part of the category of creative activities. These are reputed to be very beneficial for the body, regardless of your age. A big advantage, therefore, for anyone looking for a hobby that is fun and beneficial for their well-being.
We have grouped together the main benefits that this activity can bring you:
– 1) Reduce your stress level: after a difficult and emotional day, you want to de-stress and forget about the worries of everyday life. What could be better than to clear the mind by making a superb canvas with the effigy of your animal, character or even favorite landscape?
– 2) Improve fine motor skills : in addition to relaxing you mentally, embroidery improves your fine motor skills (finger movement, handling of objects, etc.). A skill that is important to maintain, and especially depending on your age or the age of your child (ideal for helping a young child learn to hold small objects).
– 3) A disconnection from the technological world: nowadays the screens are present absolutely everywhere… A plague for your eyes the evening before sleeping for example. In this case, an hour of embroidery will help you fall asleep at night, because you will be completely disconnected from the screens. Extremely beneficial these days.
– 4) Boost your artistic confidence : we have all felt this sense of immense pride after having accomplished a very nice drawing, or other artistic feat. It is important to experience this feeling, because it builds your character and allows you to boost your self-confidence. Ideal therefore for a child in full awakening.
Embroidering with your child: our advice and recommendations for having a great time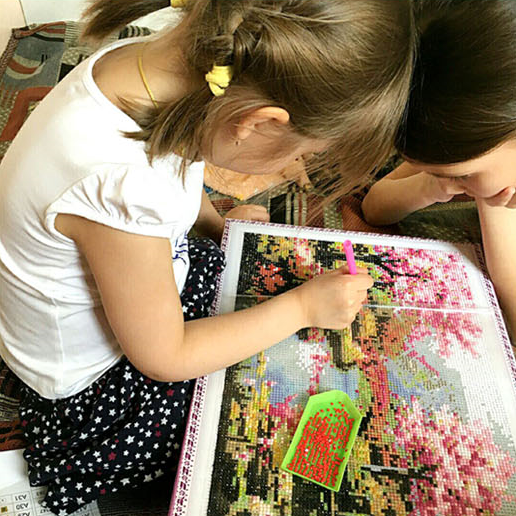 First, you should know that all the benefits that diamond embroidery provides and that we mentioned above are also present among the youngest … And are amplified! Because yes a piece of cabbage needs to gain self-confidence, to relax and have fun when coming home from school, or the fact of improving his manual skills will be greatly useful in order to excel in the field of plastic arts.
However, there are a few pretty important details to take into account. As for example the fact of selecting him a small canvas to begin with, so that he does not tire of this activity. Or it is necessary for your little one to choose himself a canvas that inspires him (In general, our children love Disney characters, so getting a pretty canvas with the effigy of their favorite character would be ideal).
You will see that very quickly, he or she will develop a passion for this activity and ask for more! Above all, this activity is also suitable for older children. You will therefore be able to have a great time with your child.
Diamond embroidery is therefore one of the activities to try in 2020. Whether you are curious, fond of manual occupations or still wanting to spend time with your children: try without delay this hobby not well known by Internet users.
And don't forget: the main thing is to love what you do!