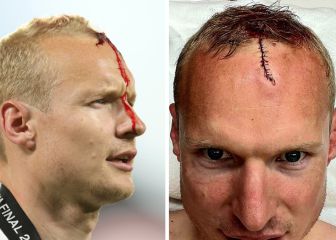 Sebastian Rode was proclaimed champion with Eintracht Frankfurt this Thursday. After a spectacular tournament eliminating favorites like Betis, Barcelona and West Ham, the Germans beat Rangers in the final on penalties after finishing regulation time and extra time 1-1 thanks to goals from Aribo and Santos Borre.
The plays of the goal and the penalties will be remembered, but also a chilling action during the first half. On a loose ball, Rode and Rangers player Lundstram went into contention. The German did it with his head, the one from the Scottish team, sought control with his left foot. One went down and another went up until the blue studs hit the head of the Eintracht footballer.
Hit, break and a cumbersome bandage that did not prevent him from serving 90 minutes on the green. Just on the brink of extra time, Rode was substituted for Jakic and lived from the outside for the rest of the match. As captain, with his bandage removed and his forehead stained with blood, Rode raised the trophy to the sky of Seville in an image that is now iconic.
With the euphoria unleashed and already in the locker room, he had to stop the party and go through the doctors' stretcher. The gap was still open and they had to sew him up, giving him up to seven stitches in the middle of his forehead, as he shared on social networks. "The main thing was to get it! Everything else doesn't matter," she wrote on her Twitter account, sharing a photo of her massive wound.
In addition to every time you see the medal or the replica of the cupRode will remember the match in which he lifted the first European trophy of his career thanks to a noticeable scar. Seven points that are worth a Europa League.
[