Although he does not want to gut you anything about the history of Lotus Omega Because I prefer you to read our article about it, today we must remember that the development of a high-performance version of a saloon like the Opel Omega was extremely expensive and since at that time GM had acquired a promising manufacturer with a curious philosophy called Lotus, this was in charge of producing it.
As you probably already know, under the hood the Lotus Omega has a 6-cylinder in-line 24-valve engine with no less than 3,615 cc. The engine came from the well-known Opel Senator only which featured a new light alloy cylinder head, two Garret T25 turbos mounted in parallel, a new oil cooler, Delco electronic injection, Mahle pistons covered with a phosphate and graphite reinforcement, a reinforced block , reinforced connecting rods, reinforced crankshaft, exhaust manifolds – the exhaust had a double catalyst – and Rochestar injection and much more. Is awesome mechanical 3.6 L Opel C36GET twin-turbocharged I6 was capable of developing 382 hp (281 kW) and 568 Nm of torque at 4,200 rpm of which 470 Nm of torque was available from 2,000 rpm. It was rare, limited, and exotic. It was also expensive, very expensive but it was good, no, better than good, excellent.
At the time it was one of the fastest and most powerful four-door saloons in its class – curiously the most powerful – capable of putting BMW and Mercedes competitors on the ropes and even knocking them out with an instant KO.
This impressive mechanic was associated with a ZF six-speed manual gearbox from Chevrolet Corvette ZR1 and a 45% limited slip differential that came from the Holden Commodore V8. The gossips said that of the 6-speed manual gearbox, only the first five speeds were used since the sixth was extremely long and was designed to reach its exorbitant maximum speed.
As you may have seen, we were talking about a saloon and not a family, however fanaticism has pushed many followers of the model to mount their own units.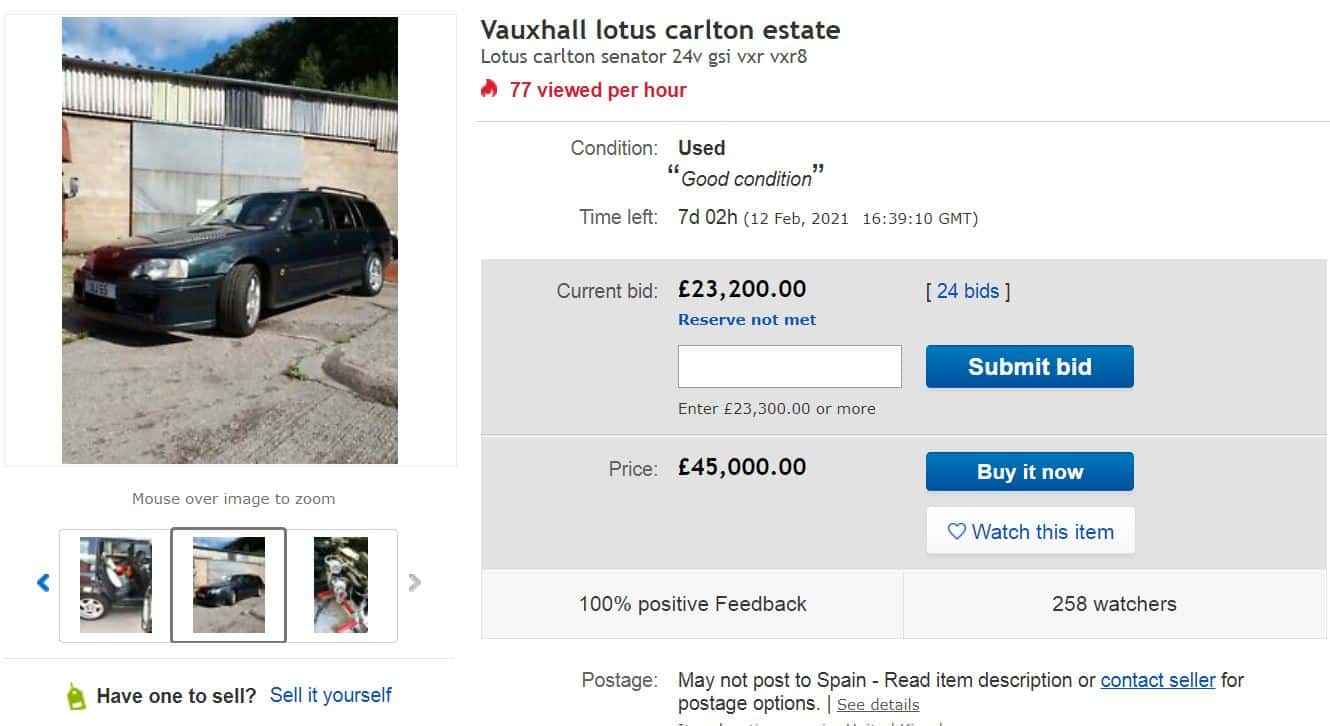 Today we learned that there is a very special "Lotus Carlton" for sale at Ebay. Apparently an owner carried out the construction using a Crashed Lotus Carlton and a wagon Omega. The result is very worth it, right?
Lotus Carlton Estate.

That's it. That's the tweet.https: //t.co/OcvwGD5wIv pic.twitter.com/dG2XUNj75H

– Lewis Kingston (@theseoldcars) February 3, 2021