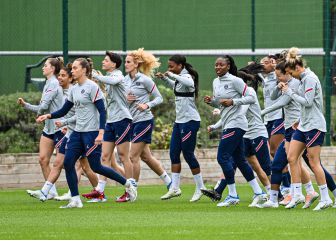 While the Lyon soccer players have starred in a common campaign on social networks to mobilize the maximum number of fans possible today at the Parc Olympique Lyonnais (17:00), which hosts the first leg of the second semi-final of the Women's Champions League, its rival, PSG has lived through some of the most convulsive last hours.
And it is that the journalist Romain Molina advanced yesterday that two footballers of the Parisian team had quarreled during the morning training session led by coach Didier Ollé-Nicolle. He specifically stated that Kheira Hamraoui had insulted Sandy Baltimorewhich had ended in a brawl with more players involved.
Hours later, the Parisian entity issued a statement confirming "an incident between players" and announcing measures about. at the time, the experienced midfielder was left out of the squad for PSG's momentous match against Lyon and part of the fans celebrated on social media.
It was not the first time that Hamraoui received the hostile comments from Parisian fans, Well, from the assault on the former Barça player, the incrimination of Diallo or the accusation of "moral harassment" that his lawyer made of this, Diani and Katotothe soap opera has only heated up the atmosphere.
Thus, with Hamraoui out of Ollé-Nicolle's call, PSG will have to forget about their problems to face the seven-time champion of Europe. A Lyon, which is second in the French league, just one point behind the Parisians, but which already endorsed him a 6-1 in the domestic competition. Barça, with a foot and a half in the final in Turin after 5-1 against Wolfsburg, expects a French rival.
[