Key facts:
If no more transactions came in, it would theoretically take 22 hours for the miners to clear the mempool.

Facts on Binance and Coinbase could have influenced, in part, the high volume of transactions.
The Bitcoin network mempool is full with transactions waiting for confirmation since yesterday afternoon, Wednesday, May 11. There are more than 50,000 operations distributed in more than 100 blocks that keep the miners of the mother of cryptocurrencies extremely busy. Despite this circumstance, the average mining commission remains below USD 1, which shows the maturity of the network.
At the time of writing this article there are exactly 115 transaction blocks waiting to be added to the Bitcoin blockchain. Although this list exceeded 130 blocks accumulated in the mempool of this network (more than 350 MB).
If you take into account that the Bitcoin network, on average, adds a block every 10 minutes, this means that you it would take almost a whole day (about 22 hours) to release the mempool completely. That without taking into account the new transactions that will continue to arrive minute by minute and fill new blocks of data.
The good news in this scenario is that, despite the congestion that the Bitcoin network has been going through since yesterday afternoon, the average cost of commissions have not risen to exorbitant levels and remain in the range of 15 sat/vb and 20 sat/vb.

In this case, the wide adoption of SegWit by BTC wallets and exchanges may be positively influencing this result, since its adoption allows more than 80% of transactions use this method.
SegWit is an update that came to Bitcoin in 2017 and allows blocks to include more transactions. This lowers the costs of mining commissions and allows to relieve the mempool with greater efficiency.
Possible causes of transaction congestion in the Bitcoin mempool
There are a number of possible causes, both internal to the Bitcoin network and external to it, that could be influencing the accumulation of blocks that its mempool currently suffers.
However, it is quite difficult, if not impossible, to determine exactly which of them is primarily responsible for this situation.
The tsunami of transactions in the Bitcoin mempool
In the early afternoon yesterday, a staggering number of transactions occurred almost simultaneously on the Bitcoin network.
The question to answer then is What caused the stampede of transactions in Bitcoin yesterday? One of the possible answers is in a fact recently reported by CriptoNoticias that involves Binance.
According to a developer of bit feeda Bitcoin network statistics website, a set of Binance-related transactions filled a third of the Bitcoin mempool in just half an hour.

These operations carried out by Binance coincided in time with large movements of BTC. Some of those movements could be identified as consolidation of exchange funds. But other moves of 500 BTC, 1,000 BTC, and 2,000 BTC were made to other exchanges like Gemini.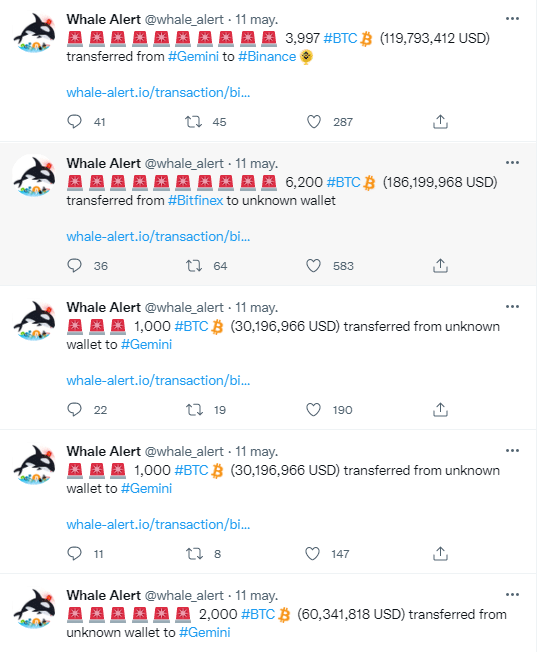 These transactions are not necessarily linked to each other, but were recorded by Whale Alert and many can be seen consolidated in two directions with amounts greater than 1 million BTC, 3.5 million BTC Y 105 million BTC.
Binance also suffered an outage of its P2P exchange service. According to its CEO, Changpeng Zhao, a "high load" of activity caused the failure of their servers.
The bear market and the FUD caused by Coinbase
In its first quarterly report for 2022, published last Tuesday, the US cryptocurrency exchange stated that its users' cryptocurrencies could be "subject to bankruptcy proceedings." In other words, if Coinbase goes bankrupt, its users' money could be used to pay off the company's debts.
The risk of losing your cryptocurrencies to a hypothetical bankruptcy case could lead Coinbase users to transfer their money to other side; either to another exchange house or, what would be more recommended and safer, to a wallet that does not depend on the custody of third parties.
The bear market is possibly one of the main reasons why people are transferring their BTC back and forth, to the point of overloading the network mempool. There is a term for the feeling that invades the masses at times like this: FUD (fear, uncertainty, doubt), whose initials in Spanish mean fear, uncertainty and doubt.
In markets with downward trends or sudden falls, the FUD usually affects a lot and creates a kind of vicious circle, where falling prices in the market cause panic selling and these, in turn, cause the market to fall further And keep repeating that cycle.
Increased mining difficulty
Mining difficulty reached a new record last Tuesday, when it increased by 5% to reach 31.2 T. These types of adjustments usually lead to a slowdown in block production, but not a complete stoppage.
The coincidence between the arrival of an unusual number of transactions and the difficulty setting, played against those users who have transactions waiting.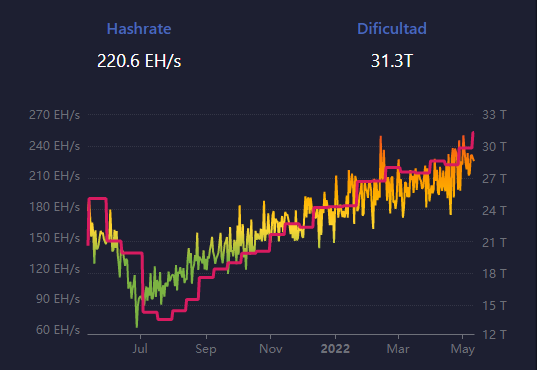 In fact, the addition of blocks is keeping a good pace according to data from the statistics website mempool.space. This is because the mining power in Bitcoin has grown in parallel with the difficulty, so the speed of adding blocks is not affected.
Although the increase in mining difficulty is not the main cause of the congestion in the Bitcoin mempool, there is no doubt that it does its bit to complicate the situation a bit.
---
This article was written in collaboration with Jesús González (editor).