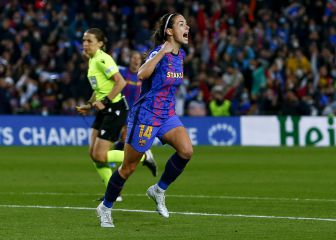 Aitana is packed. The one from Sant Pere de Ribes (1998) arrives at the decisive month of May in a great state of form. After overcoming the soleus injury that kept her off the pitch for a month, the Barça midfielder has played 14 games between the League, the Queen's Cup and the Champions League. In all of them he has shown a superlative level with which he makes a difference.

This Sunday, in the absence of Alexia Putellas due to rest, theto '14' blaugrana led the Blaugrana midfield for the comeback in Vallecas after Engen's early expulsion in the 10th minute. Her team needed her and there she was.
Aitana moved across the Vallecas lawn as if she were two footballers, making Barça not notice their numerical inferiority at any time. With a Patri Guijarro more focused on getting the ball out, the Catalan midfielder was carried away in attack and ended up scoring three goals. Aitana, unchained.
This season has already marked a dozen goals in the Primera Iberdrola, to which he adds six goal assists. In addition, he has also scored four goals in the Champions League, one against Wolfsburg and another against Real Madrid, in the semifinals and quarters respectively. The Sant Pere de Ribes already looking at Turin (May 21). And to the final phase of the Copa de la Reina (May 25-29). Aitana unchained.
[