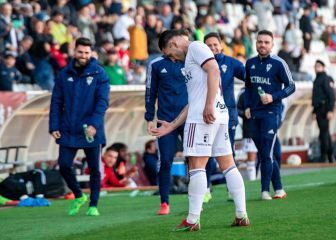 Albacete continues to make Belmonte a stronghold after thrashing Balompédica Linense 3-0 this Sunday in a match in which all the goals came in the second half.
The first chance for the team from La Mancha came in the 12th minute, with a volley shot by Rubén Martínez that went slightly wide of the goal defended by Nacho Miras.
In the 17th minute, the home team was once again close to taking the lead after a great play by Fuster, but Rubén Martínez sent the ball high when he was alone against Nacho Miras.
It was difficult for Albacete to generate danger and in the 36th minute, Riki Rodríguez tried it with a shot from the edge of the area but the ball went slightly wide of the visiting goal.
In minute 43, Balompédica Linense had their best chance with a great shot from the edge of the area from Dorrio that Bernabé had to work hard to deflect the ball to a corner kick.
Before the break, Chiro was sent off for a hard tackle so the visiting team was left with a numerical inferiority.
After passing through changing rooms, Albacete took the lead on the scoreboard in the 56th minute, after a great assist from Fuster to Enmanuel that Dani González pushed into the net to put the white team ahead as soon as they entered the field of play.
The La Mancha team managed to open the can and Later, Kike Márquez's brace would arrive to sentence the match.
The second goal came in the 69th minute after a great shot by the Andalusian player and three minutes later, Márquez himself scored at will after a great center from the left wing by Julio Alonso.
In the last minutes of the match, both teams had chances and both Albacete and Linense ran into the woodwork.
With this victory, the white team continues on its way to promotion to the Second Division while Balompédica Linense will have to continue in the fight to achieve permanence.
[