Key facts:
72% of Ethereum nodes have been upgraded to support Altair.

Phase 1 of the transition to the new network is underway, for which there is still time.
From this October 27 in the morning in Latin American countries, the first update of the Ethereum 2.0 network, called Altair, came into effect. This new version of the Beacon Chain mainnet, as Ethereum 2.0 is called, is the first of 64 shards that will build the new blockchain.
The Altair update was scheduled for 10:56:23 am (Pacific time), which implies that it occurred early in the morning of Wednesday 27 in the various countries of Latin America. More precisely, it was scheduled to occur at the time 74240 of the network, as reported in the Ethereum Foundation blog.
This actually happened in a timely manner, as confirmed by a Twitter post that the Ethereum profile retweeted. "Welcome to the 74240 epoch and Altair, Ethereum's new Beacon Chain hard fork," wrote Lefteris Karapetsas.
According to the data offered by nodewatch.io, 72% of Ethereum nodes have already been upgraded to support Altair.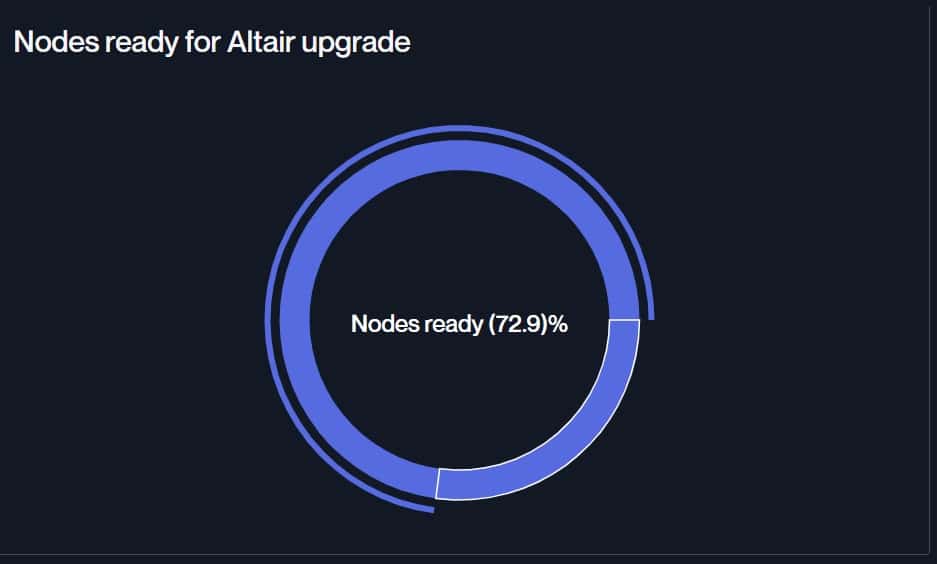 As CriptoNoticias explained, this upgrade carries several changes that improve the new Ethereum blockchain. Among them, stand out some related to incentive accounting and punitive parameters for network validators.
In this way, One more step of phase 1 of the transition to the new Ethereum network, 2.0 is completed, which is created in parallel to the previous blockchain to continue storing information in the process.
The phases of the transition to Ethereum 2.0
The path of the Ethereum blockchain to its new version, which will change mining (proof of work) for him staking or proof of participation (proof of stake) pursues several objectives to improve the functioning of the network. The main ones are scalability, security, storage and sustainability.
This process will consist of several stages that have been explained in depth in this CriptoNoticias publication. After the completion of phase 0 in 2020, which included the implementation of the Beacon Chain, phase 1 is now being finalized. This stage includes the creation of 64 parallel chains or shard chains with which Ethereum 2.0 will operate, at least initially.
Later, phase 1.5 will arrive, in which the two blockchains will be merged with their respective validation methods (PoW and PoS). Finally, phase 2.0 will arrive, in which the chains of fragments undergo a final conversion to become connected structures that support smart contracts. This is the final step of the change to the new blockchain.