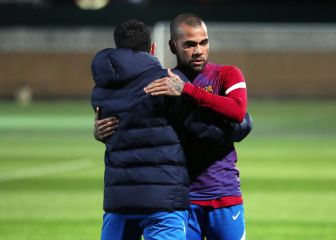 Veteran Brazilian winger Dani Alves admitted that the call from Xavi Hernández, his former teammate and current Barcelona coach, was a "surprise" for him and that he did not think twice to return to the Spanish team.
"It was a surprise to receive the call from Xavi and to be able to come back. I was focused on other things. At the time he was an ambassador for the Community of Portuguese Speaking Countries and out of nowhere I received a call from him saying that he wanted to count on me," Teral declared in an interview with the newspaper Or State of Sao Paulo.
According to Alves, Xavi told him that he wanted to "count on" him because of his "experience" and that he had followed his performance at the Tokyo Olympics, in which Brazil repeated the gold medal, and at Sao Paulo.
"He saw that he was physically well and I took the flight from Portugal directly to Barcelona to inform them that one more chapter (of his history with the club) would be written. I didn't even think about it much to answer and it was a 'yes', let's go now," he commented.
Alves, 38, hopes to continue in the calls for the Brazilian team and play the 2022 World Cup in Qatar, with the dream of lifting the sixth title for the country, "inspired" by his idol Cafu, captain of the five-time championship in South Korea -Japan 2002.
"I am working on all aspects to reach my best level. I know that the demand is very high in a World Cup. I've already experienced that and it's not just the call, it's the daily work to do things well at the club and I have to always be open to improving as a professional and as a person," he stressed.
Alves made it clear that for the moment he does not intend to retire and will continue until the "blood in the veins" and the "glitter in the eyes", elements that inspire a documentary about his life, "remain intact".
"I'm going to try to match (Italian goalkeeper Gianluigi) Buffon, who renewed until he was 46 years old (with Parma), and the Paris Olympics (2024) are also close by," he claimed.
However, he ruled out, for the time being, returning to Brazilian football in the near future to retire, since his "dream of playing for Sao Paulo" has already been fulfilled and his link with local sport would be as a "leader."
[