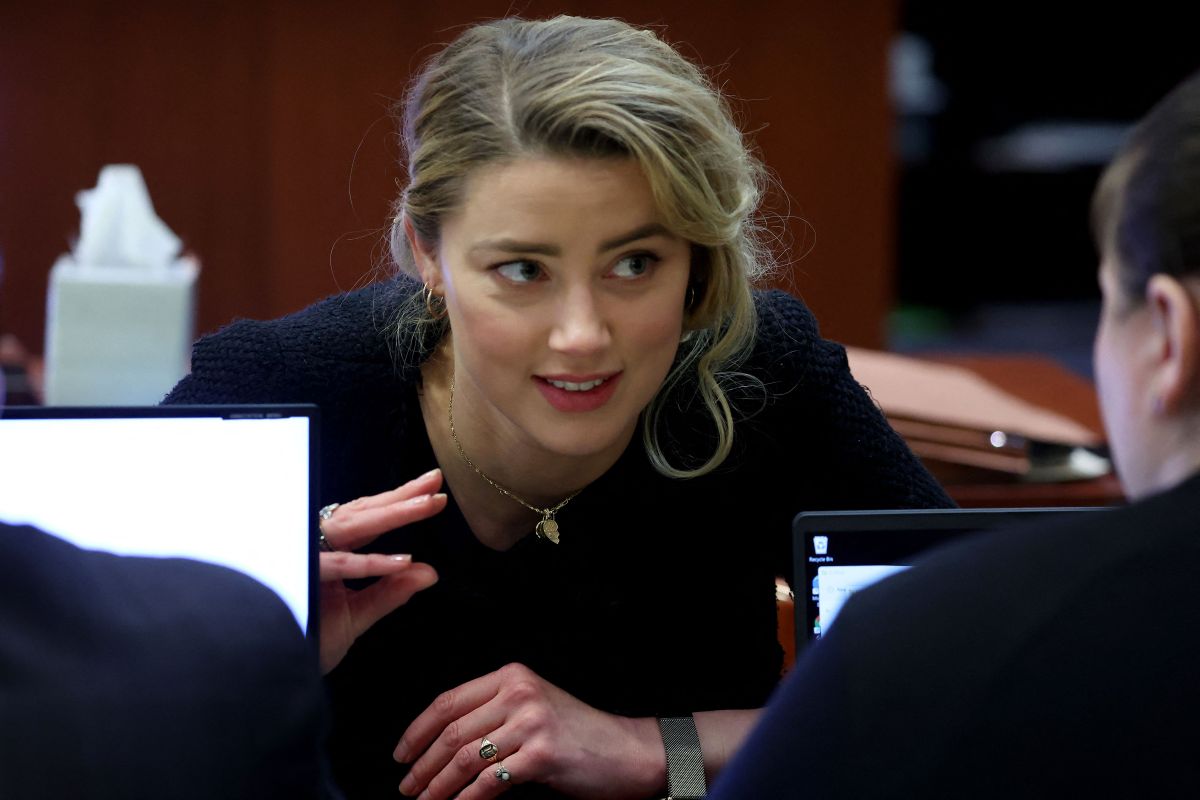 Photo: Michael Reynolds/Pool/AFP/Getty Images
According to testimony given in Fairfax County Circuit Court, where the trial in the defamation lawsuit of johnny depp against Amber Heard, The actress forced details about her marriage to the actor to be included in the opinion piece for which they are currently in this legal process.
The general council of the American Civil Liberties Union (ACLU), the organization that wrote the piece on behalf of Heard, Terrence Dougherty testified that in the process of creating the article published in the Washington Post in 2018 There were several discussions about the first draft with the actress, who is an ACLU ambassador specializing in gender-based violence issues.
In the writing strategically published to coincide with the premiere of "Aquaman", Heard assured "Two years ago, I became a public figure symbolizing domestic abuse, and felt the full force of our culture's anger against women who speak out"although his lawyers advised him to remove those statements from the article. At the moment, Depp's lawyers claim that these refer to the abuse allegations that the actress brought against Depp in 2016.
Dougherty commented that Many ACLU attorneys reviewed the article, and the actress's attorneys also read it to ensure it did not violate Heard and Depp's confidentiality agreement during their 2016 divorce. Nevertheless, an email received by Jessica Weitz, an ACLU employee who participated in this process, It contains an edited version of the piece that was approved by the interpreter's legal team, but which restored a part that had been deleted in the first version.
The ACLU General Counsel testified that "The language that ended up in the final opinion piece was very different from the original language," but that they did not speak directly of the relationship between the actors. Dougherty also shared that Heard fulfilled the agreement to donate 3.5 million dollars (half of the seven million she received in her divorce from Depp) to the ACLU. He stated that so far they have received 1.3 million and that they expect the rest to be paid over the next decade, but that the actress has not given money since 2018.
Amber Heard's defense assured that although the jury could believe that she was not a victim of domestic abuse by Johnny Depp, The article doesn't talk about Depp, nor is he the main topic, so I wouldn't be defaming him. They stated that the actress has the right to express herself publicly about her experiences.
You may also be interested in:
–Meet the mansion where Johnny Depp lost part of a finger after a fight with Amber Heard
-Los Angeles police say they did not see injuries in Amber Heard after fight with Johnny Depp in 2016
–"They are competitive and neurotic": This is what a graphologist said about Amber Heard and Johnny Depp on trial