---
Let's go !!
Our program "Imperfect… and proud to be" re-opens its doors today, for a week!
It's THE "anti-guilt" solution to understand and release your uncontrolled anger and become a serene mother (even when you slip up).
Click here to discover the "Imparfaite… and proud to be"

(To celebrate spring, it is available at -50% off, until Sunday April 17)
---
But let's get to the heart of today's topic:
Carefully take care of your child… thanks to an air hostess
You are on a plane, ready to take off.
The hostess unfolds the safety instructions.
She explains that if something goes wrong, if the oxygen masks fall off,
The instructions are clear:
"If you are with a child, put the mask on first… on yourself.
Breathe normally.
And then put a mask on your child."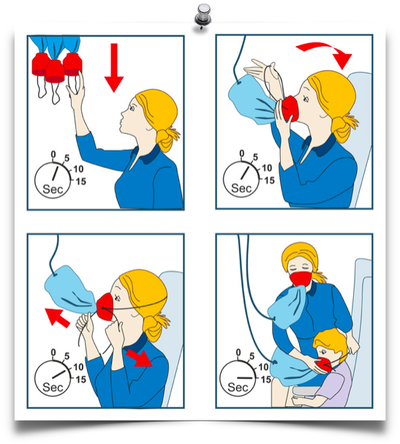 It's counter-intuitive when you're a mom. First the children and then me!
We would all be ready to go there to save our children.
But if you think about it…
How can you take care of your children…if you are dying yourself?
The n°1 error of the protective parent is to persist in finding the best way to take care of his child…
Quit sacrificing yourself.
It is a mistake.
Children are our mirrors.
If we devalue ourselves, they'll never feel up to it
If we never express a bit of emotion, they won't know what to do with what's going on inside them.
If If we do not accept our "imperfection", our "limits", they too will always seek perfection.
Our child does not need a perfect parent who always knows how to react well, who always smiles and who is always available.
He needs a real personwith their emotions, with their own needs, with their thoughts, their values, their skills… and their limits.
Life is not always easy and joyful.
Our children need to learn how to get through the tough times in life.
And their best way to teach them… is to show them that no one is infallible.
Especially not you.
This is TRUE benevolence.
So the first step… is to put on your oxygen mask.
To take care of ourselves…before them.
How do we take care of ourselves?
This is a question that comes up often.
It is described to us as a "mandatory" step.
Like an extra effort to stick to the image of the perfect parent, who always knows what to do… and who, in addition, takes time for himself.
That's not what I'm talking about.
Maybe you don't have time to meet up with your friends once a week…
Nor to breathe through a straw every time the anger rises…
Just to fulfill the "I take care of myself" task.
And I know it well, I have long been like you.
I offer you something different, to appease you.
I offer you an in-depth work.
(In-depth, but can be quite quick and easy)
It is to work on the REAL CAUSES.
The real causes of your anger.
And the real causes of your guilt.
Because :
Until you understand the real causes of your "uncontrolled explosions"… you will suffer them.
Until you understand the real causes of your guilt, you will be condemned to consider yourself a bad mother.
The REAL causes, I explain them in the presentation page of the program "Imperfect… and proud to be".
You will discover in particular the concept of the Iceberg:
with its visible part: your explosive reactions, your terrible guilt
and its invisible part: their true causes
Click here to discover the real causes of your anger and your guilt