The extractive sector and gender gaps.
*By Irene Irazábal B. and Natascha Nunes da Cunha
The global climate agenda is driving exponential growth in the demand for key metals and minerals for the energy transition[1]. Many of the essential resources to build solar panels, electric cars and all kinds of green technologies abound in Latin America and the Caribbean. This is a development opportunity for the region, because the growth of mining investment generates tax revenue essential for economic recovery, brings jobs and demands local goods and services. But we know that development is only sustainable if it is inclusive. And actually, the extractive sector has significant gender gaps. In other words, the sector disproportionately benefits men, especially with opportunities for job growth, while women receive the majority of the risks, including greater exposure to various forms of violence and changes in land use that impact their livelihoods. traditional productive activities.[2]
Working for a responsible extractive sector is crucial for a region that relies on it.
That a pillar of the Latin American economy has such unbalanced impacts according to gender is a development problem, because it perpetuates the status quo of a region that already suffers from large gaps. For example, one in three Latin American women has no income of her own. This makes them economically vulnerable, conditioning their basic needs for health, nutrition, training, etc. to the provision of other people who do receive income.[3] This dependence affects other development indicators, such as employment. And vulnerability increases with crises: during the pandemic, women lost more jobs than men and it has taken them longer to get them back.
Although in the last decade the global extractive sector has advanced in its commitment to gender equality, much remains to be resolved. In the Latin American mining sector, women make up only 7-10% of the workforce[4]occupy fewer leadership positions and can earn up to 48% less[5]. Women and girls in communities in the area of ​​mining influence and those that participate in artisanal or small-scale mining are more exposed to risks of sexual violence than their male counterparts. If they also have less participation in local decision-making processes, their needs may be excluded from local development plans driven by mining investment. The same inequality is also noted among the companies that supply goods and services to the mining companies and in the government institutions that regulate the activity, especially in leadership positions.
Equality is not only a right, it is also an impact multiplier. When the proportion of income controlled by women in their households increases, other development indicators such as children's health and schooling tend to improve[6]benefiting families, communities and countries that prioritize this investment.
What does it mean to invest in gender equality in the context of the extractive sector?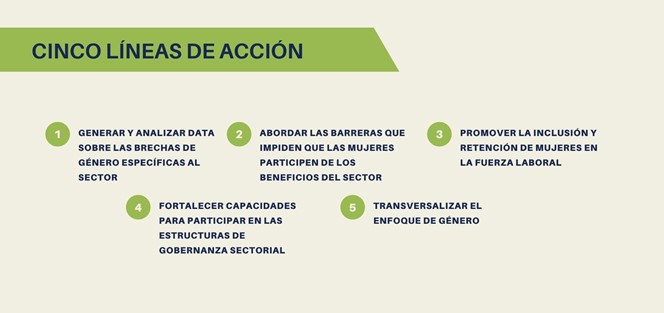 At the IDB we focus on strengthening the capacities of our institutions to address these gaps. In order to provide projects with sustainability, we promote a multi-stakeholder approach to strengthen the link between government, industry and civil society. Five lines of action guide our work and serve as a guide for other actors who seek to contribute to the construction of a more equitable extractive sector in terms of gender[7]:
Generate and analyze data on gender gaps specific to the sector to inform public and corporate policies. What is not measured can not be improved. Knowing the differentiated impacts on men and women makes it possible to define evidence-based interventions to reduce the gaps.
Address the barriers that prevent women from sharing in the benefits of the sector, through the design and development of strategies, action plans and other multi-stakeholder efforts. There are large areas of opportunity in corporate acquisition processes; family-oriented policies; violence prevention and care; socio-environmental impact analysis with a gender approach; among others.
Promote the inclusion and retention of women in the workforce. In addition to promoting employability with a gender approach, the typical internal training processes of the industry can be used (upskilling Y reskilling) to promote their participation in core business positions and leadership positions, both in extractive companies and throughout their value chains.
Strengthen capacities to participate in governance structures sectorial from government entities, industry and civil society. These efforts must include women from local communities and strengthen their agency in decision-making processes and consensus-building on the territorial development priorities promoted by the sector.
Mainstream the gender approach in all lending and technical assistance operations in the extractive sector, with a special emphasis on leveraging extractive investment to drive a post-pandemic economic recovery that is inclusive and promotes diversity.
In each of these lines of action there has been significant progress and pending challenges remain. The good news is that the gender agenda in extractives pays well[8]: According to a study by Mckinsey (2015), it is estimated, for example, that closing the economic gender gap could increase the global gross domestic product by $28 billion by the year 2025. Each country rich in natural resources can identify concrete initiatives in one of these lines that produces large returns from a relatively small investment – ​​and the IDB is an ally at the service of this agenda. The results are worth it, both in terms of business and in terms of development impact.
* Irene Irazabal: Irene is an independent consultant on issues of peace and sustainable development. Her work focuses on governance and consensus building for responsible supply chains. Irene has designed and managed multi-stakeholder programs in Asia, Latin America and the Caribbean, which has enabled partnerships and joint public policies. Her contributions to the IDB's Infrastructure and Energy sector have focused on the social sustainability dimensions of mining, hydrocarbon, and geothermal energy projects. A lawyer with a master's degree in international studies from Peace, Irene believes that clear and measurable social performance strategies that promote human rights and prioritize diversity and inclusion are good for business.
---
[1] The Role of Critical Minerals in Clean Energy Transitions. World Energy Outlook Special Report. IEA, 2021.
[2] Eftimie, Heller, Strongman (2009). Gender Dimensions of the Extractive Industries. World Bank.
[3] Indicator of economic autonomy according to data from the LAC Gender Equality Observatory of ECLAC (2019): proportion of the population aged 15 and over that does not receive individual monetary income and that does not study exclusively.
[4] De La Puente Burlando (2017) "Women and extractive employment in Latin America". Politai: Journal of Political Science, No. 15.
[5] Rau, Cruz (2021) "The Effects of Equal Pay Laws on Firm Wage Premiums: Evidence from Chile" Universidad Católica de Chile.
[6] World Bank (2012). World Development Report 2012: Gender Equality and Development.
[7] These focus areas are aligned with the IDB Institutional Strategy, Vision 2025, the Operational Policy on Gender Equality and its Action Plan (GAP).
[8] WIM (UK) and PwC (2013) "Mining for talent A study of women on boards in the mining industry".