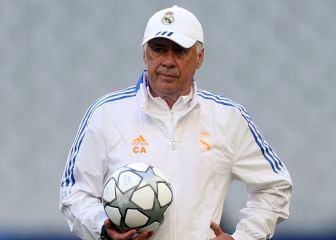 Ancelotti appeared in the press room at the Stade de France before the Champions League final this Saturday between Madrid and Liverpool.
How do you assess the evolution of Benzema?
Karim now has more leadership on and off the pitch, what hasn't changed is his humility and quality.
Liverpool competed until last weekend, you have been preparing for this match for almost a month…
We had problems in 2014, with several players touched, and we managed to win. If a player is injured, he cannot play. If their players play, they are not injured. This won't affect it, it's the last game of the season and they're going to give it their all.
Klopp complains about the grass…
I know they've changed it, we haven't seen it yet. But I'm sure it'll be fine.
A year ago he was at Everton, now he's in a Champions League final…
It's dizzying, yes. I have thought about it many times. I live it naturally, this is a great success for everyone. We know the demands of this club. But for us it has been very important, the season is very, very good, we are very close to achieving the maximum. We will try everything. The atmosphere is good, calm. This team manages these games very well, the veterans help the youngsters to have a good atmosphere, with ambition and confidence.
Does it feel much different than before the 2014 final?
Each game has its history, its strategy. I see the motivation at the same level, and a little less concern. The Lisbon game was the key to all of this success for all of Real Madrid. It is a different preview than that, yes.
He is nervous? Is happy?
I really enjoy the period that I am living in this club. I am very happy, very calm. I know some worry will come. But that is combated by seeing the faces of the players, they give me a lot of confidence.
What match are you waiting for?
We have to propose a game in which we show our quality, what we have been able to show in the season. The team has a collective commitment, individual quality, players who enter and make a difference, who show their faces. Liverpool will plan an intense match, with a lot of verticality… The match is there. Whoever shows the quality of it, wins the match.
He will have a lot of support from the Everton fans…
I know that tomorrow they will be with us, because of the rivalry with Liverpool. I have good memories of my time in Liverpool, in its blue part.
Do you dream of victory?
You can't control this, I have a good memory of all my endings, it's kind of weird to think about it. But the one we played the best, against Liverpool in 2005, I lost. I'm not going to say that we play badly to have more options… But anything can happen, we have to be ready for anything. We arrived very well, we have had a lot of time. We're going to give our best, but I'm not convinced it's enough to win. In football there is something you cannot control. It is the fifth final, but it always has the same flavor. You have to enjoy it, without thinking too much, until the referee whistles. Then it will be another story.
Do they deserve to be champions?
We deserve to reach the final: for quality, because without it you won't get there, and for commitment. The history of the club has pushed us in times of difficulty. Win it, we have to deserve it tomorrow.
Do you like Mane?
I'm not talking about players from other teams. He is a great player, but I am not talking about that today.
[