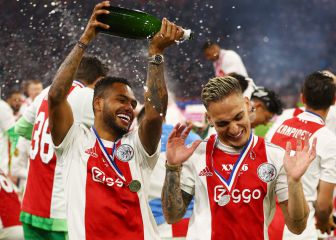 Every summer, Ajax is at the disposal of the great European portfolios that look to Amsterdam as a training club. The end of cycle of Erik ten Hagwho this smena has already traveled to Manchester to work at United, He is going to take with him several of the most promising talents that the club has had in recent years. As it happened in 2019. As has happened in so many other years.
One of the main problems (or decisions) that the sports management headed by, after the scandalous departure of Overmars in February, Gerry Hamstra has is that of the players who are ending their contracts. There are currently five players who will leave Ajax on July 1: Onana, Tyton, Mazraoui, Labyad and Danilo.
It is known that Onana will leave the club in the summer, presumably in the direction of Inter Milan. The goalkeeper of the historic 2018-19 season has not had a good relationship with the club since he was sanctioned for doping at the beginning of 2021. Tyton was signed "just in case" in March, has not made his debut, and is no longer necessary. Mazraoui, after many rumors that placed him, among others, in Barcelona, ​​confirmed in his farewell at the Johan Cruijff Arena that he is going to Bayern. Labyad has never really established himself as an important player since he arrived in 2018 and it seems that he has wasted his best years of football on the bench. ajacied. And youth squad Danilo, although the club wanted him back this past summer after scoring 17 goals in his loan spell to Twente, has barely counted for Ten Hag. Regarding the latter, the most recent information affirms that he will sign for Feyenoord. Besides, Stekelenburg also ends his contract, but the club announced that it is in talks to extend it for another year.
In addition to the players whose contract ends in 2022, there are several important men who end in 2023, so an exit this summer is necessary so that they do not leave for free. This is the case of Tagliafico and Gravenberch. The Argentine has been a substitute this season, but the club stopped his departure to Barcelona in January. It seems more than clear that he will leave in July. For his part, the midfielder aims to accompany Mazraoui at Bayern Munich. His departure has not materialized, but many take it for granted. He is a player for whom the club will be able to enter a high figure.
With the arrival of Ten Hag at United, it is very attractive to link former players of his to sign for the red devils. This has been the case of Jurrien Timber, Lisandro Martínez and Antony. The first is one of the homegrown players that Ten Hag has made the undisputed starter and has also played for Bayern. The second has been the last to join this list after information from The Telegraph. The third is full of offers but, as AS has learned, it is studying all its options.
As a result of the historic group stage of the Champions League that Ajax completed, winning all six games with a scoring balance of 20-5, another of the names that most interests Europe is that of Haller. Especially in Germany, where he has been placed in the orbit of both Dortmund and Bayern. Haller gave a great performance at Eintracht between 2017 and 2019 scoring 33 goals in 77 games.
Quarry and signings for the relay
Not even in the most profitable summers, such as in 2019, in which he entered more than 200 million euros in sales, has Ajax made large financial outlays in terms of transfers. In fact, the most expensive signing in its history is still Haller, with 22.5 million eurosa ridiculous figure with the current figures that are handled in the market.
For this summer, and waiting to have to make adjustments due to what departures, the sports management seems to have its eyes on Bergwijn, Brobbey, Wijndal and Quinten Timber. For the Tottenham footballer there was already a great rapprochement in January, but the clubs did not reach an agreement. However, the player does not hide too much his desire to play for Ajax. Like Brobbey, who has convinced everyone in this assignment. Wijndal, from AZ, is the desired left back, another player who has left love on social networks. Quinten Timber, Jurrien's twin brother, experiences a similar case to Brobbey's, now being able to return after having left from the lower categories of De Toekomst.
In any case, Alfred Schreuder will always have the quarry at hand. Ten Hag has already made room for Kenneth Taylor in the team, who has started the last six games of the season with a great result. Also Youri Reeger, a versatile footballer who can play both as a right-back and as an inside player and who will fight for the gap left by Mazraoui with Rensch.
Behind, there are also Christian Rasmussen, Hansen, Hlynsson and, above all, I was born Ünüvar, the unanimously considered great talent of the quarry. Meanwhile, young signings from other seasons such as Kudus, Daramy or Jay Gorter await their turn on the bench. In addition to Ihattaren, for whom they are expected to execute the purchase option they negotiated with Juventus.
[