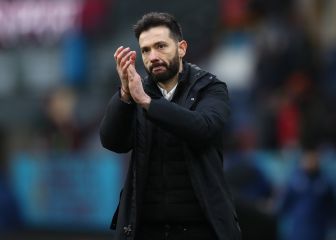 90 minutes at Wembley. That is what Huddersfield Town needs from the Spanish manager, Carlos Corberan (1983, Cheste), for promotion to the Premier League. But first you have to beat the Nottingham Forest this Sunday (4:30 p.m.) in the final of a promotion playoff that they have reached without losing since March 19.
In his second campaign leading the Terriers, Corberán has turned Huddersfield into a very difficult team to break. This is how he has achieved the record for unbeaten games in a row in the club's history in the Championship (17 games). "We have competed very well, especially in the second round", pointed out the coach just a few days ago at the microphone of The Stringer of the SER Chain.
The Huddersfield is one of the great revelations of British football this season. More so, after not spending money on transfers. An austerity policy that has not prevented the team from John Smith's Stadium climbing the qualifying table to the playoff positions with a firm step, with Corberán as the main bastion.
A disciple of Lillo and Bielsa
Disciple of Juanma Lillo and Marcelo Bielsa, the Spanish coach landed on the Islands five years ago and has been the coach of the Terriers for two seasons, in whom he has instilled his obsession with football. "He is constantly bombarding you with information to make you better," he acknowledges. Tom Leedsone of his players.
But it was precisely that obsession with football that made him an assistant Bielsa at Leeds. Another moment that marked the career of Corberana globetrotter who had spent several experiences as head coach in Saudi Arabia and Cyprusin addition to occupying the position of second with Juan Carlos Garrido in the Villarreal.
[