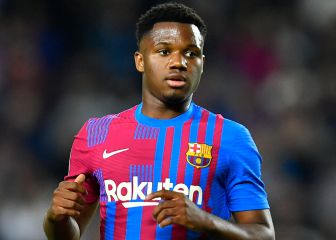 The third return of Ansu Fati this season did not have the magic of the one on September 26 against Levante, in which an electric atmosphere was generated at the Camp Nou, culminating in his great goal, 3-0, which rewarded almost a year of recovery. What happened last night did not even mean that turning point like in the semifinal of the Super Cup against Madrid. It's season finale. The general exhaustion of the Camp Nou from another disappointing season coincides with that player exhaustion from fighting to respawn, over and over again. Very hard months of work in the hands of Joaquín Juan, his physio and trust recovery.
Ansu Fati, who had been injured on January 20 in San Mamés, appeared on the Camp Nou pitch at minute 74:30. He greeted Ferran and Aubameyang and got ready to do what he likes the most: play elite football again. Nevertheless, he hardly participated in the game. Xavi, convinced that he is still not at a good physical level, did not let him start from the band and placed him on nine. As at that time, and after the departure of Salva Sevilla, the ball belonged to Mallorca, the one from Bissau hardly even smelled it. He was also seen with less hunger than in other returns. As if this time he wanted to go more calmly and had a more long-term goal: not to relapse again. He committed a foul in midfield and ended the game almost anonymously, exchanging a few words with Bryan Oliván.
Xavi praised him at the end of the match: "Ansu is a special player, who has a goal and who has to be in the box. I see him more in the area right now. He is a differential player and we have not had him these months. I think it's good news for Barça and for the team that has returned".
Ansu only has four league games left and the friendly in Sydney at the end of May to try to pick up the pace. His season, however, will not end there. While his colleagues are on vacation, he will work specifically. His dream is to start 100% next season and get to the World Cup in Qatar on time. It is very difficult for him today, but he is going to try until the end.
[