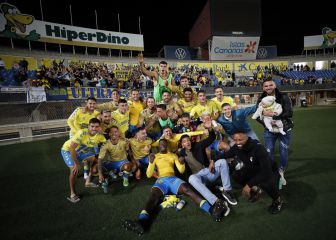 For more traps that can be put, the feeling that Unión Deportiva Las Palmas arouses in its beautiful Gran Canaria cannot be contained. With the team playing the season in Alcorcón, its boisterous fans hmade an appearance in a big way, with 700 people making themselves known like never before. "I never saw anything like it, not even in Zaragoza in the 2015 playoff," said Jonathan Viera after the victory in Santo Domingo.
had already been done notice the fans of Las Palmas a day before, when the Peña Ultra Naciente said goodbye to the Gran Canaria expedition with a striking banner next to the Gran Canaria airport. With the Island in suspense during the game, the emotion was unleashed yesterday, in equal parts, both in the outskirts of Madrid and in this Atlantic corner.
Happens that, as soon as the final 0-2 was made official, throught social media The welcome to the UD began to take shape at the insular aerodrome. Thus, at the stroke of midnight, the Las Palmas expedition made an appearance at the arrivals terminal in the spirited presence of about 60-70 followerswho waited patiently for the arrival of the team between songs that did not stop, multiplying the decibels with the arrival of García Pimienta, Jonathan Viera, Jesé, Alberto Moleiro, Kirian, Curbelo…
Last night's tremendous reception to the Sports Union did not stop there. Thus, when the squad arrived at the Ciudad Deportiva to pick up each component in their respective vehicle and drive home with it, the Peña Ultra Naciente returned to make an appearance with flares and, again, the banner with this hopeful message: "With everyone for everyone".
are already planned new mobilizations for this weekend's game against Real Oviedo, which will finally be played on Saturday at 9:00 p.m. insular time. In fact, at the moment the first colleagues are already registering at the Gran Canaria Stadium to buy tickets after the promotion that the club made yesterday, which includes, among other aspects, that subscribers will be able to withdraw a ticket with a 50% discount.
[