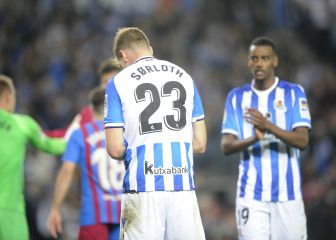 Reminder: He didn't need to do any impossible paradox to stop Barcelona, ​​just a very successful start at the feet of Aubameyang in the first half. It is the clearest symptom of how little the Barça team attacked. Sold on the losing goal. With his feet he was successful as always, but this time he hurried too much at times.
Zaldua: It was difficult for him to stop Ferran Torres and Jordi Alba from the start, but when he settled down he was superior to the two Barça players. He tried to score with a volley from outside the area. You don't understand why he doesn't clear the ball inside the area that gives rise to the chance for Barcelona's goal. It was his only mole.
Zubeldia: Very complete game as a center back. He stopped Barcelona's attackers thanks to his energy. Although his indecision almost caused the 0-2. Good at the ball exit. Aubmeyang wins the jump from 0-1. He came up in the first half with a long shot that went meekly into the hands of Ter Stegen.
Le Normand: He did not lose a single duel from above, and on top of that he gave it to help Rico with Dembele. Another great performance to continue crowning a great season.
Rich Diego: He is another player who was seen a few months ago. Determined and aggressive, he started the match very strongly by raising his band. He had a hard time holding Dembelé, but he ended up beating him. It's a shame his powerful snatches don't have better centers. He lacked finesse in hitting.
Zubimendi: From less to more, he ended up dominating the wide area as he pleased, especially in the second half. In the first he had some indecision with the ball with compromised passes. After the break he was superb, playing bravely forward and breaking lines of pressure with driving and passing. He ended up melted.
Merino: He played tired. Or gave that feeling. He did not have the lucidity of other afternoons, and that cost him to be asleep in the 0-1 Barça play. Despite that, in the second half he was very participative and almost scored the equalizer.
Rafina: Very supportive party of the Brazilian. He was involved in defensive tasks and collaborated in the development with actions of merit. Good performance against his Barcelona.
Chanuzaj: Splendid performance by the Belgian, who nevertheless had a hard time getting into the match. In the first half he was misguided, but after returning from the locker room he dismantled Barcelona's defense with his Magic, until he was unstoppable. But this time his Magic didn't have the desired effect.
Sorlot: Enormous work by the Norwegian, playing from behind, unloading in the face, and breaking speed down the left wing. No one could stop him except with fouls. It's a shame that his obvious improvement in this final stretch of the season is not rewarded with a goal, but he fails too much inside the box. He penalizes him excessively for that to be a better striker. He missed two resoundingly clear opportunities, the kind that cannot be forgiven. He was the subject of a possible penalty for a grab by Eric Garcia in stoppage time.
Isaac: Someone has done voodoo to him. If not, It is not understood. He has gone from needing one or two chances to score to missing what seems impossible. It's like she has a mental block. He missed in the first half a very clear opportunity to Sorloth's pass hitting the fatal ball with his ankle. He tried a lot, but he was wrong, and he ended up so frustrated that it seems like a miracle that he didn't get a yellow card.
Guridi: He fought in the core with disputes from which he came out unscathed in the majority. Good minutes from the bench.
Andrew Martin: The youth squad did not wrinkle and shot loosely from outside the area as soon as he left.
Gorosabel: He turned to attack in the last minutes, but without success.
For your: He came out brave, but with the mistake he has been enduring all year.
Guevara: After a long time he returned to play. He complied to rest Zubimendi.
[