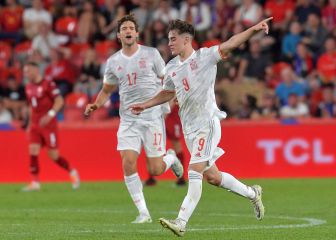 As expected, Luis Enrique made multiple changes in the team. He moved the entire defense, he only kept Gavi in ​​midfield and, up front, Sarabia repeated. This was the one by one Selection. At the break, he introduced Ferran and then, a triple change with Busquets, Asensio and Morata to look for more punch. This was the one by one Selection.
Unai Simon. Sold in the two goals of the Czech Republic, he did not have much more work, except in another heads-up that the Czechs wasted and sent out. In the second I did not expect Vaseline from Kuchta.
Carvajal. He was hooked in the 1-0 action, when Kuchta went into space. He did not coordinate well with the center backs. It was difficult for him to progress in attack in the couple he made with Sarabia. In the second half he also made a mistake and lost a dangerous ball that did not go any further due to a defensive action by Eric and Iñigo.
Eric. Again in the photo of a rival goal, this time Kuchta 2-1. He wasn't on the spot, nor focused. He did not know how to cut and also broke the offside. A mistake that he joins those he has made at Barça this season. His failure will again generate rivers of ink
Inigo Martinez. Salvador with a spectacular goal from his head, in the style of the ones he does over and over again at Athletic. He has a brutal facility to rise. The best in defense.
Mark Alonso. He put one more gear in the second half, in which he took advantage of Marcos Asensio's entry to play a few meters higher and center more.
rodry. He missed some simple passes but, in general, he was correct because he knows how to position himself well on the field. He saw a yellow card in the 58th minute for cutting off a clear counterattack. He should give the game a little more speed.
Koke. He had a hard time filtering balls between lines. More positional than Gavi in ​​the inside game. Something gray although he always looks out for the team with a responsible behavior.
Gavi. Magnificent. Brave and goalscorer, making history with the National Team. He is already the youngest director of the Red. In the first part he was the only one who added some spice to Spain's attack trying to break free from the inside. In the second part he faded and ended up tired.
Sarabia. He had a lot of ball but it cost him to overflow in one on one. He also missed a chance to score in an action in which he was able to hit from inside and preferred the total instep. Somewhat tired, Luis Enrique replaced him
Daniel Olmo. He tried but he is a player whose great quality is punching. And he didn't try. He barely put a cross to the far post and already in the second half.
Thomas Raul. It was an ugly day, because the Czech Republic's goal in the fourth minute caused the locals to fold their lines back a lot. So he dedicated himself to tilting but could not try it in front of goal.
Fernando Torres. He crashed with the stick in the 70th minute on a good header. As soon as he left, he had also had a good chance. He took Barça's bad streak to the National Team. Of course, or you can deny that he did not try.
Asensio. She took very good advantage of his minutes. As soon as he appeared on the field, he crashed a ball into Vaclik's left post. Participatory, he also put a great ball to Ferran who finished off the post and put the equalizer ball to Íñigo. Also, he moved between the lines.
Busquets. It came out to give the game some more clarity and speed. That caused him to lose a ball on the move.
bruise. Fighter, but without finesse in driving. In the 86th minute he turned very well and found the space for the shot from the balcony of the area, but it went high.
Llorente. She went out for Koke to put energy. He was not precise but he pushed.
[