Key facts:
Among Latino companies, only Buda reported that it already offers support.

The developer Murchandamus invites you to check which platforms allow you to operate with Taproot.
This Sunday Taproot was finally activated on the Bitcoin network, giving way to one of the most anticipated updates in the ecosystem. However, now that the latest version of the software is available to everyone, the eye shifts to platforms that offer services based on the pioneer of cryptocurrencies.
Are bitcoin (BTC) exchanges ready for Taproot? To answer the question, a week ago, CriptoNoticias sent a request for information to several companies, among the best known in Latin America, but none responded. Only Buddha, Chile-based Latin American cryptocurrency exchange reported that it will offer support for the new update.
"In Buda we already support the Taproot update in Bitcoin, since our node runs version 0.21 and will soon be upgraded to 0.22. [del cliente Bitcoin Core]. We believe that it is always positive to seek that the Bitcoin network is more efficient, secure and private, characteristics that this update brings ".

Guillermo Torrealba, CEO of Buda
In any case, the lack of response from the rest of the exchanges leaves doubts open, what is happening with the rest of the platforms? The answer is that most of the exchange platforms do not offer any comment on this, despite the fact that the different service providers must also update their software to make them compatible to operate between Bitcoin addresses that have support for Taproot.
Precisely this lack of information on the part of the exchanges, has led the developer of Chaincode Labs, @murchandamus, to ask which platforms are offering support for Taproot. He showed a long list with names of several exchange houses in which it is observed that, until now, it is unclear which of them have enabled support for the recent software update.
It is not even clear what has happened to the support that Binance said it would give to Taproot in a release In the past week. As can be seen on the platform, the exchange run by Changpeng Zhao has not yet incorporated the Taproot addresses for bitcoin deposits.
Murchandamus shared a series of images in which it is observed that this support is not yet enabled in most exchanges.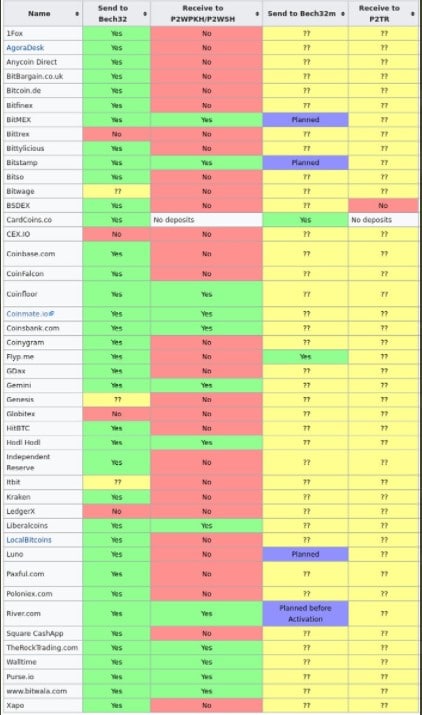 The developer invites users to check which platforms could restrict the ability to operate between Bitcoin addresses that do support Taproot and those that do not. To do this, it will be enough to try to put a bech32m (P2TR) address as the withdrawal destination. "Just check if it is accepted you will not have to send the transaction. Then let us know what happened next ", wrote Murchandamus.
And Taproot for when?
It is true that Taproot is not an update that interests the masses too much, as evidenced by the level of searches on the Internet, according to what CriptoNoticias has reported. Nonetheless, yes it is clear that the community that revolves around bitcoin has received the update with great enthusiasm.
Given this, several users believe that, if the adoption of SegWit took four years to exceed 80%, surely it will be five years from now when Taproot addresses will be compatible with most Bitcoin services.
In fact, a Twitter user identified as Griptoshi laments that exchanges easily integrate 75 shitcoins per week, but for SegWit it took years, so for Taproot there will be a horizon [de adopción] by 2025. "First we integrate BabyShibaDogeCumCash, because small projects like Bitcoin can wait", wrote with sacasm.