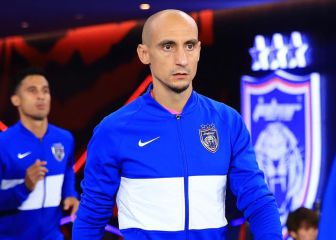 Johor FC can boast of being one of the best – if not the best – club in Southeast Asia. Under the presidency of Tunku ismail, prince of the Sultanate of Johor, the 'southern tigers' have been champions of the Malaysian Premier League for eight seasons and in 2014 they were able to lift an AFC Cup, the Asian Europa League. However, they were always far from being able to compete with clubs from countries with a greater football tradition such as South Korea or Japan. Until now. Johor F.C., which He still doesn't know what it's like to get past the group stage in the Champions Leagueleads a group that includes entities such as Ulsan Hyundai, current leader of the K-League, or Kawasaki Frontale, winner of the J-League in 2017, 2018, 2020 and 2021. "We are showing that we can look them in the face"Said the man from Alicante Natxo Insacaptain of Johor, after drawing (0-0) against the Japanese champion.
Kawasaki Frontale, one of the favorites to win the Champions this season, He hasn't finished a Champions League match without shooting on goal since 2017. But that is not Johor FC's only feat in this Asian Champions League. The 'southern tigers', who will play all the group stage matches at their stadium, thrashed (5-0) a Guangzhou FC that presented a reserve team due to the Covid outbreak that is plaguing China and won (1 -2) to Ulsan, continental champion in 2012 and 2020. That was the biggest victory in their history. A triumph that would not be understood without the figure of their great leader in midfield, Natxo Insa. The Spaniard, in Malaysia since 2017, had an 88% passing rate, won 10/11 defensive duels, recovered 16 balls and had seven interceptions. "I'm happy to help the team"he said after the meeting.
After being important in Levante's last promotion to the First Division, Natxo Insa decided to forgive his debts to the elite of Spanish football and pack his bags again -he already played in Turkey during the 2013/14 season- to sign for a South-East Asian giant What Johor FC. With the Johor Bahru-based club, which made headlines in Spain after its current owner, the aforementioned Tunku Ismail, revealed on Instagram that he was interested in acquiring Valencia, the eldest of the Insa brothers already He has won five Leagues, two Cups and five Super Cups. 12 titles to which must be added an international debut with the senior team of Malaysia, the country in which his grandmother was born. Natxo Insa's name is already among the best soccer players in Asia. Johor seeks to make history, and it does so with a Spaniard in its engine room.
[