The Audi R8 V10 performance RWD add some extra horses looking forward to next year. As you already know, the high-performance sports car complements the R8 V10 performance quattro and adds new technological equipment elements. It is manufactured, largely by hand, in the German factory of Böllinger Höfe.
This is located at the Audi headquarters in Neckarsulm. This is where the racing LMS GT4, which is derived from the series model, is also produced. They both share roughly 60 percent of the pieces. That is the reason why they share a design, highlighting the wide and flat grill Singleframe in matte black with an R8 emblem.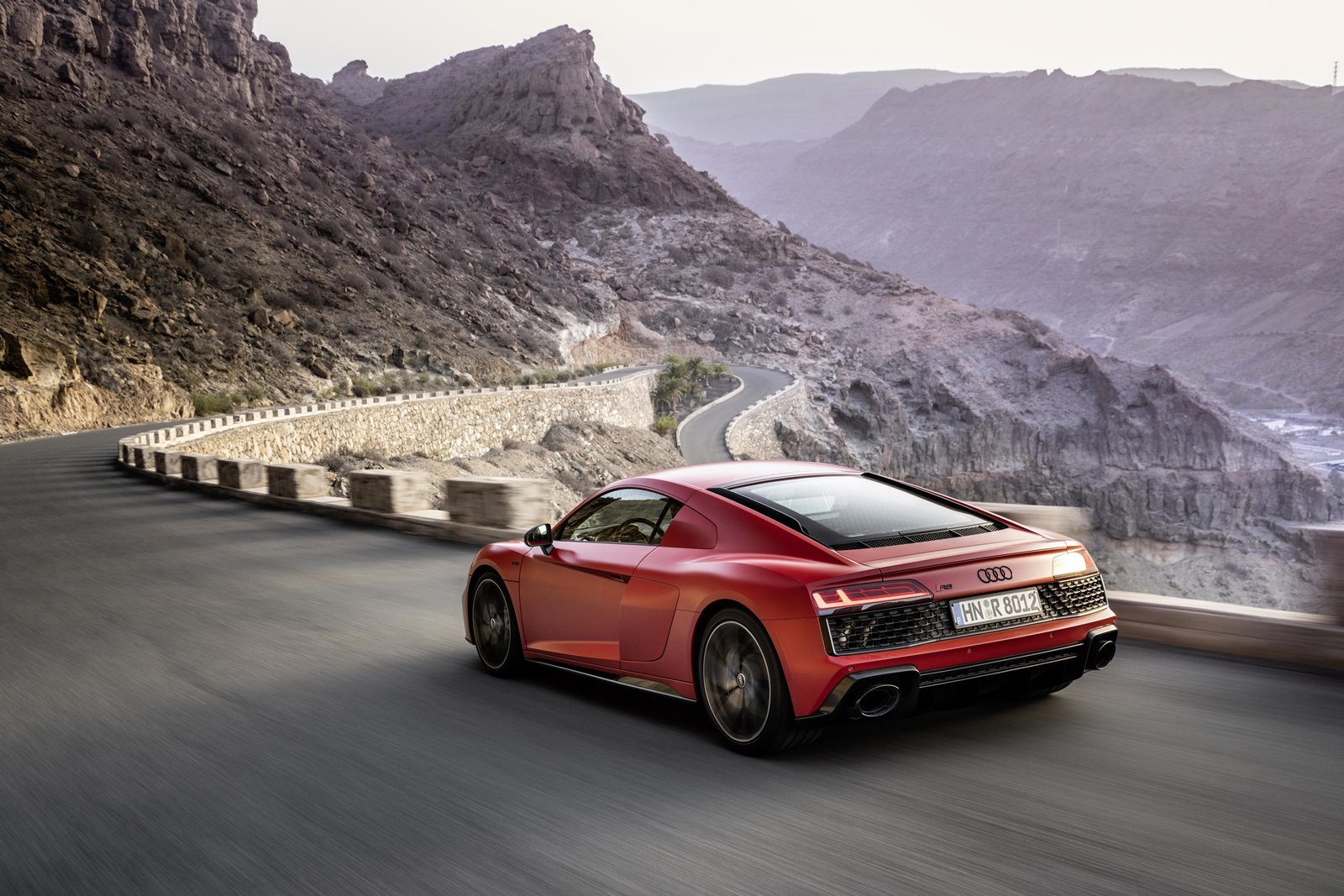 The new R8 is available with ten color options for the bodywork. One of them is Ascari blue metallic, which until now was only available for the R8 V10 performance quattro. The "R8 performance" design package features a black Alcantara and leather interior, Mercato blue contrast stitching and carbon accent inlays.
The price of the Audi R8 V10 performance RWD for the Spanish market starts from 179,000 euros for the Coupé version. In the case of the Audi R8 V10 performance RWD Spyder, the open-air version, we are talking about a starting price of 193,800 euros.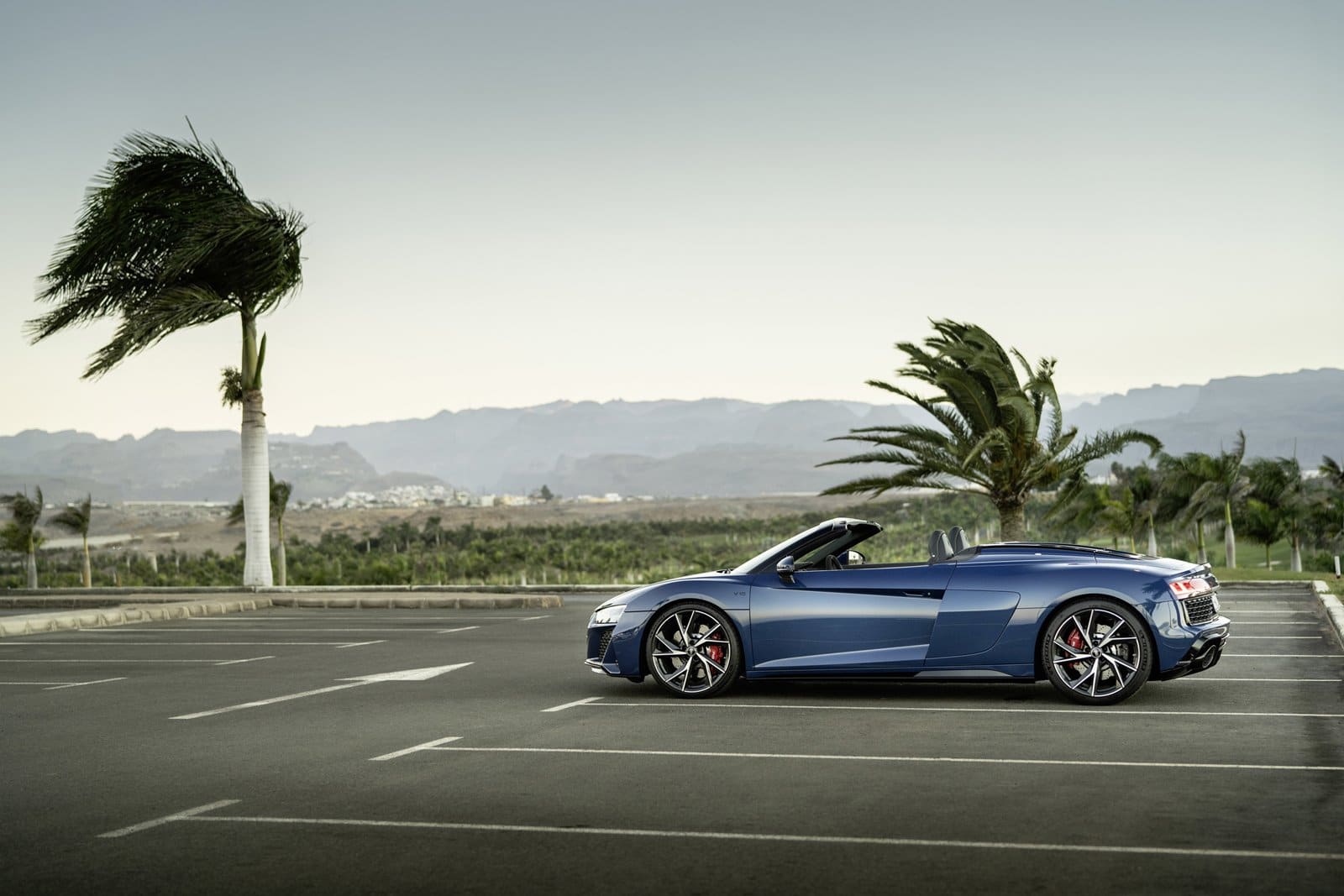 Extra power for the Audi R8 V10 performance RWD
The Audi R8 V10 performance RWD (Real wheel drive) now has 30 hp and 10 Nm more, taking the driving experience to a whole new level. Additionally, the basic versions of both models, the R8 V10 quattro and the R8 V10 RWD with Coupé and Spyder bodywork, will be replaced by the new performance models.
As a novelty, the engine V10 FSI 5.2-liter atmospheric dispenses 570 hp (419 kW) of power and 550 Nm of maximum torque, which represents an increase of 10 Nm. As a result, it accelerates from 0 to 100 km / h in 3.7 seconds (Spyder: 3.8 seconds) and reaches a top speed of 329 km / h (Spyder: 327 km / h). There is no shortage of unmatched sound and quick throttle response.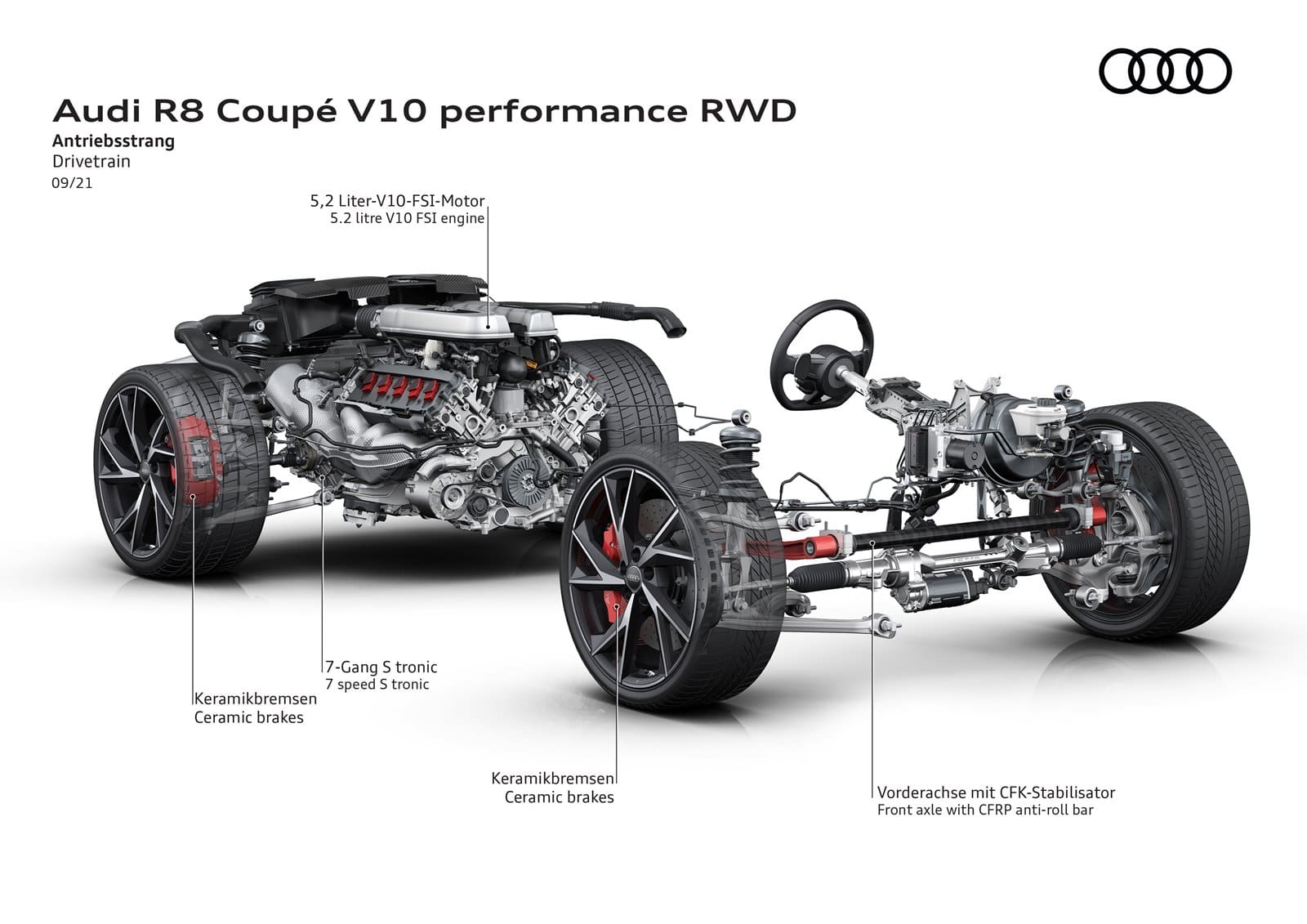 The Coupe version of the R8 V10 performance RWD weighs just 1,590 kg (Spyder: 1,695 kg).
As before, the force is distributed to the rear wheels through the change S tronic seven-speed. The mechanical differential The limited slip system distributes the torque ideally depending on the driving situation. This ensures optimal traction even when the asphalt is wet and adds the possibility of controlled skidding.
Image gallery