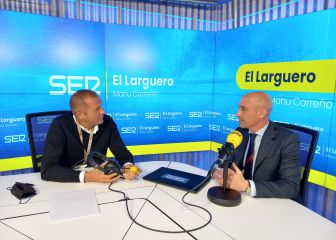 Luis Rubiales, president of the RFEF, have talked face to face with Manu Carreno in The spar. The president, who had already appeared before the press this Wednesday morning in Las Rozas, explained to Cadena SER listeners the accusations against him after the audios of the Super Cup with Gerard Piquéwhich he exclusively released The confidential.
-Audio filtering.
-"I know that I have always acted within the law. I am very annoyed by the crime that has occurred with the contents of my phone. I cannot speak much more either, but I am confident that the police investigation will bear fruit (…) Our forces The security guards are exceptional, I hope they succeed. They have taken something so mine from me that I need justice to be done".
-Are you afraid it was an internal leak?
-"I can't talk about this issue. They've asked me not to talk. I'm not going to make a statement about what I think. I hope they can help me. It would generate a lot of internal peace of mind. About my daughters… They can see photos of my intimacy."
-How is your personal situation after the Supercopa Files? Are you afraid?
-"My daughters study in the Valencian Community and there the Easter holidays end later. We had a trip prepared for these days. I have not been able to attend them as I would have liked. Someone who is capable of doing something as mean as what they've done to me scares me. This morning I said that I hurt for my daughters. It's a matter of feelings. I haven't spent time with them these days as I would have liked. They see that they are hurting me and that this is an indiscriminate hunt against me (…) I get emotional talking about them, I think the same thing would happen to you, Manu".
-Do people think that Rubiales is an honest guy?
-"It is very difficult to beat a headline from a journalist who manipulates reality. This journalist, despite speaking with us before publishing anything, has said that we have agreed on commissions. That is false. He has put in his headlines amounts that were of another thing. He has published that we have gone to Saudi Arabia despite the fact that the Ethics Committee said no. He has manipulated an article from FIFA. He has spoken of an offer from Qatar pretending that it was better than that of Kosmos and has said that we chose Kosmos for the commission to reach Gerard. That is not the case".
-Is there a popular judgment on your figure?
-"In some I think so. And others well… with all the rubbish that they have thrown at me… Today I said that when I walk through Madrid I wear a hat. But today I didn't want to, I didn't want to think that I was hiding from anything. I feel calm because I have always acted honestly. They have not been able to remove anything illegal. Even so, when they throw a landfill on you…".
-Is the future reconsidered?
– "I do not rethink my future. Everything we have done we have done honestly. Today I have put in the press conference the example of the fractures in my legs when I was little. The doctor told me that I could be anything but a footballer. Then I was a footballer, I got injured. They told me that I could not recover and I continued playing. With tenacity and honesty many things can be achieved. It is a pity that there are people who want to harm us. I don't rethink anything because I feel strong. I am honest and I am honorable."
-The commission to Kosmos… How was it?
-"We negotiated with Kosmos making it clear that Kosmos was not going to collect a euro from the RFEF. They knew that they would have to negotiate their own commission. The Federation has made a historic and exceptional contract. This is very explanatory: there must be another audio that I told him 'no, Gerard, we negotiate with the Saudis'. From the beginning we have said it: we do not pay Kosmos. I do not know if there will be another audio and they have not wanted to play it. But look how calm I am: it is not going to There should be an audio in which we tell them that we pay them".
"The honesty of the arbitral establishment is beyond any doubt"
-Variable part of his contract if Madrid and Barça is first or second…
-"I have a contract with a variable part depending on the income of the RFEF. If certain teams arrive in the Copa del Rey, it also generates more income. If Real Madrid and Barça reach the final, more will be generated. This year has not been like that, so in those variables less has been generated. We have to look at that too. I have no problem with my salary structure being changed."
-Change the variable part of your salary…
-"Surely, with the Cup final my salary has been equally or more negatively affected and that is not being talked about. I feel well paid. Anyway, we have another assembly soon. If you want to change it is the best time. I have no problem, on the contrary, for not listening to these controversies…"
-Variable part of the salary of Rubiales and the comparison with Tebas.
-"There is another president of a sports institution in Spain who earns three million euros, which seems outrageous to me. We do not want to put a salary that conditions the Federation. Having said that, I already said it this morning: I have no problem changing it. When this salary structure was discussed, in the days before, I told them, 'you are thinking of the Federation, but you also have to think of me to avoid any kind of controversy'.
-What did you think of Simeone's statements?
-"It was published that my salary increases exponentially if Real Madrid and Barça play the Super Cup. That scares more. There was a clear direction to attack and hurt me. But Cholo and everyone have to be calm. It is a variable that it doesn't make you call anyone. No one knows this, neither the referees nor anyone else. The honesty of the refereeing establishment is beyond any doubt".
"My future? I don't rethink anything because I feel strong. I'm honest and honorable"
-Gerard Piqué's personal requests…, has he asked you for something else that hasn't come out?
-"I don't remember that Piqué asked me for anything else that we don't already know, but I speak with many footballers and with many clubs. Many come to me, ask me things… but I'm not going to talk about anyone. These are issues that are outside the scope of federal management.
-The RFEF will continue working with Kosmos?
– "If it passes the filters… why don't we continue working with Kosmos? We don't have a direct relationship with them."
-Does it seem morally or ethically correct?
-"There are more intelligent people and less intelligent people. There are people who, when reflecting on this topic, will think about why it comes out, when it comes out, what audios have been chosen… These audios come from stealing what is most personal to me. Everything is done strategically thinking how to harm me.
-Have you considered getting an escort?
– "Sometimes I have been suggested to get an escort, but I don't want to come to that. They hallucinate when they see what situation we have. I want to be a normal person who walks down the street, I cook, I go shopping… but if there is someone who is mafioso enough to steal information and leak it and also with the collaboration of a media outlet… That contract, the one they have published, is no longer the same, that information is designed to hurt and lie. Imagine that, instead of getting information from my phone, they put it (…) Of course you live restless. It's like when your house is robbed, you have to try to find the formula to recover that calm. They have stolen from me the most intimidating thing you can have."
"It has been shown that I have never taken anything and that I have acted honestly"
-Has it been the hardest day that Luis Rubiales has experienced as president?
-"The hardest day I have lived is what happened to us with Luis Enrique and the loss of his daughter. The rest… sure we can do things better, but there is no malicious intent or dishonesty or anything illegal. Calm down all the fans. I played in the Atlético de Madrid youth academy and there will be people who may think that I treat them favorably for that. I also played for Levante and I am a fan of the club. In the end, football is feelings. But I think that, even though it's difficult and people don't give a damn, they put themselves in the position of someone who has had everything stolen from them and they have campaigned against them like this. It has been shown that I have never taken anything and that I have acted honestly."
-I'm surprised that you don't see that there is a conflict of interest…
-"The conflict of interest has to be marked by the Ethics Committee and they told us that there was nothing. We still have to consider a change in the salary structure: it doesn't mean much to me, in salary matters I charge 6 times less than the president of LaLiga. Every thing I do is criticized. I don't want to charge six times as much, but it's probably easier to say: let the president charge this. And they will reach the Super Cup the same. Salary policy is not going to intervene at all."
[