By
Angel Di Matteo
@shadowargel
For this November 17 Avalanche It surprises locals and strangers, as its digital currency exceeds USD $ 100 per unit and reaches new all-time highs.
***
Avalanche surpasses USD $ 100 and reaches new all-time highs
We open our customary price report for this November 17, highlighting the evolution seen in the price AVAX from Avalanche, currency that appears as the center of its ecosystem of products and services, which at this time is trading at about USD $ 102.81, capitalizing on new historical highs and increasing more than 17% in the last 24 hours.
According to data published by our section CryptoMarkets It can be seen how the digital currency reversed the fall capitalized yesterday and reached new historical highs, this after trading above USD $ 103 per unit a few moments ago, in what seems like an upward run that could extend for the next few hours.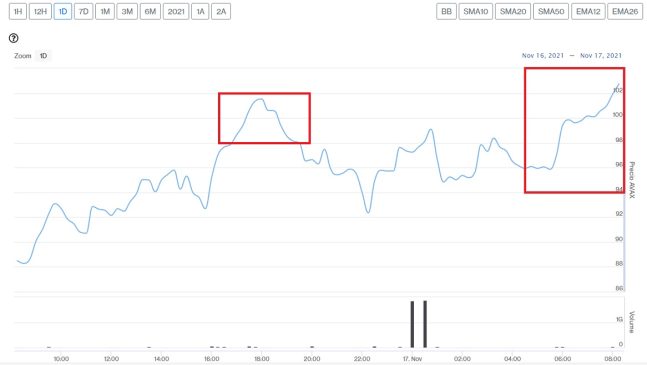 AVAX incentive programs
Although for many enthusiasts and followers of the project the increase was expected, analysts point out that this could well be associated with the boom in the sector DeFi, in which Avalanche has been doing very well after launching its incentive programs, better known as Avalanche Rush.
As such, the program started in August of this year and since its launch it has been adding important protocols DeFi, which opened pools of liquidity where rewards are distributed with the token AVAX.
Participating protocols include names such as AAVE, Pangolin, SushiSwap, Curve, and Benqi. It is expected that many more platforms will become part of this program, this in order to bring AVAX to a greater number of people within the decentralized finance sector.
Among other events, the fact that the token AVAX officially arrives at Binance.US, With which US residents can buy and sell the cryptocurrency through the local division of the exchange for that country.
https://t.co/AZwoBOgsqS will list Avalanche $ AVAX @avalancheavax https://t.co/t6dhqM0T9I pic.twitter.com/pNRucJ0h1E

– Binance.US ???????? (@BinanceUS) November 17, 2021
Bitcoin and major altcoins continue in the doldrums this November 17
While AVAX reaches new all-time highs, Bitcoin and the main altcoins are still affected by the fall recorded yesterday, so this November 17 they register prices similar to those seen in the last 24 hours.
In this way Bitcoin (BTC), Ethereum (ETH), Binance Coin (BNB), Cardano (ADA), Dogecoin (DOGE), Shiba Inu (SHIB), Uniswap (UNI), Bitcoin Cash (BCH) and many others register slight gains that do not exceed 1% in the last 24 hours.
However, what should be noted is that despite the fact that the prices in perspective seem to remain "stable", when looking at the evolution in detail, strong fluctuations are seen throughout the day, reflecting a great commercial movement in the last 24 hours by market participants.
Main winners and losers for this November 17
Beyond the aforementioned cases, below we review which were the digital currencies with the most pronounced fluctuations for this November 17:
???? Winning Cryptocurrencies:$ SAND The Sandbox 33.25% (USD $ 3.38)$ MIOTA IOTA 20.58% (USD $ 1.45)$ CRO Crypto com Coin 18.91% (USD $ 0.5)$ AVAX Avalanche 16.37% (USD $ 102.74)$ CRV Curve DAO Token 11.37% (USD $ 3.95)

– Daily ฿ itcoin (@DiarioBitcoin) November 17, 2021
???? Losing Cryptocurrencies:$ ALT Wings -13.62% (USD $ 29.29)$ HEX HEX -12.19% (USD $ 0.2)$ ZEC Zcash -5.79% (USD $ 161.22)$ HNT Helium -5.49% (USD $ 45.21)$ ICX ICON -5.24% (USD $ 2.24)

– Daily ฿ itcoin (@DiarioBitcoin) November 17, 2021
To buy cryptocurrencies through DailyBitcoin
If you are one of those who see opportunities and want to acquire cryptocurrencies at this time of special evolution, we remind you that our section CryptoMarkets Buttons are now available so you can buy your favorite digital currencies.
If you want to purchase Bitcoin (BTC), prefer to buy Ethereum (ETH) or do you want to get some Tether (USDT), you just have to access our page CryptoMarkets and click the buy button. We recommend everyone to be very attentive since this possibility will be incorporated soon for a greater number of digital currencies.
---
Source: CryptoMarkets, CoinMarketCap
Picture of Unsplash