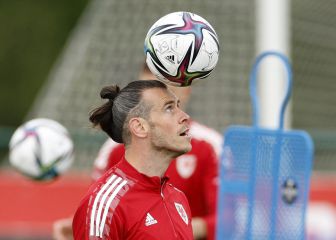 Gareth Bale (32 years old) will continue playing after leaving Real Madrid. This is what emerges from his latest statements collected by the AFP journalist, Kieran Canning, where Bale responded like this when asked about the possibility of stopping playing: "I think it's very unlikely."
After nine years as a white player, Bale will become a free agent this summer and could retire, as has been rumored. However, the latest message from the striker seems to indicate that he will remain active, at least, until next season, when the World Cup in Qatar is played. "We have a very important match and my whole focus is there. I really don't need to think or worry about anything else. I have no other worries, I just focus on Ukraine," said the winger, who also claimed to have "a lot of offers".
This Sunday, precisely, Wales will play Ukraine for qualification for the World Cup (6:00 p.m.). A duel that could be decisive for the future of Bale, who has between eyebrows to be in Qatar, and if he qualifies, He would have to look for a club so as not to lose his form until the start of the tournament, which takes place between November 21 and December 18.
[