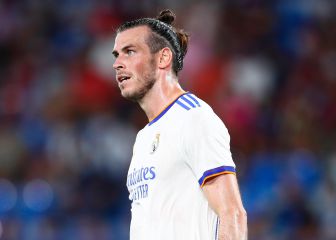 There will be no farewell between Gareth Bale and the Santiago Bernabéu. Nothing too surprising, given the Welshman's recent run at Real Madrid.but part of the fans did expect the Briton to be in the duel against Betis, even if it was at least on the bench, to close a stage that started nine years ago, when he signed for Madrid in exchange for 101 million euros, from Tottenham.
The Welshman has argued that his back problems persist so he is not in the final call, despite the fact that he did enter the first cut, made up of 25 players. He has been using those back problems as an alibi for not even being present at the Bernabéu, he already did it against Barcelona in the Clásico, in a match in which he had options to start in the absence of Benzema; days later, he played a full match for Wales at a high level, scoring two goals.
The end of the Bale era
Nor was he at Madrid-Espanyol, the day on which Madrid was proclaimed champion of the League, with the subsequent celebration both at the stadium and at Cibeles. That day he argued that a spasm had left him unable to move, so he preferred to send a congratulations through the networks.
At Real Madrid, nothing surprises about Bale, and they don't want to give importance to these details either, since they consider his stage at the club closed, in the absence of June 30 to officially stop being a Real Madrid player. However, his absence from the stadium against Betis, in the last league game at the Bernabéuwill prevent the fans from expressing their gratitude to a player whose final stage has been Kafkaesque, but who in the first was a heavyweight in the Madrid of the four Champions in five years.
[