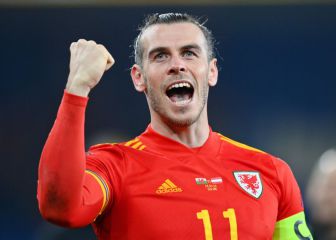 Gareth Bale is playing his most immediate future and Wales has quickly responded to the call to his great star to try to play the next World Cup in Qatar that begins on November 21, 2022. The one from Cardiff will be available for Rob Page in the upcoming Nations League matches and also for the World Cup playoffs.
On June 1, the calendar will start with the Poland-Wales of the League of Nations and, before the second day, the final match will come. On June 5 in Cardiff, the World Cup place will be played in the play-off final with Scotland or Ukraine as rivals. In case of victory, Wales would return to a World Cup since its first time in 1958. A historic appointment.
This, in addition, will be key to its future. As AS has already reported, the Welshman does not see his retirement as far off and, in the event that he does not qualify for the World Cup, he will consider hanging up his boots or, in the best of cases, looking for one last big contract in a minor league. "Gareth is leaving Real Madrid, but as for his future… it will depend on what Wales does. If he qualifies for the World Cup, we will make a decision; if not, it may vary," confirmed his agent Jonathan Barnett in the Portuguese newspaper Récord.
Rob Page has accompanied the Cardiff Express with several of its best players for this historic event as Rodon (Tottenham), Neco Williams, Joe Allen (Stoke), Ramsey (Rangers) or Daniel James, ex-Manchester United.
Once his future with respect to the World Cup is known, Bale will be able to add up to three more matches with the Dragon team since the League of Nations continues with a double confrontation against the Netherlands (June 8-14) and a tough duel between the two against Belgium with their teammates Courtois and Hazard on the 11th of this month.
[