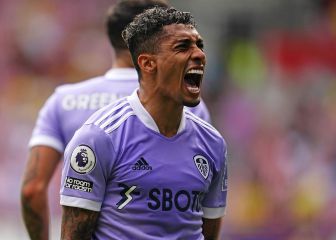 "I like to play to open the field. I want to have open ends and that they play it". The phrase corresponds to the presentation of Xavi as coach of Barça last November and sums up the obsession of the Barça legend to have specialists attached to the band. Now two are gone. Adama, whose performance has gone from more to less, returns to Wolverhampton; and DembeleExcept for a miracle, he will be a free agent on June 30. Although Ferran Torres, Ansu Fati and Memphis can start from the band, they are not specialists as such in one against one. Barça, within the limits it has, will have to look for specialists in the market.
Raphinha (12-14-1996) is one of Xavi's favourites. The Brazilian, represented by Deco's company, which in turn works for Barça, wants to play for Barça next season, but Leeds is not going to make his exit easy. The Porto Alegre player has scored eleven goals and provided three assists in the Premier League. In Can Barça, Adnan Januzaj has also played, with a market value according to the specialized wen Transfermarkt much lower than Raphinha (12 million the Belgian for 45 the Brazilian). His numbers are much worse than Raphinha's and Barça only see him as a distant option, although the fact that he ends his contract could help. Francisco Trincao also returns to Barça after an unsatisfactory loan at Wolverhampton. If there are no signings, Xavi wants to see the Portuguese, which has a market value of 22 million euros. Against Raphinha's eleven goals, Trincao has scored three. Trincao could be accompanied in preseason by Abde, who according to Sport will have a first team number in what could be one more sign of the difficulty that Barça will have to sign.
The name of Neymar has also been flying over Barcelona in recent days, although the Brazilian, at 30, is no longer the explosive player who dazzled in his days at Can Barça. He has centered his position and, furthermore, talking about his possible signing is impossible in the current situation at Barça.
[