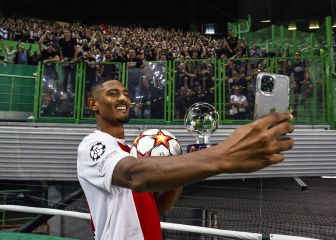 The future of Robert Lewandowski every day seems to be further away from the Allianz Arena and in the sports management of Bayern Munich they are already beginning to probe the market in search of a substitute. As reported by the German newspaper bild, the chosen one seems to be the Ajax striker, Sébastien Haller, ex-Frankfurt, 27 years old, which adds a total of 33 goals so far this season. A first contact between the club and the footballer of Ivorian origin would have already taken place.
In the face of the public, Bayern continues to assume that it will do everything possible to renew Lewandowski's contract, which expires in 2023. Of course, as many German media assure, the club has not yet started conversations with a Lewandowski who is not sitting well with the position of the Bundesliga champion. "Robert is angry because absolutely nothing has happened yet," explains Christian Falk, a journalist for bild on the middle podcast.
Haller is not the only Ajax player Bayern have set their sights on. In Germany, the additions of midfielder Ryan Gravenberch and full-back Noussair Mazraoui are already taken for granted, both also from the Dutch champion. Haller's signing, meanwhile, depends on a Lewandowski who could leave Bayern through the back door after having been key in the recent successes at the national and international level.
[