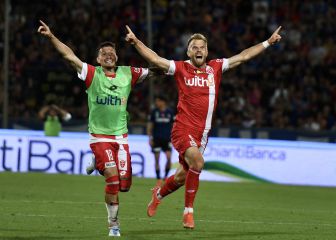 Silvio Berlusconi and his right hand Adriano Galliani have done it again. The Monza'Cavaliere' team since 2018, won Serie A for the first time in its 110-year historywinning an unforgettable Serie B playoff final against Pisa.
those of stroppaafter 2-1 in the first leg, they could settle for a draw, but they had to go into extra time due to a spectacular 3-2 that Mastino made for the locals at the buzzer, after goals from Torregrossa, Hermannsson, Machín and Gytkjaer. Brown and again Gytkjær They later signed the decisive goals, which sparked the brianzoli's party.
Berlusconi, who today also joked about a possible return to Milan ("you never know…"), At 85, he has once again written an important page in the history of Italian football. The Monza, which had thrown the direct ascent (achieved by Lecce and Cremonese) with only four points in the last four days of this course, began a rapid and unstoppable climb with the Cavaliere. In four years he achieved two promotions (the first, in 2020, was also historic: he had not reached Serie B for 19 years) and, now, he arrives in Serie A to stay. Berlusconi in 2018 declared that he was going to sign only "young, Italian players, with tidy hair, without beards or tattoos"but in the end he granted several exceptions to these rules, with a transfer market of enormous level for the category.
Two years ago he signed Mario Balotelli and Kevin-Prince Boatengbut their arrivals did not serve to immediately get the A series. The road ended in the semifinal of the playoff, against Cittadella.
On the bench he opted for two ex-milanisti, Christian Brocchi (from 2018 to 2021) and Giovanni Stroppaauthor of the feat of this course.
The project has only just begun. Until now, the Cavaliere (although, formally, the president of the entity is his brother Paolo) more than 70 million has been spent between the market, sports city and stadium. The initial goal was "to get to play the derby with Milan", but during tonight's party Berlusconi made another promise: "Monza had never reached Serie A and they always deserved it. They finally have a great team and… do you want to know? We want to win the scudetto and go to the Champions League". Watch out, Silvio is back.
[