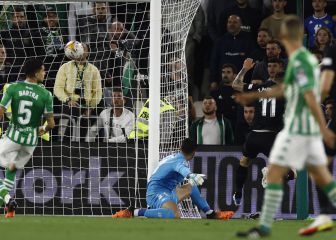 Elche caresses permanence after knocking down a Betis that was unable to transform its good football into efficiency to get closer to the Champions. Josan and Tete Morente teamed up in closing to create a goal that confirms the good moment of Francisco's team and stops the Verdiblancos' desire to aspire to more in this League. Edgar won the personal battle against Juanmi and Betis sets its sights on this Saturday's Cup final without having reserved much energy.
Pellegrini pulled almost everything. With Canales and Fekir on the pitch, the team looked for them and at times found them. Above all, the Cantabrian, mobile in three quarters and without Elche knowing how to control his unpredictable path. Francisco repeated the system, trusting that his three central defenders would stop the béticas' eagerness to attack. He also looked up and soon Mojica warned with a boarding school on the left in which he threw a center that Kike tried to catch without success. But the controls became verdiblancos.
Elche receded and Paul gained weight in each anticipation. A cross from the Costa Rican found an incisive header by Willian José that ran into Edgar Badía's crossbar. The goalkeeper intervened minutes later to deflect a shot from Canales. The omnipresent Cantabrian teamed up shortly after with Fekir to assist Juanmi and for him to define without success. The prelude to the break was a show of maximum intensity. Elche asked for a penalty for a hand by Juanmi inside the area and Pellegrini insisted on asking for more grit on stage.
There were no sideways glances at the Cup final by the green and white team. Or at least it didn't seem like it. Perhaps a distribution of efforts. Francisco knew it, who asked for more forces after the resumption. The spaces multiplied and Pellegrini introduced Joaquín on the scene to win more overflow. Juanmi continued to find chances in each appearance while Edgar Badía responded firmly. They all wanted more.
There were already more risks on the scene. Betis stretched its lines and Elche spread its wings. Pellegrini launched Tello and Borja Iglesias, his revulsive players from Cádiz, to speed up the back and forth, but his team lost prominence in the rival area. Under that context of uncertainty, Elche knew how to read each space to damage. He did it through two changes from Francisco, Josan and Tete Morente. The first found the bottom line after a pass from Gumbau and gave way back to the second, who beat Pezzella to strike down Rui Silva and silence Heliopolis.. There was no more in closing. The impetus was not enough for Pellegrini and Paul left the locker room early after hitting Olaza. Salvation ticket in the hands of an Elche who knew how to play his cards in a final full of nerves. Betis gives up in its race towards the dream of the Champions League and is already focusing its sights on a Copa del Rey final that can give it the long-awaited glory.
Changes
josan (45′, Helibelton Palacios), Joaquin (56′, Saved), Barragan (58′, Gonzalo Verdu), Tete Morente (58′, Fidel), Olaza (70′, Mojica), Borja Iglesias (72′, Willian José), Tello (72′, Juanmi), Alex Moreno (80′, Juan Miranda), William Carvalho (80′, Fekir), Peter Milla (86′, Kick)
goals
0-1, 81′: Tete Morente
cards
Referee: Javier Alberola Rojas
VAR Referee: David Medié Jiménez
Helibelton Palacios (25′, Yellow) Saved (48′, Yellow) Edgar (78′, Yellow) Alex Moreno (83′, Yellow) paul akookou (92′, Red
[