By
Daily EditorBitcoin
Martha Stewart, known for her television shows and lifestyle and cooking books, is now entering the world of NFTs.
***
80-year-old Martha Stewart is an American businesswoman, author, and television host who built an empire with her cooking and lifestyle-related businesses. His books and recipes are followed by thousands. Well, not content with having conquered the world of paper and audiovisual, now it launches a line of non-fungible tokens, NFT. And they are very crazy!
According to media reports, Martha Stewart is planning NFT releases several times a year that will tie in with the seasonal festivities. This is how the first collection of exclusive digital art and photography relates to Halloween, the northern fall event. This is how some of the NFTs he launched can be seen on his website:
Stewart plans that his NFT become a recurring seasonal sale in your online store. He called his new digital boutique "Fresh Mint". The current collection has as its motto: "Pumpkins don't last, but NFTs are forever."
This first collection was launched in mid-October and included non-fungible tokens (NFT) of photos like the ones we show, and also of several of the DIY master's favorite pumpkin designs.
We open some of the NFTs in OpenSea to see the auction price that varies according to the NFT. For example, the NFT of the bloody nurse has a current offer of 1 ether and closes on October 31st. It says what it includes:
NFT animation of the original portrait of Martha's costume
Digital files of portrait and animation
Physical print of portrait signed by Martha
Signed note from Martha to the auction winner
But some NFTs in the collection have already reached prices on the 2 ethers in the auction. Like this: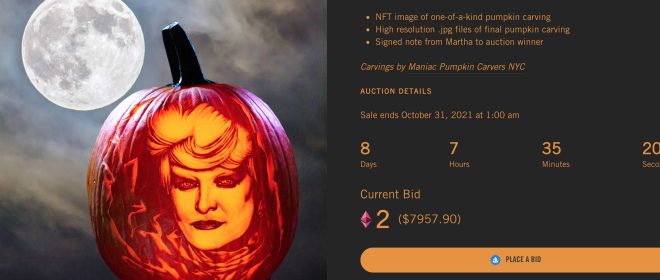 You can see the whole collection on OpenSea. In that portal he expresses: "Whether it's pottery, kitchenware, or paintings, Martha Stewart has been a collector of beautiful things her entire life. For the first time ever, you can own some of Martha's favorite digital collectibles. Here at FRESH Mint, Martha collaborates with some of her favorite creators, photographers and artists to bring you an ever-changing collection of NFT collectibles. "
He spoke to Novogratz
Before launching into this digital world, the multi-talented woman first spoke with crypto expert Mike Novogratz, her doctor, and hip-hop singer Snoop Dogg, to learn about creating her digital collectibles. Although statistics show that the majority of NFT buyers are men of the millennial generation (who may not even know it), Stewart believes that his ever-growing fan base will add to the collection. Stewart also called herself "brilliant" for joining the madness.
The Stewart Collection is in collaboration with Tokns Commerce Inc., which offers direct-to-consumer sales of NFT in sports, music and entertainment. Jamie Tedford, Co-Founder and CEO of Tokns, commented on Martha's new digital collection venture: "His entire career has consisted of curating many beautiful and interesting things", said. "Now he is doing it in a different format."
Sources: Stewart Web, Beincrypto
Version of DailyBitcoin
Picture of Unsplash