Key facts:
The hashrate rose 10% at the end of July and reached 212 EH/s.

Between the end of June and July, the difficulty had fallen 2.6 T in total.
Yesterday, Thursday, August 4, the mining difficulty of the Bitcoin network rose after six consecutive weeks (three periods) registering falls. Now, the value is at 28.17 T, and will remain so for the next two weeks.
By June 21, 2022, the difficulty of the Bitcoin network was at 30.2 T. With that day's adjustment, it fell to 29.5 T, and two weeks later it fell again, to 29.1 T. The last adjustment had been on July 21, the day on which this metric reached 27.6 T.
The main cause of this upward adjustment is the computing power (hashrate) of Bitcoin, which rose from July 23 to 30 from 192 EH/s to 212 EH/s. That is, it grew by 10%. From that peak, it fell again, and at the time of writing this note it is at 198 EH/s, according to Hashrate Index data.
This information seems to give an indication that some miners are reconnecting their equipmentafter having turned them off due to the strong heat wave that the northern hemisphere is experiencing and that triggered electricity consumption in many countries.
Also, the low profitability due to the bear market of cryptocurrencies also influenced this recap. A trend that is nearing its end, experts predict.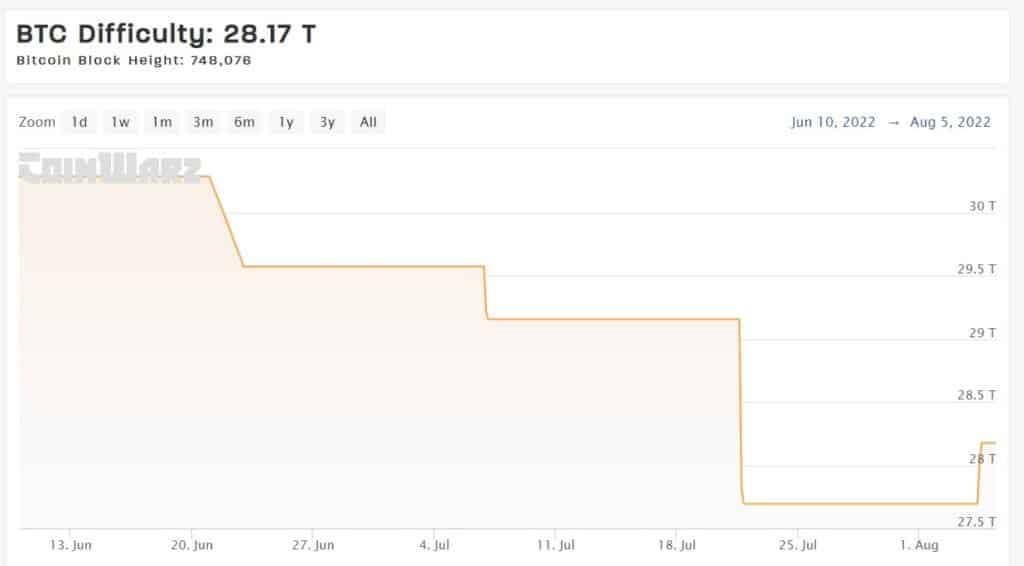 As explained in the CriptoNoticias Cryptopedia, the difficulty of mining the Bitcoin network is related to the computing power (hashrate) that it has at the time of adjustment. The purpose of this variation in complexity is to preserve the 10-minute gap between the creation of one block and the next. Thus, if more miners join or if the existing ones increase their processing power, Bitcoin makes the hash puzzle that will have to be solved in each block more difficult.