Key facts:
Miners turn off their equipment, lowering hashrate, difficulty, and power consumption.

Low hashrate has not generated congestion or increased commissions in Bitcoin.
Bitcoin mining energy consumption is at its lowest since 2020, as a consequence of the bear market (bear market) which has forced some miners to go offline.
According to data from the University of Cambridge, which keeps an index on the electricity consumption of Bitcoin, for Friday, June 24, 2022, mining consumed 10.73 gigawatts (GW) daily.
At its highest peak, in May 2021, demand was greater than 16 GW, although hypothetically the ranges may be higher, as this graph shows.

Miners have been disconnecting due to the low profitability of their activity in the bear market, as CriptoNoticias has reported. With the price of BTC below $20,000, the lowest in the last 2 years, some Bitcoin miners have unsubscribed.
This has represented a decrease in the processing power of Bitcoin, expressed in the hash rate or hashrate.
According to the Braiins firm, the Bitcoin hashrate is at 209 exahashes per second as of today. Its highest point in history was reached recently, on May 1, 2022, when it marked a rate of 225 EH/s. In this sense, after reaching its highest levels, the hashrate fell back to levels of March this year.
The pullback in hashrate is significant and breaks the uptrend miner processing power had been having since its recovery from bans in China in mid-2021.

As for the difficulty of mining, this barrier was lowered today, to balance the hashrate lost during these days. The Bitcoin mining difficulty is located at 29 T, slightly less than its recently reached all-time high.

Bitcoin mempool with congestion but low fees
At the moment, this has not slowed down or increased transaction fees on the Bitcoin network. Although there is a significant volume of transactions expected during the early hours of today Saturday, these are not paying too high commissions compared to other periods of congestion, according to Memopool.Space.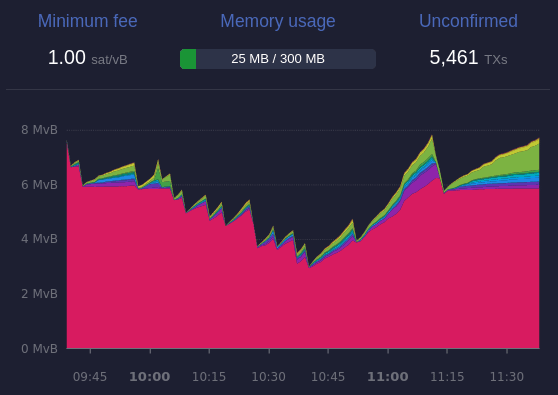 In addition to voluntary disconnections to save costs, in some latitudes miners have been forced to turn off their equipment for other reasons. In Iran, we report, the government suspended the activity of 118 Bitcoin mining farms due to the risk that its electricity consumption threatens the stability of the national electricity system, in a period of low energy production.
Although the drop in the hashrate may raise concerns, specialists consulted by CriptoNoticias indicate that the current rate of processing power is more than enough to ensure safety of the Bitcoin protocol.