Key facts:
Bitcoin mining difficulty was adjusted yesterday, at 29.57 T.

Bitcoin hashrate also fell, to 206 EH/s.
The participation of Bitcoin miners in the network fell, a possible direct effect of the drop in prices that was reported in recent weeks. This is what the most recent adjustment of the mining difficulty reveals, which yielded more than 2% in the last hours. This is the second largest drop recorded so far in 2022.
According to figures from Brains Insights, a Bitcoin mining analytics firm, the difficulty underwent a downward adjustment on Wednesday, June 22, of 2.35%, to settle at 29.57 trillion (T). Difficulty is the mechanism that regulates the issuance of bitcoins and ensures that it remains within the range of 10 minutes. Its adjustment is made every 2,016 mined blocks.
This fall follows the first deepest reported this year, which was on May 25 last, just when the profitability of Bitcoin mining was beginning its crisis, at averages of 10 cents on the dollar (USD) as profit for each terahash invested in the network. At that time, the difficulty fell to 29.89 T, which made it possible to show a disconnection of mining equipment due to the low profits left by the activity.
The drop in difficulty almost a month later seems to have the same origins, as bitcoin fell in price last weekend, to yearly lows of $17,500, dragging returns down to a scant 7 cents. What is striking is that, although it is the second, this drop is deeper than the one recorded last month.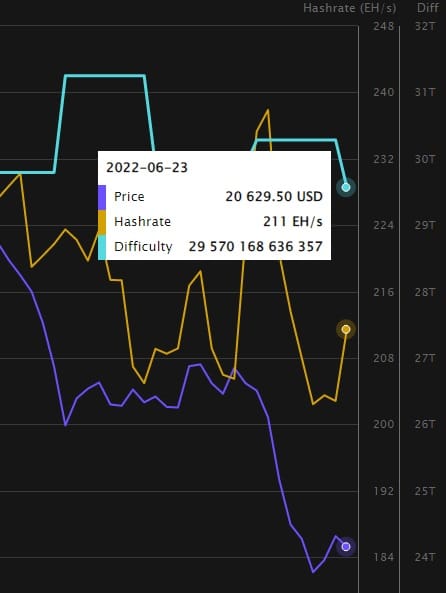 As in May, the current scenario seems to be the same. The drop in prices and profitability could have upset the confidence of Bitcoin minersespecially those smaller and with less efficient equipment, which began to work at a loss, which would lead to disconnection.
In fact, and as we reported in CriptoNoticias, Bitmain's Antminer S9 miner (13.5 TH/s), which was one of the most used equipment for mining, was contributing less than 2% to Bitcoin's processing power, since newer ones were already displacing his work.
It should be noted that in countries such as those in Latin America, where there is an emerging mining industry, the use of S9 miners is a trend. So much so that there are plenty of advertisements on social networks for the sale of this equipment.
The hashrate also faltered
As another example of the decrease in Bitcoin mining activity (which is not so serious as to put the network at risk), there is the hashrate, or the sum of the computing power used to process transactions, which also suffered a slight drop after the difficulty adjustment.
According to data from another Bitcoin mining analytics firm, Hashrate Index, the hashrate fell by 2.35% in a matter of two days, after going from 211 EH/s on June 21, to 206 EH/s, at the close of this press release.
The current hash rate in Bitcoin is lower than that recorded on May 25, precisely when the difficulty was adjusted downward. So, a downward trend is expected to continue that, as in the past, is quickly reversed by new – and old – miners connecting.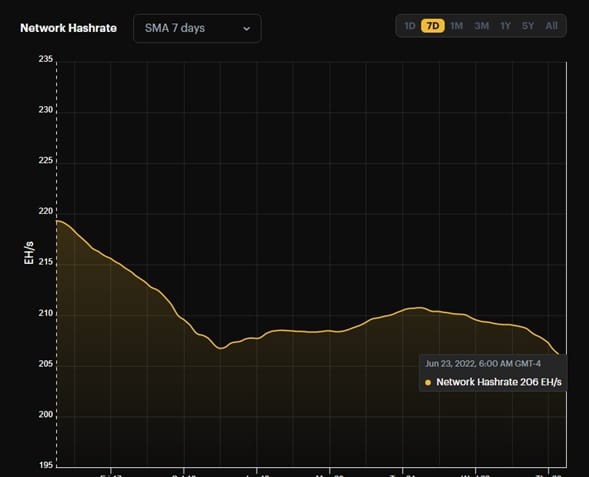 In any case, the current scenario can change quickly, thanks to the volatility of bitcoin, which could lead to significant recoveries. When this article is published, 1 bitcoin is trading above $20,000, although that is a drop of more than 50% from its last all-time high, It seems a stable figure, which calms nerves among those who, even with everything, continue to work, such as the miners.