Key facts:
Selling the bitcoins that are mined is not convenient now because of their low market value.

As there is more supply, the equipment is almost half price.
After several months of a bear market for bitcoin (BTC) and cryptocurrencies in general, some of the players in the ecosystem are beginning to take measures to stay "on their feet." One of them is bitcoin miners, mainly those with leveraged positions, who resort to selling their equipment in order to have liquidity and continue operating.
According to a report of Hashrate Index, from the beginning of the year to the end of the second quarter, miners have made the decision to sell, especially those "overleveraged" in their positions. That is, those who borrowed money to invest and now must return it, or those who lost the guarantees deposited due to the decline in the market value of bitcoin.
As a result of these sales, the increased supply of ASICs (Application Specific Integrated Circuits) used for mining pushed their price down, as CriptoNoticias has reported.
For example, those less than 38 J/TH (joules per terahash, unit of measurement applied to measure the efficiency of equipment) and they cost 51% less than in January.
The price decrease is even greater in the 38-68 J/TH equipment, which is available 66% cheaper, and those of more than 68 J/TH, whose price has fallen by 56%.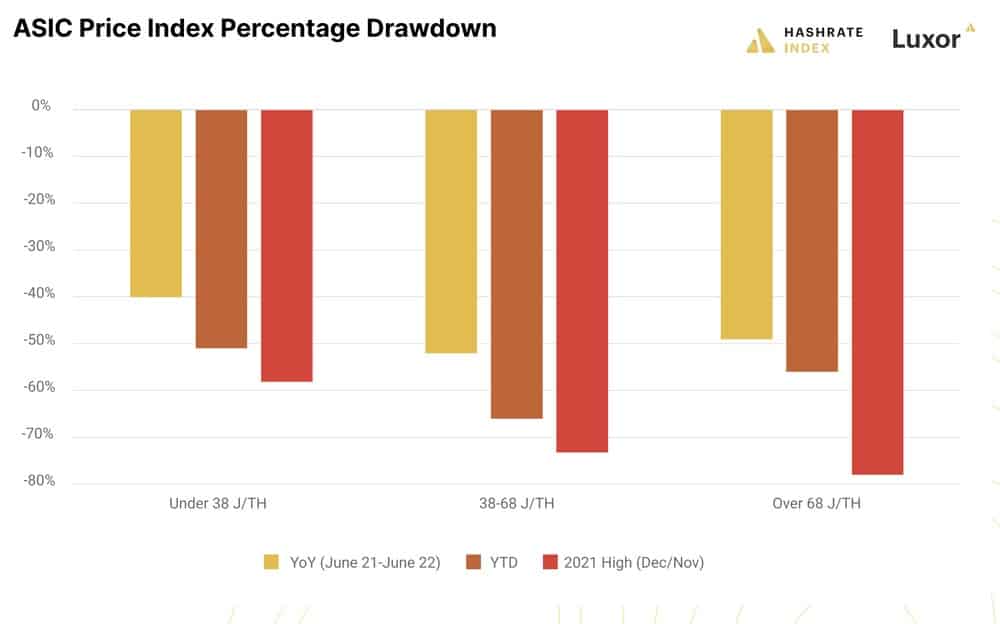 While, if compared with the prices at the end of the second half of last year, the drop is also close to half of the original value of the ASICs. More precisely, these are around 40%, 52% and 49% for the 38 J/TH, 38-68 J/TH and more than 68 J/TH equipment, respectively.
Why should miners sell their equipment?
The explanation for this phenomenon is relatively simple. Bitcoin is trading, at the time of writing this article, at almost USD 22,000 according to the CriptoNoticias price index. This is a low value compared to what was happening at the end of last year or at the beginning of 2022.
Nevertheless, the difficulty to mine has not decreased, but quite the opposite, in the first part of this year. Since the end of May he has had several minor declinesbut consecutive.
This translates into a increased competition to mine, often requiring the purchase of more powerful equipment to be profitable, although in exchange for higher energy consumption.
With bitcoin at a higher price, miners could sell a portion of what they mined for cash to pay their bills. Nevertheless, the current situation leads them to accumulate bitcoin so as not to sell it at a low price. The option that remains, then, is to get rid of their equipment to face the debts for electricity consumption and for the return of funds from their leveraged positions and thus be able to continue operating.