A crisis that is beginning to cease? Bitcoin miners stopped selling their holdings and started holding again as the price of bitcoin (BTC) returns to $20,000 after several days in uncharted territory, the lowest curve of the reported decline. until now.
According to data from mining analytics company Glassnode, shared on Twitter by @BTC_Archive, Bitcoin miners have already stopped liquidating the BTC they had helda season that lasted for at least three weeks and was reported by CriptoNoticias.
As can be seen in the graph below, for a few hours, the indicator of the movements of Bitcoin miners changed from red to green, as a sign that operators re-accumulate their rewardsequivalent to 6.25 BTC plus transaction fees, which are distributed in the Bitcoin mining pools.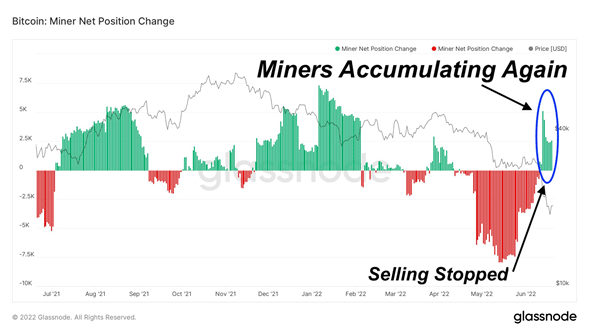 This accumulation of BTC by miners comes just as BTC recovers from the weekend crash that saw it hit lows of $17,700. At the time of writing this news, the first cryptocurrency is trading above USD 20,600a rise of 6.81% more than yesterday's price, according to data from CoinMarketCap.
Less BTC ready to sell on exchanges
Another Bitcoin mining analytics firm, Coin Metrics, supports Glassnode's estimates. According to this company, the flow of sending money from miners to exchanges has decreased and the amount of BTC withdrawn from these platforms has grown and it stays in the wallets of the operators.
The graph, which is publicly available on the company's mining analysis page brainsshows that, at the close of June 18, 2022, there was an upward peak in the factor outflow, which refers to the amount of BTC that is being withdrawn by miners from exchanges. Total, 173,094 BTC was withdrawn from exchanges at the time, which returned to the wallets of these operators. Although later there was a drop and only 26,121 BTC were removed.
Advertising

The opposite factor inflow, which refers to the BTC that are being deposited for sale on exchanges, has only decreased since last June 14, reaching only 29,000 bitcoins at the close of Sunday, June 19. Although it sounds bulky, it is good to point out that peaks of 119,700 BTC that were ready for sale in days pastwhich could also have influenced the price drop.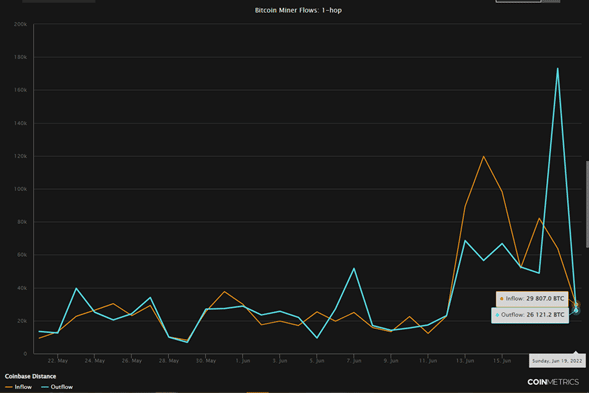 Scheduled bitcoin sales?
The accumulation could give signs that past sales could have been framed within a business strategy of the minerswhich would have left a part of their holdings to be able to face the crisis that was coming.
Now that there seems to be a bit of calm in the environment, the operators, among which the smallest and largest stand out, with great operational muscle, they are going back to holding their bitcoins. It is an attitude typical of the miners, who know that "BTC can be revalued", as Fernando Grijalba, from Braiins, told CriptoNoticias in an interview.
That the miners accumulate is nothing more than a good sign for the market, as it could translate into stability. This, especially for a market like bitcoin, which is suffering the ravages of a crypto winter that, according to analysts, has already landed.