Bitcoin mining difficulty fell 1.5%, declining for the first time since July. The difficulty adjustment, which occurs every 2016 blocks, only rose nine times in a row and now fell slightly, cutting the streak that was dragging.
During 18 weeks the difficulty of Bitcoin mining rose by 52.48%, concreting the longest positive adjustment streak in the last three years. During this adjustment period, the highest increase was 13.24% and the lowest was 0.95%.
Now the next change, which will occur on December 12 approximately, is expected to be reduced by 1.29%. Although it is not much, it means that for now the historical maximum of 25 T will not be reached registered in May of this year, as reported by CriptoNoticias at the time.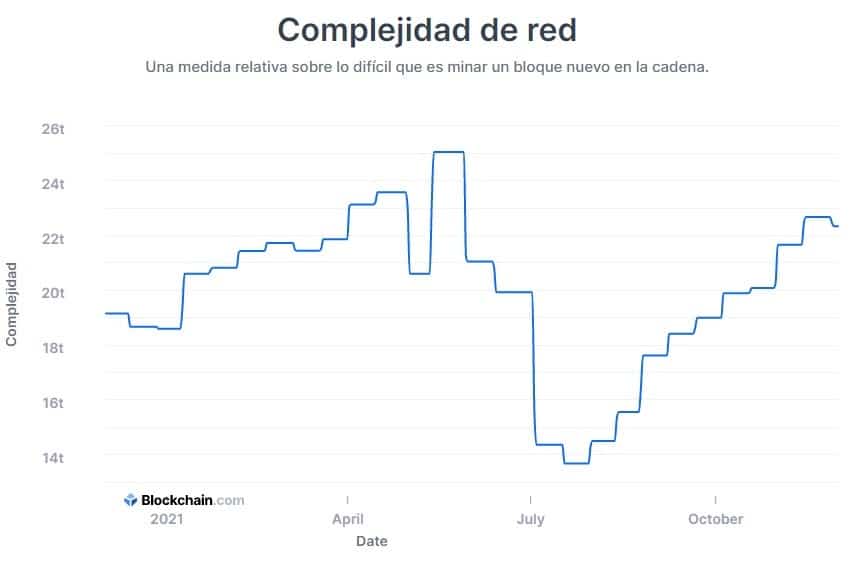 It should be taken into account that the mining difficulty fell to a minimum of 13.67 T in July when the repression in China was in full swing. Today, the difficulty of the network is 22.34 T, lower than in recent weeks. And for what is visualized it will remain low until the end of December. It means that it is more useful for miners, as they can mine coins more easily, while the price of bitcoin also falls below $ 57,000.
The rate of Bitcoin hash rate has also fallen slightly in recent weeks and is currently at 157 exahashes per second (Eh / s), according BTC.com, a pullback after hitting a high of 178 EH / s on Nov. 24. However, it is still well above this year's low induced by China's mining crackdown.
After the Asian country's bans against digital mining, Bitcoin's hash rate dropped to 65 EH / s at the end of June, but subsequently it has been recovering to the point of tripling its hash rate.