Use the electrical energy that is wasted and take advantage of it directly from its source. That seems to be the right method to obtain profitability when mining Bitcoin or any other cryptocurrency in Colombia, a country that, although it has what it takes to exploit the activity, has lagged behind compared to others in the region in that regard.
Colombia, in the south of America, is a country where renewable and non-polluting energies of the environment are mostly used to power the country. In figures of Enel, which is one of the electricity operators of that nation, Colombia's electricity comes from 63.7% hydropower. They are followed by thermal (and polluting) resources, such as gas, coal, fuel oil and fuel oil (31.5%).
While the use of hydropower (which is theoretically cheaper) prevails, energy costs remain high in Colombiawhich directly affects the progress of Bitcoin mining and other cryptocurrencies, whose raw material is electricity.
For example, and citing costs averaged over GlobalPetrolPrices, a Colombian household must pay up to USD 0.15 for each kWh consumed and a company, USD 0.148. These are high rates, which put Colombia in competition with other countries in Latin America, where there is more profitability when mining due to low electricity costs.
Just to compare in Venezuela, right next to Colombia, miners pay USD 0.010 for each kWh consumed, that is, in the coffee nation they cancel 93% more. In Paraguay, a little further away, there are also cheaper rates than in Colombia, of USD 0.033 per kWh.
Thus, Colombia catches up with El Salvador or Chile, where energy costs are USD 0.19 and USD 0.36 per kWh, respectively. In the coffee country, electricity rates are regulated by the Commission for the Regulation of Energy and Gas of the Colombian country (CREG).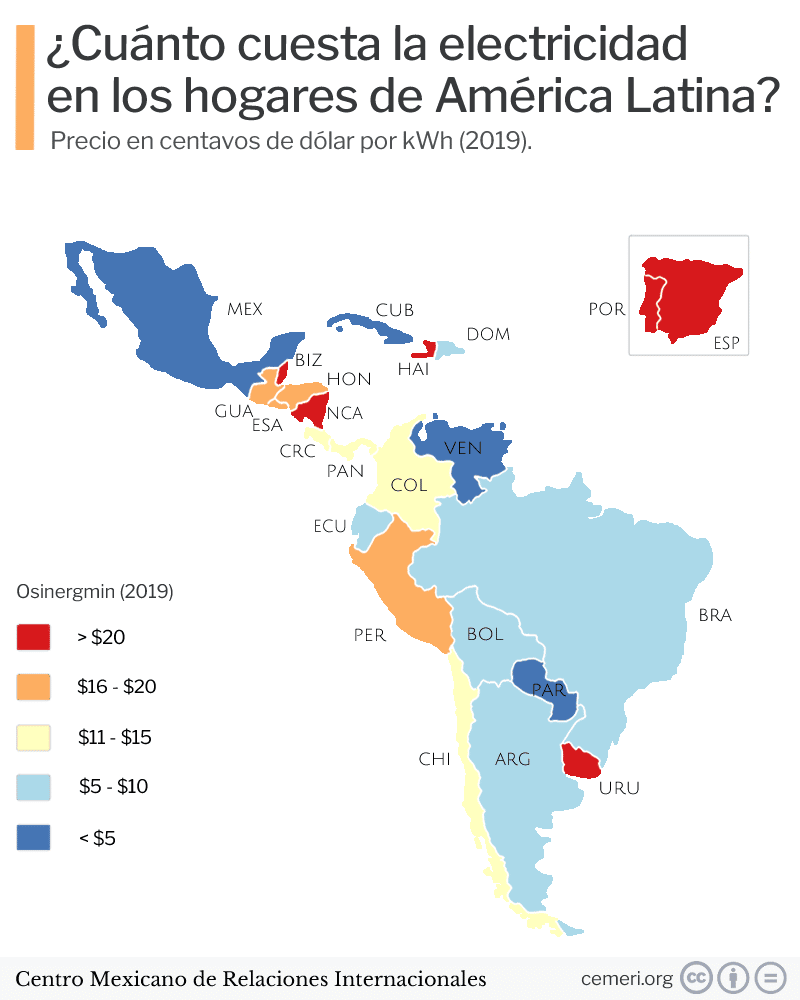 Mining with the Colombian power grid? It is not a good idea
VaKaNoBTC is a benchmark in the Bitcoin ecosystem and a miner with operations in Colombia. In an exclusive conversation with CriptoNoticias, he asserted that although that country has sufficient hydroelectric sources and there is also potential for the use of natural gas that is wasted in exploration fieldsdoes not see Bitcoin mining profitable taking advantage of the service provided by Colombian operating companies.
The case is different "if you go directly to the source" of energy, because, he explained, the price of electricity in Colombia is expensive due to what it costs to transmit it through the network. the bitcoiner calculated the mining investment necessary to obtain a profitable business at a maximum of USD 2 million and that can be sustained in that country, with at least 1,000 miners walking.
VaKaNoBTC agrees with Carlos Accetta, Bitcoin miner and co-founder of Terawatt LLC. Also in conversation with this medium, He rejected that there is profitability when mining directly with the Colombian electrical network.
"The kilowatt on the electricity grid is around USD 0.12 – USD 0.14. There are much more competitive countries with less risk," said Accetta. "Colombia has significant water potential. Unfortunately, it is very difficult and slow to deal with the generation companies in the country », he stated.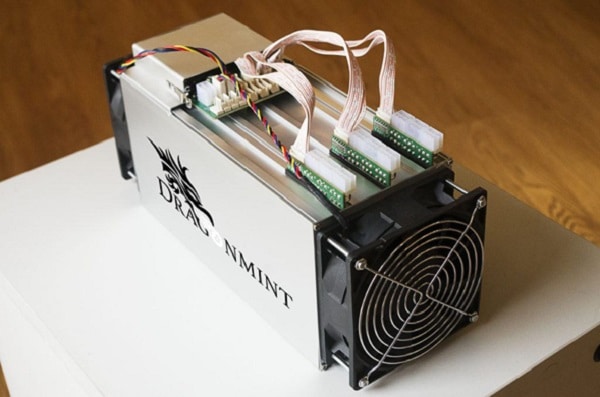 For Acetta, "In Colombia it is only profitable to mine using trapped energy that has no way of reaching other markets." At that point, VaKaNo says, it's a good idea to use the energy produced by hydro plants, since their surplus can be used for Bitcoin mining. "There are a lot of companies that are spending that energy, which can be harnessed," he said.
The same thing happens in altcoin mining
The scenario is similar in the mining of alternative cryptocurrencies to Bitcoin, which also carries a significant electrical cost. Fernando Méndez, a Colombian Ethereum (ETH) miner, spoke with CriptoNoticias about his experience mining him from his residence in Colombia, A country that – nods – still has a long way to go to promote large-scale mining operations.
Méndez, who has had two Ethereum mining rigs operating for a year at home, maintains that Colombia "does not yet have the necessary infrastructure to promote cryptocurrency mining in general."
"At the moment, the profitability of cryptocurrency mining is quite low due to the fall in prices in recent months and due to the high costs of electricity, since energy rates have increased in Colombia."

Fernando Méndez, Colombian Ethereum miner.
However, even with that scenario, says he feels "optimistic" for a quick recovery of the marketss, despite the fact that they have been in the red for several weeks, which have had a notorious impact on the profits of mining operators.
In Mendez's case, you have to pay USD 0.18 to the electric company in your city"somewhat expensive considering cryptocurrency prices these days," he opined.
Those consulted did not indicate how much profit can be obtained from their mining operationsbut they did make it clear that the general profitability of the currency to be mined plays a very important role in this regard, as well as the processing power available to the miner.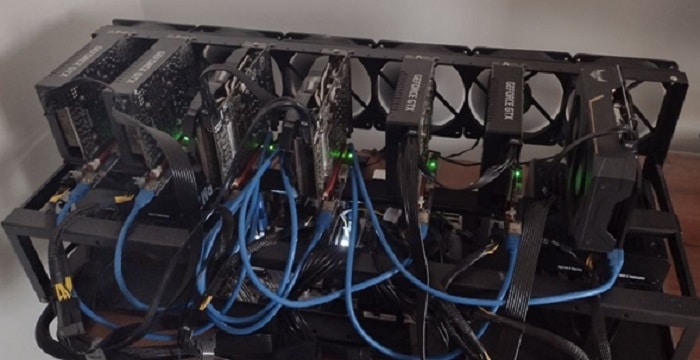 "It is difficult to say how much you can earn from mining cryptocurrencies, because a year ago I started generating 0.120 ETH on average, with 123 MH/s of hashrate and paying 0.09 USD per KWh. Now I am at 0.1 ETH generated, even though I have a hashrate of 280 MH/s (…) There may be someone who earns less or more, depending on their mining power and their electricity rate"

Fernando Méndez, Colombian Ethereum miner.
How much is a miner worth in Colombia?
The sources consulted did not give an estimate of the price of a Bitcoin miner in Colombia, however, we turned to online markets. MercadoLibre, a reference site for electronic commerce in Latin America, shed light on the estimates.
For example, a Bitmain Antminer S9 miner (16 TH/s) is negotiate for the order of USD 416 or 1.6 million Colombian pesos in MercadoLibre Colombia. Spare parts and power sources, on the other hand, can be obtained for about 540,000 pesos or USD 140.
Although there is not as much variety of Bitcoin miners on this portal, it is good to remember that there are official distributors of the mining hardware manufacturing companies, as well as a second-hand market. This makes it difficult to know the accuracy of the prices of Bitcoin mining equipment. and, furthermore, the amount of stock available.
If you talk about GPU mining, the story changes a bit. On the same e-commerce platform there are offers of Ethereum mining rigs. One of them, composed of 5 graphics cards manufactured by Nvidia, is negotiating for the order of USD 7,680 or 29.5 million Colombian pesos in MercadoLibre.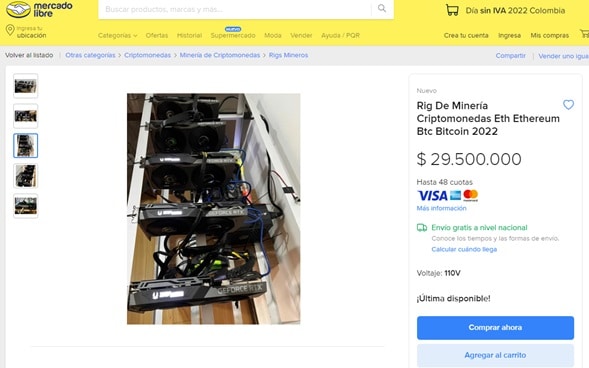 there is another offer that it is close to 60 million Colombian pesos (USD 15,600). It is a rig with at least 12 video cards and together they generate a hashrate of 600 MH/s.
And one more, of 30 million pesos or USD 7,811, which corresponds to an Ethereum mining rig with a hashrate of 300MH/sgenerated by the work of at least 6 video cards arranged by the equipment distributor.
A little mining
Although the three operators can attest that there is an ongoing mining movement in Colombia and that there is an entire trade going on online, The truth is that this country is still one of the countries with the lowest hash rate or processing power. According to the University of Cambridge, just 0.01% of the global hashrate is found in Colombia.
Despite this, VaKaNoBTC claims that it has been exploring ways to expand its operations in that country. From his point of view, Colombia has "big companies" and is a nation with good legal security, which promotes the establishment of mining companies.
He agrees with Accetta, who maintains that Colombia has the necessary wood to industrialize Bitcoin mining. "We are betting on growing the activity in Colombia," he said, although he admitted that he is also evaluating other nearby countries, such as Trinidad and Tobago, Paraguay, Argentina and its neighbor, Venezuela.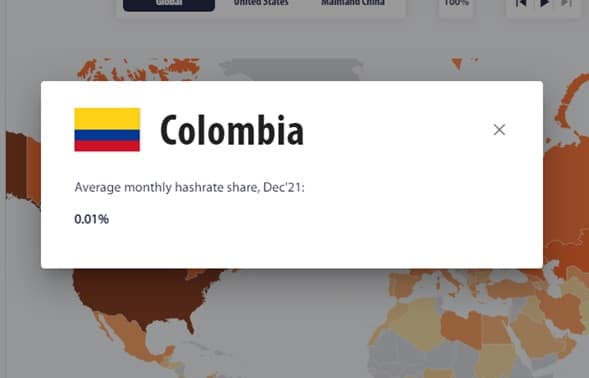 Both contradict Fernando. The video card (GPU) miner does not believe that cryptocurrency mining can be considered an industry in Colombia.
"In hardware stores there are often very bad comments about mining, because of the electrical costs and because they supposedly damage the GPUs. I have read that there are miners who have been using the same GPU for 3 or 4 years, it all depends on the care we give them. But as an industry I don't think it will be considered, at least not for now."

Fernando Méndez, Colombian Ethereum miner.
In any case, the mining industry is still in the process of expansion and although there is a limited presence, the fact that there are operators on Colombian soil suggests that the mining industry continues to grow, deepening and penetrating the countries, in order to efficiently globalize the security of the Bitcoin network.