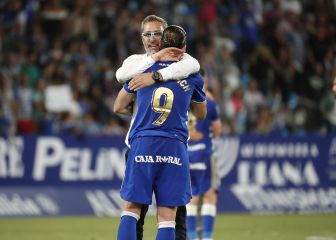 Jon Perez Bolo gave what could be his last press conference as coach of the Ponferradinaafter hinting that his future will not be on the bench The Toralin the next season. Before, the coach valued both the game against Leganés and a brilliant season in which the team from Berciano kept options to play the playoff until the penultimate day.
Game. "I am very proud, regardless of the assessments we make of the game, the goals from Leganés, the chances missed by Ponferradina or the success of their goalkeeper and their defenses. I am proud of my people, my team and what has brought us the public has given. It is true that on a day as important as today we have not been successful. It is football and I can only congratulate my players for this season, we have dreamed until the penultimate day and it has not been possible. I hope football in a future makes us continue living experiences like the one we have lived this year. We are sad because we wanted to reach the last day and we have not achieved it".
Feelings. "It's a tough moment because this squad deserved something more, but that's life and football. We have to keep going, we'll be screwed for several days, but in a short time everything that has been achieved will be valued, not only in sports, I mean everything".
Season. "I enjoyed it a lot. Today I am screwed, not for me, but for them, because I know what they have worked for and the illusion they had to give back to the fans what they give us. Seeing them sad and crying is the most screwed up. In the end the football is results and achievements, but I have been lucky enough to be a player and now a coach, and what I will always enjoy is the people. These players and this fans have made me enjoy a lot. I am proud to have trained them and I hope I have been able to give them a little bit of everything they have given me, which has been a lot. It has been a very difficult year personally and they have given me the strength to move forward and enjoy day to day. We have not achieved objective but I am very proud of what they have given me as people".
Future. "I have said it this week. I have to sit down with the president and talk about things and what both the club and I think. Whatever the decision is, it will be a difficult moment. I don't know if we will continue or not, now I am very screwed We coaches depend on the results and sometimes taking a step aside can help you, in the future, to be able to return to the place you want and although people have shown me their love, the only thing I have done here has been work with humility and try to achieve the goals we set for ourselves, always taking steps forward. Whether I am or not, the club will continue to grow because it can grow a lot and more with the city and the fans behind it, who really want to continue Growing up. With me? Let me talk to the president and we'll see. I also have to talk to my family, assess everything very well and hopefully he's right with the decision he makes."
Wear. "I don't know if it's wear and tear. When I arrived in Ponferrada, not even in my wildest dreams would I have thought of spending four years in a city that has given me everything, but it does wear out a little and more when you experience things as intensely as I do. I'm tired and every year at the end of the season I ended up tired, but I think that Deportiva is above everyone else and the decision I make is going to be thinking that I am 200 percent believing in what I am going to do. It was clear to me at the end of the season and I had offers, but I thought I could continue helping. I have to think about it a lot and if I'm not going to be one hundred percent, it's best that I'm not. I don't know what will happen in my future, when I decide We will see if I have new projects, enthusiasm… Personally we are going through a bad time and I have to value everything very well".
goals. "We know that next year we are going to have to fight to improve what we have done. We will value everything".
[